The current economic downturn and the closure of the United States' three horse slaughter plants have caused a surge in the number of unwanted horses. The question of where they will end up looms over the heads of horse lovers and equine industry professionals and leaders.
However, horse rescues across the country are doing everything they can to offer these animals a safe haven. In April 2007, the non-profit Kentucky Equine Humane Center (KyEHC) in Nicholasville, Ky., opened its gates to Kentucky's equines and strives to find a home for every horse it takes in.
"The horses need us; the people need us," says Executive Director Lori Neagle. "We are usually the last resort for people who are trying to sell a horse or find it a home and can't do so, or for people who have life circumstances that prevent them from keeping their horse."
The KyEHC was conceptualized in 2006 by a group of equine community members who were concerned about the growing number of unwanted horses. They agreed that there was a need for a rescue similar to those that care for cats and dogs: one with an open-door policy that takes in all horses, regardless of breed, with the goal of finding them new homes.
Taking the idea for this kind of rescue from paper to reality was not easy. "Our biggest obstacle was finding a facility to lease," says Neagle. "Because we're a new non-profit, we didn't have the funding, so we went to 12 [friends] and asked everybody to donate one month's rent."
In addition to covering start-up costs, the KyEHC's creators had to consider the proper location for the rescue.
"We rely heavily on volunteers to keep the center going, so we needed something close to a heavily populated area and the vet clinics that we use," says Neagle. "We felt that if we had the facilities, the people and the horses would come. We leased the farm, and everything fell into place from there."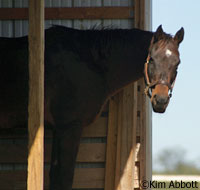 The Ins and Outs of a Rescue
Before the KyEHC will accept a horse, the owner is required to fill out a surrender form and provide a negative Coggins test. New arrivals are placed in a small paddock or a stall away from the other equine residents and are vaccinated, dewormed and given a full physical within 72 hours. All stallions are gelded.
"A lot of times, horses don't come with a medical history," says Neagle. "We have to figure it out when they get here. We have physical exam forms every time the vet comes out, and everything is documented."
Horses given a clean bill of health are turned out in one of two large fields that contain run-in sheds for shelter. "We try to keep the mares and geldings separated, but sometimes it doesn't work out that way," says Neagle. "We have a 19-acre field where we can put the ones who don't fit into the gelding or mare herds. It's just a matter of turning them out and paying attention to who's getting along and who's not."
Horses that need time to recuperate are kept in stalls and turned out, health permitting, in a small paddock or round pen until they are ready to join one of the large herds.
The KyEHC can house up to 50 horses at any time on its 72-acre property. With so many horses, individual care relies on the amount of help the center has each day. Grooming, for example, is a large undertaking and is usually done by rotation—mares are brushed and have their hooves picked one day, and the geldings are taken care of the next day.
"Horses with special needs, elderly horses that need to be brought in and fed separately, and horses that require medicine are taken care of first," says Neagle.
"We have too many horses to handle all of them every day, but they all get checked every day," she continues. "We go out to the fields to make sure nobody has any injuries and that nobody is lame."
When it comes to medical emergencies and routine veterinary and farrier care, Neagle says the center is grateful to have the help of volunteer veterinarians and farriers.
"A lot of our veterinary care and pharmaceuticals are donated, so that helps ease the burden of having to raise the money for them," she says. "Kentucky Horseshoeing School students come out every nine weeks to trim horses, but in between we use a private farrier," she adds.
As a non-profit organization, the KyEHC depends on industry professionals and horse enthusiasts who volunteer their time. In addition to Neagle, the center's only employees are Farm Manager Jennifer Tosch, an assistant farm manager and a part-time development director.
Besides volunteers, the center's biggest needs are hay, grain and bedding for the horses. While the KyEHC does what it can to raise funds through charity events, the majority of the money used to purchase these necessities comes from grants and private donations.
Spreading the Word
The KyEHC has several programs in place to help horses and promote those that are available for adoption. Because of its proximity to Kentucky's major Thoroughbred racetracks, the center receives many Thoroughbreds off the track.
"We now have stalls at all of the Kentucky racetracks," says Neagle. "If people can't keep their racehorses or don't want them anymore, we have surrender stalls where they can drop [a horse] off, and our paperwork is in the racing secretary's office. We have volunteers at all of the tracks who will take care of them for us until we can get there.
"We're getting a lot more horses off the track than we were previously because the awareness is there," she says.
The "Horse of the Week" program helps the KyEHC bring attention to what it does to help Kentucky's equines. "We put out a flyer that highlights one of our horses, and it goes out to a big mailing list of people and different breed associations, as well as one of the local TV stations here, which puts our horse of the week on their Friday noon news and their website," says Neagle. "People will pass it on to their horse friends, who pass it on to their friends, and it just keeps on going. The 'Horse of the Week' program has helped us place a lot of horses.
"We also have the open-house adoption days once a month," Neagle continues. "We're open every third Saturday of the month, and it gives the public a chance to come out and look at the horses. At that time they can submit their application for adoption." Anyone interested in adopting a horse can also schedule an appointment to visit the farm.
In the future, Neagle hopes to provide more educational programs for the public and a retraining program for the horses. She would also like the KyEHC to serve as a model for other states that may be interested in developing similar open-door rescues. Since 2007, the KyEHC has found homes for nearly 200 horses.
Throughout 2009, Horse Illustrated will work with the Kentucky Equine Humane Center to bring you information about what goes into running a horse rescue and how you can help. Look for successful adoption stories and highlights of various rescues around the country. Keep up with KyEHC happenings at HorseChannel.com/rescue
---
This article originally appeared in the January 2009 issue of Horse Illustrated. Click here to subscribe.