Caring for one horse is a large responsibility. Overseeing the well-being of 50 horses can be daunting. However, the Kentucky Equine Humane Center (KyEHC) has the capacity to house that many horses at any given time, and managing their welfare is the task the center's staff accepted when they opened their gates to Kentucky's homeless equines in 2007. Without the help of volunteers who donate their time to assist with the care of these horses, the KyEHC and similar non-profit equine rescues would probably not exist.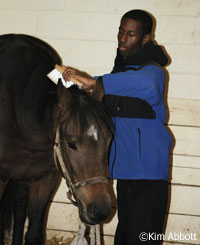 "Like most charities, we don't have the resources to employ the staff needed to make the program functional," says KyEHC Executive Director Lori Neagle. "We really rely on volunteers."
What You Can Do
Whether you are new to the horse world or your life revolves around it, there is something you can do to support equine rescue facilities that depend on volunteers. The KyEHC needs help with everything from horse care and farm management to office work and fundraising.
"Depending on their level of experience, [volunteers] do all kinds of basic horse care—grooming, leading horses, picking their feet, holding them for the vet and the farrier, assisting with physicals, cleaning stalls, cleaning tack and feeding," says Neagle. "Then we have other volunteers who do farm chores. They spread manure, harrow, mow and paint fences. Others answer the phones, assist in processing adoption applications and work on fundraising events. There's always something to do."
If people have little or no experience with horses but are eager to work in the barn and participate in hands-on chores such as grooming, the KyEHC will teach them what they need to know with the help of its four-legged "employee," a 24-year-old Thoroughbred mare named Rachel.
"We just take them step by step," says Neagle. "We get them started cleaning stalls and teach them from the ground up. Then we'll start them with Rachel, probably just grooming in the beginning, picking feet, teaching them to lead the proper way, putting the halter on, et cetera."
Mikhail Proctor, a sophomore at the University of Kentucky who is studying animal science with the intention of going to vet school, has been working at the KyEHC since May 2008.
"I came in with some horse experience, and since I've been here it has multiplied," says Proctor. "One thing I like about the center is that even if you don't have horse experience, they're willing to teach you. They'll pair you up with someone, and they'll never leave you by yourself."
Experienced horse people who have worked at the KyEHC for a while may have the opportunity to assist with the assessment of horses' under-saddle abilities. "Many of the horses that come in don't have histories, so we have to start from scratch," says Neagle. "We have to longe them, put a saddle on them and eventually ride them."
"When you come here, they'll let you do what you're comfortable with," says volunteer Sheridan Puffer, who recently adopted a Morgan gelding named Hershey Kiss.
Giving From Afar
The center needs the most help with horse care, but not everyone who would like to help is able to get to the facility. The KyEHC's special project section on its website offers far-away volunteers the opportunity to provide for the horses by raising money through bake sales, car washes, social events, auctions and other fundraising activities.
"[Volunteers] can fill out a form, and if we approve it, it's just a matter of donating a percentage of sales," says Neagle. "A school that had a little collection jar raised more than $100. People can even take collections of useable items for the horses."
Raising awareness about a rescue simply through word-of-mouth or by posting flyers at horse shows, tack shops or grocery stores can also help horses in need.
"I have one volunteer who makes up flyers for some of the horses that have been here a while. She puts their pictures on the flyers and distributes them all over the county she lives in," says Neagle. "We get a huge response."
Helping in your area
If you're interested in volunteering at a rescue in your area but aren't sure where to start looking, Lori Neagle, executive director of the Kentucky Equine Humane Center, points out that many people search the Internet for local facilities and recommends VolunteerMatch.org and VolunteerSolutions.org.
"If you can't find a local organization in your area through the Internet, I would suggest calling your state's horse council because they know most of the groups," she says.
Getting Started
The KyEHC asks anyone interested in volunteering to attend one of its orientations, held on the second Saturday of every month. People who are unable to make it to these events can schedule an appointment to visit the farm at another time.
"We talk about the program, the mission and what goes on here; we talk about the horses and some of their stories, and at that time, people decide whether they want to volunteer," says Neagle. "We encourage people to come out even if they don't have horse experience because we will teach them basic horse care."
After signing a registration form and liability release, volunteers are asked to designate the times they are available on a calendar.
"How many volunteers we have each day determines what we can get accomplished, and it helps us to plan ahead," says Neagle. "When we have the Kentucky Horseshoeing School trim the horses, we try to schedule as many volunteers as we can on those days. That requires a lot of man power.
"A lot of people don't realize how important the volunteers are to the organization, what an asset they are," continues Neagle. "As much time as they can give is always appreciated, not only by us, but also by the horses. They are really making a difference in the lives of these animals."
February Featured Rescue
Since 1971, the Hooved Animal Humane Society (HAHS) in Woodstock, Ill., has taken in abused and neglected hooved animals, particularly horses, to rehabilitate them and find them new homes. The Society investigates complaints of neglected animals and strives to educate owners about proper horse care. If necessary it will confiscate the animals with approval from the Illinois Department of Agriculture.
"We were founded by six concerned citizens who wanted to promote humane treatment of animals," says Hillary Clark, program director of the HAHS. "We try to educate people—that's first and foremost. We're not out to take peoples' animals, but when it comes to the point that [the horses] aren't going to make it, we do get very much involved."
In addition to volunteering at the farm, there are opportunities to sponsor a horse through the "Adopt a Hoof" program and to donate needed items from the Society's wish list.
For more information about the Hooved Animal Humane Society, visit www.hahs.org
---
This article originally appeared in the February 2009 issue of Horse Illustrated magazine. Click here to subscribe.