Horse rescues generally receive little to no background information about the equines they take in, which can make the retraining process difficult for the people who adopt these horses. The staff at the Kentucky Equine Humane Center (KyEHC) does what it can to assess each horse's personality, manners and under-saddle skills so it can provide adopters with as much information as possible. Lori Neagle, executive director of the KyEHC says she, her staff and volunteers begin by evaluating horses on the ground, which mainly includes leading and grooming. Eventually the horses are longed and ridden. As for retraining a horse when he arrives at his new home, Neagle says it's important to go slow and maintain consistency. It takes a lot of patience, commitment and time.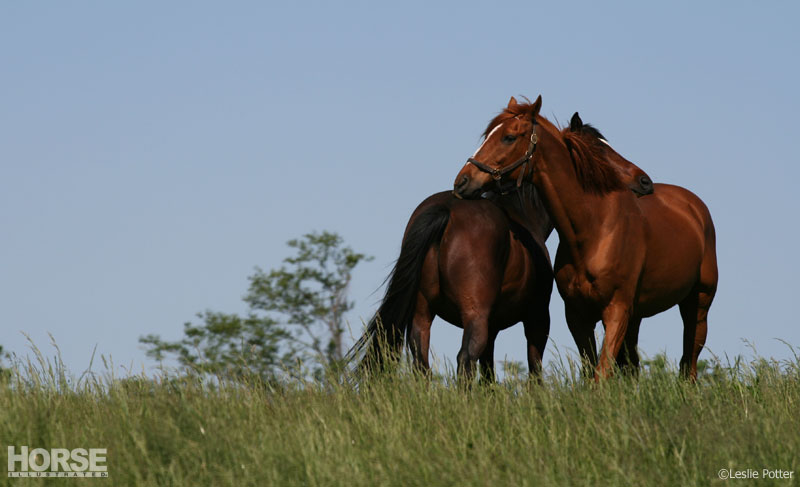 Off-the-track horses may need some downtime to learn how to just be a horse before beginning retraining. Photo: Leslie Potter
All Horses Are Not Equal
The retraining process varies with every horse, and adopters need to establish a relationship with their horse in order to make the process work, says Lloyd Henderson, who breaks and trains horses in Williamsburg, Ky. He has worked with four horses rescued by the KyEHC and also helps the center with horse care and assessing horses for adoption.
"Respect the horse and gain his respect and trust," says Henderson. "Take things slow and easy until the horse is comfortable with his new home and his new family."
One of the biggest issues adopters may have to cope with is the fear many rescue horses harbor due to physical and emotional damage. "Many of these horses are terrified of everybody," says Scott Keller of Scott Keller LLC in Lexington, Ky. Keller has been riding jumpers at the grand prix level for 20 years. He focuses his business on training young warmbloods through the jumper levels and rehabilitating those that may have training issues. He is currently working with a horse one of his clients rescued from the KyEHC. "It's extremely important for these horses to be treated gently. It's critical for anyone involved with these rescues to understand that they're dealing with horses that are very fragile emotionally."
Tamara Parsons-Irby is an assistant hunter/jumper trainer at Ballyhigh Show Stables in Versailles, Ky., and is currently training three KyEHC horses for the stables' lesson program.
Parsons-Irby says that retraining a horse depends on the adopter's riding experience and goals for the horse's performance. She suggests enlisting the help of a trainer, especially when dealing with off-the-track Thoroughbreds.
Training the Ex-racehorse
The KyEHC is located in the heart of the Thoroughbred racing industry, near Lexington, Ky., so it receives many horses straight from the track. A racehorse's training is very different from that of a trail horse or one trained to perform in western or English riding disciplines.
"The thing with off-the-track Thoroughbreds is that they have only been on the track," says Parsons-Irby. "They're trained to go one way, with other horses going in the same direction; some don't like it when other horses come at them.
"You have to slow down with them sometimes—give them a few months off to get them acquainted with being turned out and being with other horses," adds Parsons-Irby.
Henderson says people tend to rush into riding an ex-racehorse and attempt to switch the horse's mindset from the track to a new discipline too soon.
"This is when people tend to get hurt," he says. "They are working with a confused horse that has been trained for a particular purpose. They must first work at the re-training process through lots of patience and communication."
Anna Ford, adoption manager and director of the New Vocations Racehorse Adoption Program's facility in Hilliard, Ohio, is the author of Beyond the Track. She has worked with off-the-track Thoroughbreds since she was 15 and is very familiar with the breaking and training of racehorses. Ford says the retraining process starts with a lot of groundwork to help horses gain their balance at the walk, trot and canter.
"The smallest circle they've been on is a mile track. There are a lot of leading and ground training issues because they're all handled by extremely experienced people who might not mind if they behave badly on the ground as long as they perform well. That can be difficult for adopters who may not have experience."
Ford also stresses that ex-racehorses are accustomed to having a structured routine, so if the commitment isn't there, then it's not a good idea to adopt a racehorse. They also need a quiet learning environment where they can focus on the task at hand and not be distracted by their surroundings, she says.
An ex-racehorse is not suitable for beginner or intermediate riders unless he has been adequately retrained by an experienced horse person who is very familiar in working with these horses.
Advice for Adopters
Ford says many adopters have unrealistic expectations about retraining a horse. "I think everyone goes into adopting a horse with a good heart and wants to help, but they don't realize that it could take longer than they want," she says. "It really varies with each horse. [Adopters] need to know that it could take months and it could take a year."
"Patience is by far the most important thing," says Keller. "No one who adopts one of these horses should expect his attitude to turn around overnight."
One of the best steps adopters can take in retraining their horse is to seek help from an experienced trainer. Ford says it's a good idea to ask your trainer to help you choose the right horse for your skill level.
Keep in mind that no matter what happens during the retraining process, you are giving your new horse a loving home, something he may not have had before.
"Just to take a horse from being scared to being happy—if that's all we accomplish with them, then that's a great accomplishment," says Keller.
---
This article originally appeared in the April 2009 issue of Horse Illustrated. Click here to subscribe.
Back to Diary of a Horse Rescue >>