In the search for a new horse, you dedicate as much time and effort as necessary to be sure the horse you choose is the right fit. If you make the decision to adopt a horse, you need to put the same amount of work into searching for a reputable equine rescue.
Lori Neagle, executive director of the
Kentucky Equine Humane Center
(KyEHC) in Nicholasville, Ky., upholds a high set of standards for the center and hopes that it can serve as a model for other developing all-breed equine rescue organizations.
Reputable Qualities
Neagle says the first step a rescue should take in establishing itself is to become incorporated with its state and obtain the 501(c)(3) tax-exempt status, which gives people who donate money or goods the opportunity to file for a refund on their taxes. This status is also a good indication of the organization's reputation because there is a strict application process it must adhere to. Additionally, after five years, the state will review the organization to be sure it is keeping up with the standard of that status.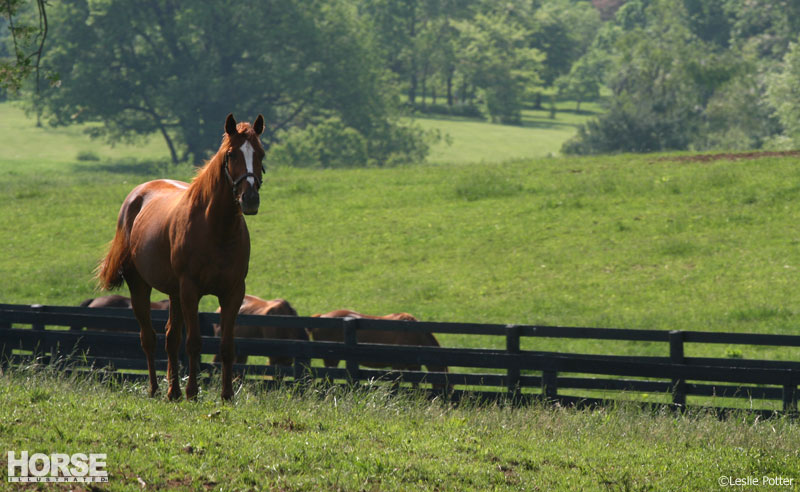 "If you are a 501(c)(3), then there are certain things that are required, such as corporate filing, and keeping good sets of books and records," says Neagle. "There's a lot you have to provide to the government to show your plan, what you're going to do, and how you're going to fund it. After the first five years, you have to show what you've done in order to go from temporary status to permanent 501(c)(3) status."
One of the most important elements of a rescue is its mission statement. An organization should produce a clear definition of how it's going to help horses and remain steadfast to that promise. "A good rescue won't get sidetracked from its original mission," says Neagle. "Sometimes people can't say no, and they take in too many horses and get overwhelmed. Then they can't support the horses financially. [Rescues] have to know what their limits are."
To keep a rescue running smoothly and according to its mission statement, the program must be operated like a business. Although staff and board members should have a thorough knowledge and love of horses, it's important for them to leave emotions aside. This requires having a good system of support, says Neagle. Tack shops, feed stores, veterinarians and farriers, transportation companies and suppliers can help provide rescues with the materials and services they will need to care for all of the horses.
Rescues should also have attorneys and accountants to assist with the legal and financial aspects of running the program. Both the American Association of Equine Practitioners and the Humane Society of the United States have guidelines available on their websites regarding the proper care of rescue horses—including nutrition, hoof care, and management of shelters and pastures—which all rescues should abide by, according to Neagle.
When Adopting
There are several steps potential adopters can and should take to ascertain the legitimacy of a rescue. Contact the state government to verify that the organization is in good standing and has paid its filing fee. Tour the facilities, take note of how the horses are managed, and ask for references from other adopters. A reputable rescue will be straightforward about its horses and its practices. Also, ask to look at the rescue's financial records, which are available to anyone who wants to see them if it's a publicly supported charity.
It's essential to review a rescue's adoption policies as well. Inquire as to what kind of information the organization can provide about its horses, such as whether or not a veterinarian will conduct a physical exam on the horse you decide to adopt, how much history the rescue can provide about the horse, whether the horse has been ridden while at the facility, and if you will be able to ride the horse before making your decision to adopt. You also want to be aware of what the rescue's return policy is. At the KyEHC, anyone who can't or no longer wishes to keep a horse they adopted must return the horse to the center so the staff can find a new home for him.
"When you're adopting, the No. 1 thing you have to be concerned about is that you're getting the horse as they present it to you," says Neagle. "When we adopt a horse out, we give the adopter as much information as we have on the horse. Also, each horse has a physical exam that is signed by our veterinarian. We put any vices that a horse might have at the time of adoption in the contract, as well as quirks, likes and dislikes." Neagle also stresses the importance of finding out if the horse is up-to-date with vaccines and dental work, and if he has undergone any significant treatments or surgeries since he has been at the rescue.
When Donating
In today's economy, many people are looking for reputable rescues for other reasons. The high expenses of caring for a horse are climbing, and unfortunately, many horse owners can no longer keep up. Anyone who needs to leave a horse with a rescue facility should also conduct thorough research on the organization before making a final decision. This is when reviewing financial information becomes even more important.
"Make sure they can afford to take on another horse," says Neagle. "Request to look at their previous year's tax returns. There's a good website called www.GuideStar.org that monitors charities. You can look up tax returns and see where the organization's money has gone—how much they've taken in and how much they've spent." This is also a good resource for people looking to donate money to support a facility.
Before you sign your horse over to a rescue, carefully review all of the paperwork. Find out how he will be taken care of while he is at the facility and what will happen to him once he has been adopted—for example, does the rescue monitor the horse's care when he goes to a new home, and can you keep in touch with the adopter?
"At the KyEHC, if someone donates a horse, all of their information is kept confidential," says Neagle. "If the adopter wants to contact the donor, we will ask the donor if it's OK before giving their information to the adopter." This also applies to donors who are interested in contacting adopters.
You can also ask the rescue for references of people who have donated horses in the past, and even volunteer to help with daily horse care and farm chores to be sure you're happy with what will be your horse's new home for a while. Look at the rescue's feeding regimen, health care program and euthanasia protocol, and ask if you can reclaim ownership of your horse if he is not adopted within a certain amount of time.
"People will call [the KyEHC] all the time and say, 'If I donate my horse and he doesn't get adopted, can I come pick him up?'" says Neagle. "Some rescues may allow owners to take their horse if it hasn't been adopted. At the KyEHC, once they surrender them, that's it; they can't take the horse back."
Liked this article? Here are others you'll enjoy:
Choosing a Horse Rescue
Horse Rescue Resources
---
This article originally appeared in the May 2009 issue of Horse Illustrated. Click here to subscribe.
Back to Diary of a Horse Rescue >>