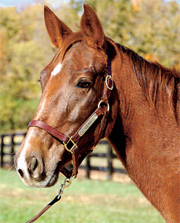 Cross Breed Pony
Mare
5-Year-Old
13.3 hh
Molly is a five-year-old grade pony that is very sweet and likes to please. Molly is easy to groom and gets along well with other mares and geldings. Although we have no previous history on Molly, she is currently etting started under tack at KyEHC and is eager to learn.
For more information on Molly or any of the other rescue horses, contact the
Kentucky Equine Humane Center
.
Back to the blog >>