When horses arrive at a rescue facility with their hooves in poor condition or a severe hoof ailment, it's a major cause for concern—as the saying goes, "no foot, no horse." Depending on the hoof issue, it could affect a horse's chances of being adopted.
The Kentucky Equine Humane Center (KyEHC) enlists the help of various hoofcare professionals. Every six weeks, students from the Kentucky Horseshoeing School (KHS) trim the KyEHC horses as part of their education.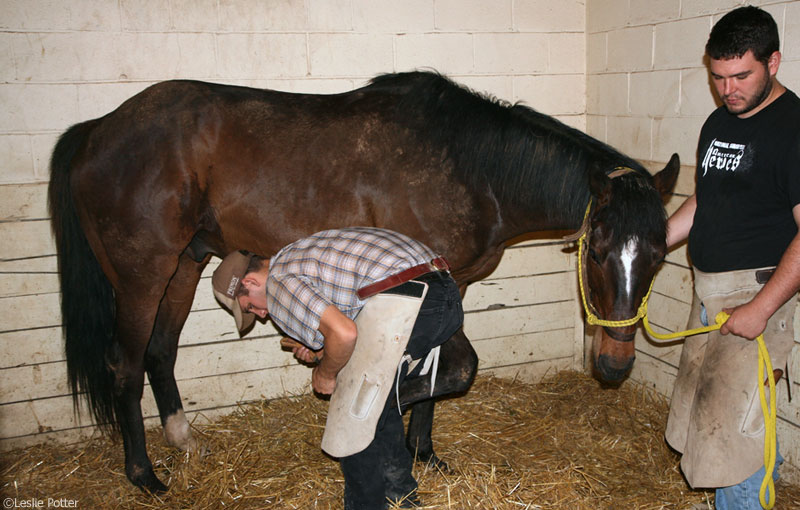 "We bring about 12 students and one or two instructors," says KHS Director Mitch Taylor. "The students break up into teams of two—one person will hold the horse and the other will trim the front or hind feet, [and then they switch]. They learn both horsemanship and trimming techniques."
Taylor explains that the KHS is a performance-based progressive program. Students gain experience by trimming cadaver hooves in the beginning. When they pass a test showing that they thoroughly understand hoof anatomy and can demonstrate the proper use of farrier tools, the students can begin working on live horses. Those who trim the horses at the KyEHC are in week six to 12 of their education.
In between the KHS' scheduled trimmings, any routine hoofcare needs that arise are taken care of by the KyEHC's regular farrier, Ismael Garcia.
Horses that suffer from serious hoof ailments and require specialized treatment are tended to by Bryan Fraley, DVM, who specializes as an equine podiatrist. "I cover anything involving the equine foot, but a large part of my practice is laminitis," says Fraley.
Common Hoof Issues
Lori Neagle, executive director of the KyEHC, and Fraley agree that laminitis is one of the most common problems seen in the rescue horses. The process of treating these horses begins with assessing how the disease is affecting them.
"Not all laminitis is created equal," says Fraley. "There are different phases. The developing stage is prior to clinical signs; we don't know the horse is foundering yet, but there are changes going on in the foot that are breaking down the laminae.
"When a horse is in pain, that's acute laminitis," continues Fraley. "Acute laminitis lasts up to the point that there's rotation [of the coffin bone], which is chronic. Most horses at the center that have had laminitis have rotated. Our goal is to trim the foot in such a manner that re-establishes normal blood flow to the sole of the foot and allows it to grow, with the ultimate goal of getting the horse barefoot again."
Fraley explains that once a horse's coffin bone rotates, the damage is permanent, and the horse will always be prone to laminitis. However, regular trimming and therapeutic shoes can keep the foot functioning and provide the horse with a normal life. By evaluating radiographs of the affected hoof, Fraley can determine the best method of treatment.
Other recurring hoof problems Fraley has encountered in the rescue horses are cracked and brittle feet. This is especially common in off-the-track Thoroughbreds, which make up much of the horse population at the KyEHC.
"For a lot of horses that come off the track, it's their first time trying to go barefoot. Many of them have chronic foot soreness and very thin soles," says Fraley. "We get a lot of cracked, shelly hoof walls."
In some cases, treating a crack only requires an initial trimming to repair it, followed by keeping the toe rounded in all routine trimmings every three to four weeks thereafter to prevent new cracks. A lot of these horses lose shoes often, so Fraley must apply them with glue instead of nails.
"A well-placed glue-on shoe will hold better than nails, and horses can wear those shoes for six weeks or so and grow a good foot," says Fraley. He notes that abscesses become an issue with cracked hooves. In these situations, he creates a shoe with a treatment plate that keeps the affected hoof clean when in place, but it can be removed to treat the abscess.
In Thoroughbreds, sore feet, knees, hocks and fetlocks, in addition to suspensory issues, osteoarthritis and fractured sesamoids, are common. These problems require balancing of the hooves through corrective trimming and staying ahead of growth with regular farrier care in the future "to provide a balanced foot for the foundation of the horse's frame," Taylor says.
"When Thoroughbreds come off the track, their feet go through significant changes because they're in a different environment," explains Taylor. "We want to make sure that we don't do a lot of trimming because they are generally short-footed and need to grow some hoof. We also want to be sure that extra growth doesn't cause any flaring, cracks, chipping or wall separations that could be problematic."
Garcia adds that the Thoroughbreds come in with very low heels, and he has found a wedge shoe with a pad to be comfortable for them.
Constant Care
Before you bring home a new horse, it's important to find a reputable farrier who has the knowledge and experience to provide your horse with the hoof care he needs on a regular basis. Taylor stresses the importance of having the feet trimmed every 30 to 45 days. "If we can do that, we can prevent a lot of imbalances, especially those exacerbated by conformation faults," he says.
Keeping up with routine hoof care is especially necessary for horses that have special needs. "I recommend that horses get an annual foot exam and have routine radiographs once a year," says Fraley. "With some laminitic horses, we'll follow up with radiographs two to three times a year."
Additionally, daily hoof cleaning, a healthy diet and regular turnout are imperative to a horse's hoof health.
Garcia emphasizes the significance of checking and picking the feet every day. "If the horse has some kind of issue, you'll find it right away. If you let [cleaning] go and miss something, it will get worse."
Further Reading
Fear of the Farrier
The Barefoot Life
---
This article originally appeared in the September 2009 issue of Horse Illustrated. Click here to subscribe.