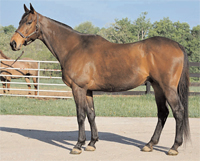 -Thoroughbred
-Gelding
-Bay
-9-year-old
-16.3h
Duesenberg is a big beautiful horse. This bay gelding is loaded with personality and loves attention. Duesy has been at KyEHC since February re-habbing from a bowed tendon which has now been cleared by the vet. Duesy is now ready for a new home and new career. He has been started under tack but is only suitable for trails or pleasure and will need additional training.
For more information on Duesenberg or any of the other horses at the Kentucky Equine Humane Center, visit
http://www.kyehc.org/
.
Back to the blog.