There are plenty of ways to help local rescues. Adopting or fostering a rescue horse is one way, and while many of us would love to do so, it usually is not practical. Volunteering is a great way to get involved because it gives you time around the horses and doesn't cost anything, but not everyone has the time. Another way to help is by making a donation.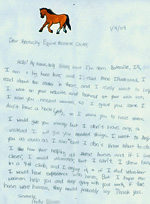 Organizations like the Kentucky Equine Humane Center are largely dependent on donations, whether from corporate sponsors or concerned individuals. As every horse owner knows, the costs that come with caring for horses never seem to end. Even if you don't have a lot of spare cash to donate to your local equine rescue, that doesn't mean you can't help. The KyEHC recently received the following letter from a generous Horse Illustrated reader who wanted to make a donation to help the cause.
Dear Kentucky Equine Humane Center,
Hello! My name is Holly, and I'm from Indiana. I am a big horse lover, and I read Horse Illustrated. I read about the center in there, and I really want to help. I went on your website and looked at your wish list. I saw you needed wormers, so I gave you some. I don't have a horse (yet), so I want you to have them. I would give you money but I don't have any, so instead I will give you needed things. I want to help you as much as I can but I don't know what to do.
I like how you're helping all these horses and if I lived closer I would volunteer. I show horses in a 4-H club, and I enjoy it, so if I did volunteer I would have experience with horses. But I hope the wormers help you, and keep going with your work. If the horses were humans, they would probably say, "thank you."
Sincerely,
Holly
Back to the blog.