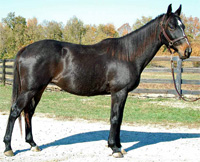 -Appendix
-Gelding
-Bay
-6-Year-Old
-15.1 hh
Blackie came to KyEHC with no history. He was abandoned at the farm where he was boarded. Blackie has come a long way since arriving at the Center. He gets along with other mares and geldings and has much potential. He will make a nice pleasure or show horse for an experienced horse person who has the time and patience to train him properly.
For more information on Blackie or any of the other horses at the Kentucky Equine Humane Center, visit
http://www.kyehc.org/
.
Back to the blog.