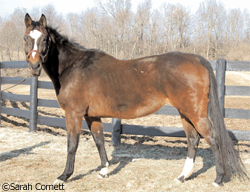 -Thoroughbred
-Mare
-Bay
-12-Year-Old
-15.1 hhh
Although KyEHC has no previous history on Jackie, she is very good under saddle but will need a refresher course. Judging from her mannerisms, we believe she may have been a show horse. She gets along great with other mares and geldings, loves attention and needs a person to call her own.
For more information on Jackie or any of the other horses at the Kentucky Equine Humane Center, visit
http://www.kyehc.org/
.
Back to the blog.