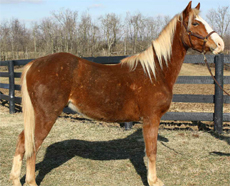 -Quarter Horse Cross
-Gelding
-Chestnut
-3-Year-Old
-14 hh
Bill loves attention and is easy to handle. He has been started under tack; he is a little nervous, but calms down quickly. Bill will need someone to adopt him that has the time and patience to develop his full potential.
For more information on Bill or any of the other horses at the Kentucky Equine Humane Center, visit
http://www.kyehc.org/
.
Back to the blog.