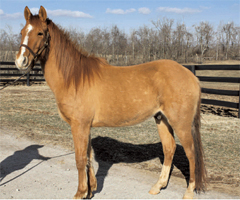 -Quarter Horse Cross
-Gelding
-Chestnut
-4-Year-Old
-14 hh
Shadow is doing great at KyEHC. He has made many new friends and gets along great with the other horses. Shadow has been started under saddle and is coming along. He needs to find a loving owner and home that has the time to finish his training.
For more information on Shadow or any of the other horses at the Kentucky Equine Humane Center, visit
http://www.kyehc.org/
.
Back to the blog.