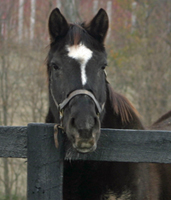 The KyEHC is on GoodSearch.com and GoodShop.com!
It's easy to spend hours surfing the web without realizing it. Next time you log on, visit www.GoodSearch.com to help the KyEHC while you point and click. For every search, GoodSearch will donate money to the center. And there's no cost to you!
Your online shopping can support the KyEHC as well. Buy clothes, plane tickets, computers and much more, and GoodShop will donate money to the center for each purchase you make. There are even great deals and coupons! Click on the GoodShop link at GoodSearch.com or go to
www.GoodShop.com
.
Volunteers help at a yard sale to benefit the KyEHC. Photo by Kim Abbott.
Here are some other opportunities to help the KyEHC:
For Sale: De-clutter your home and support a good cause by holding a yard or garage sale to get rid of clothes you no longer wear, books you've read, furniture that is gathering dust and anything else you don't use anymore. Donate the proceeds from your sale to the KyEHC for feed, bedding, grooming tools and other horse supplies that are essential to keeping the center running. If you work or ride at a boarding/lesson barn, ask your fellow equestrians to donate halters, lead ropes or blankets that they don't use anymore. Go to www.kyehc.org for a list of items the center needs.
Other options for raising money:
Bake sale
Car wash
Auction
Fundraiser dance or other social event
Be creative and come up with your own fundraiser!
Donate Money: The center can always use funds for all of the necessary health care and supplies required to keep the horses healthy and happy while they wait for a new home. Every donation counts!
Volunteer: If you live near the KyEHC, use some of your free time to help muck stalls, groom and turn out horses, hold horses for the vet or farrier, or assist with office duties. Even just an hour of your time makes a difference.
Back to the blog.