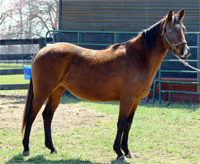 -Quarter Horse Cross
-Mare
-Bay
-7-Year-Old
-13.2 hh
Phoenix is a very sweet girl, and is easy to handle. She has one blue and one brown eye making her unique! Phoenix has not been ridden while at KyEHC yet, but is currently being assessed under saddle to find out how much previous training she may have had.
For more information on Phoenix or any of the other horses at the Kentucky Equine Humane Center, visit
http://www.kyehc.org/
.
Back to the blog.