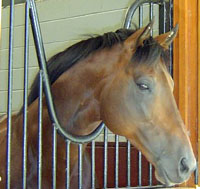 The Kentucky Equine Humane Center (KyEHC) offers Kentucky Thoroughbred racehorse owners an immediate option for horses whose careers have ended on the track. At four Thoroughbred racetracks in Kentucky – Keeneland, Churchill Downs, Turfway Park, and Ellis Park – stalls are available for any unwanted Thoroughbred whose racing career is over that has been surrendered to KyEHC. This option has been available for more than six months. The number of owners choosing this option has increased significantly as the economy has declined and as more owners have become aware of how easy it is to surrender their horses to KyEHC. Upon arrival at KyEHC, all horses are given a physical evaluation by a veterinarian and those that are physically and mentally sound are available for adoption.
KyEHC surrender forms are available from the Racing Secretary's office at each track. When surrender papers are completed at the racetracks, KyEHC has volunteers at each track to handle, feed and water the horses until transportation arrangements can be made to get the horse to KyEHC's central Kentucky farm, usually within 24 hours.
KyEHC's Mission is to provide humane treatment and shelter while working as a clearinghouse to seek adoptive homes for all of Kentucky's unwanted equines, regardless of breed: to educate the public and raise awareness for responsible equine ownership so that fewer horses end up in crisis; and, to work with and serve as a model for organizations with the same mission in other states: to save America's equines from inhumane treatment.
"We have taken in over 400 horses since opening our doors in April 2007, and approximately 275 of those have been Thoroughbreds. We are in desperate need of funding to continue and are asking the Thoroughbred industry to support KyEHC to ensure this option will continue to be available for Kentucky's Thoroughbreds," stated Development Director Cyndi Greathouse.
KyEHC, a charitable 501(C)3 organization that is sustained solely through grants and private donations, is the only equine organization in the state of Kentucky with an open-door policy where no equine in need of shelter is ever turned away and no fee is required to surrender an equine.
For more information about the Kentucky Equine Humane Center, adoptable horses, or volunteering please visit www.KyEHC.org or call Executive Director Lori Neagle at 859-881-5849.
Back to the blog.