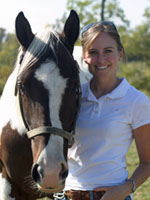 Photo by Elizabeth Moyer
Last Monday I attended the Woodford County fair to cheer on my friend's niece and nephew. I couldn't help but look at a cute paint mare riding in the green cross-rails classes. I asked the trainer about the mare and found out she was McKenzie from the Kentucky Equine Humane Center. I had visited McKenzie when she came to the center in the winter.
She has a great new life as a lesson horse. From what I could tell, she was as sweet-natured as could be and was learning just as much, if not more, than her sweet rider. It's so fun to see success stories in action.
Learn more about horses currently available for adoption at www.kyehc.org.
Back to the blog.