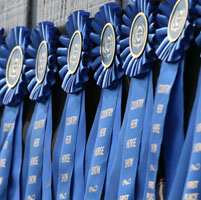 The easiest way to help the KyEHC may also be the most fun. On Saturday, September 12 the KyEHC hosts its annual all-breed charity horse show at Masterson Station Park in Lexington, Ky.
Bring your horse to compete in dressage, jumping or both for the combined test. There is also a pleasure ring for horses of all breeds and types. Stalls are available if you don't want to show out of your trailer. Best of all, coats and braiding are optional!
If you've adopted your horse from a rescue organization, this is the show for you. The pleasure ring offers two classes for rescue horses: Adopted Horse In-Hand and Adopted Horse Pleasure. There are also walk/trot, walk/trot/canter and leadline classes open to all horses, as well as my personal favorite, the Ride A Buck. Maybe this will be the show where I finally win it.
Masterson Station is a very equestrian-friendly park with a cross-country course and lots of open spaces to ride in when you're not in the show ring. If you are within reasonable driving distance of Lexington, gather your barn friends and come on out for this fun show. You'll compete in a friendly, low-key environment and support a great cause.
Get all the details, including the prize list, at www.kyehc.org
Back to the blog.