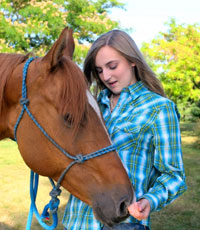 In a perfect world, you'd be able to spend all day riding, grooming and doting on your horse. However, real life doesn't usually allow for that luxury. Most horse owners have to spend their days working for a paycheck in order to keep their horses fed and cared for. Finding the right boarding situation sometimes means there's a long commute between your home or workplace and your horse. For those who keep their horses at home, a long day at work is often followed by an evening of barn chores with little time left over for actually riding or enjoying the horses.
Horse owners have to be resourceful with their time, whether it's getting up early to ride before work, foregoing social activities to make room for barn time, or sharing chores to make the work go faster.
What strategies have you developed to make time for your horse, and how do you make the most of the time you have with him? Click "Submit a Comment" below and share your tips with other HorseChannel.com visitors. Some of the responses may be selected for a future issue of Horse Illustrated.
One selected response may be selected by the editors to win a monthly prize! If you would like to be eligible for the prize, please include your email address in the comment form (email addresses are not publicly displayed.)
Back to Rider Insider >>