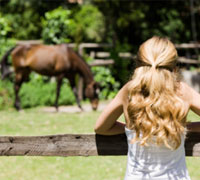 Some riders are single-minded in their pursuit of equestrian excellence. They wake up every morning, ready to ride until dusk. It doesn't matter if it's blazing heat or driving sleet, or if their horses are having an exceptionally bad day. Even if they have a million things to get done away from the barn and are going on nothing but two hours of sleep and a big mug of coffee, they still seem enthusiastic to get in the saddle.
Most riders, however, are mere mortals, and sometimes getting out to the barn just isn't the joy it should be. Winter weather and decreased daylight can put a damper on your enthusiasm at this time of year. A lack of light or good footing might confine you to tedious arena work, and you find it hard to get excited about being in the same old rectangle of sand when you'd rather be out on the trail.
Another common cause of rider ennui is the dreaded training plateau. While you're working hard to perfect a skill or overcome a training challenge with your horse, every ride has the potential for an exciting breakthrough. But once you've achieved your immediate goals, things can get a little boring for a while. Riding can feel more like simply clocking hours in the saddle than improving your abilities as a rider or advancing your partnership with your horse.
Other times, a lack of motivation seems to come out of nowhere. You may be questioning how much of a real equestrian you really are if you aren't constantly wanting to ride. But in any activity, enthusiasm ebbs and flows, and accepting the tough times as a normal part of life is the first step in getting through them and returning to the devoted rider you truly are.
Have you dealt with a lack of motivation? How did you get through it? Did you try a new equestrian sport, find a new riding buddy, or simply take a break and return to the saddle refreshed? Click "Submit a Comment" below and share your story. Some of the responses may be selected for a future issue of Horse Illustrated.
One selected response may be selected by the editors to win a monthly prize! If you would like to be eligible for the prize, please include your email address in the comment form (email addresses are not publicly displayed.)
Back to Rider Insider >>