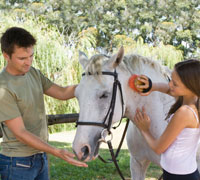 "Why are you blindfolding your horse?" your friend asks as you adjust your horse's fly mask.
"Oh my gosh, are that horse's legs broken?" your boyfriend wonders, staring at a horse in standing wraps.
"Why are you dressed like a sparkly cowboy?" your co-worker asks, pointing to the show photo you have proudly displayed on your desk.
As horse lovers, we accept that we can seem a little strange to the outside world, but when outsiders step into our world, they can be downright hilarious.
Have you ever been asked a strange question by a spectator at the county fair, or heard a completely off-the-wall factoid about horses from a relative who hardly knows the front end of a horse from the back?
It can be a challenge to smile and politely correct someone's misguided understanding of our horsey world, but you're among friends here. Tell us about the funniest or weirdest question or comment you've heard from someone who is not equine inclined. Click "Submit a Comment" below and share your story. Some of the responses may be selected for a future issue of Horse Illustrated.
One selected response may be selected by the editors to win a monthly prize! If you would like to be eligible for the prize, please include your email address in the comment form (email addresses are not publicly displayed.)
Back to Rider Insider >>