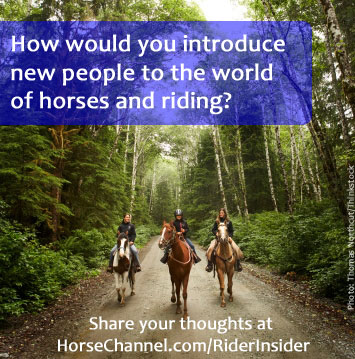 You've undoubtedly heard people in the equine industry lament the dwindling interest in horses in America. Horseback riding is competing with more accessible school-sponsored sports and activities—not to mention the ever-present video games and other indoor pastimes—for the limited attention of younger generations. Meanwhile, adults who want to ride often believe it's too dangerous or too expensive to get involved with horses when work and household responsibilities are already so demanding.
Suburban sprawl has taken over much of the land that used to be hayfields and horse country. Zoning laws keep horses out of residential areas in some places, which means that many people rarely see horses, much less have access to them.
The stereotype of equestrians as elitist, snobby and filthy rich persists even as research has shown that most horse owners' household incomes are close to the average for all Americans. Many people who don't have a personal connection to the horse world believe that in order to ride, they must own a horse, and in order to own a horse, they must have a barn and pasture in the backyard.
Introducing new people to the wonderful world of horses has become an uphill battle. For this month's Rider Insider, we want you to share your solutions. How would you help get non-riders interested in horses and riding? How would you combat the stereotypes about our sport and get newcomers out to lesson barns or trail stables to see what it's really all about?
Click "Submit a Comment" below and share your thoughts. Some of the responses may be selected for a future issue of Horse Illustrated.


Throughout 2013, Noble Equine will be sponsoring the Rider Insider column in Horse Illustrated with a prize for the selected featured response. If you'd like to be considered for a prize, make sure to include your contact info in the email field of the contact form (emails will not be publicly displayed.)
Back to Rider Insider >>