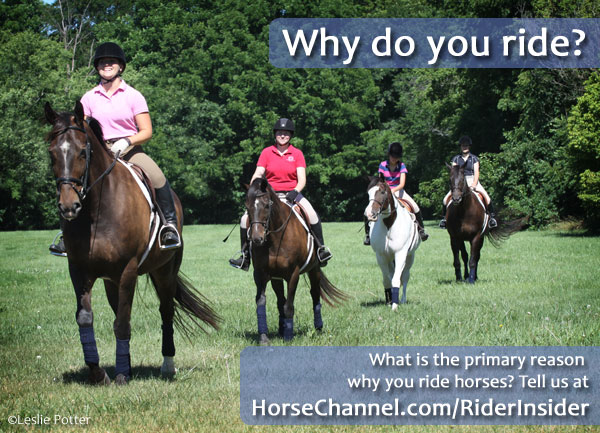 Riding horses is therapeutic. Spending time communicating with an animal helps to alleviate the pressures of daily life and has even been shown to provide benefits to riders with mental or emotional disabilities.
Riding horses is good exercise, despite what your non-horsey friends might think. A British Horse Society study
showed that an hour of riding burned 360 calories
, similar to a moderate bike ride of the same duration.
Riding horses can be a great social outlet. Riders at boarding or lesson stables or who live in equestrian-friendly communities can often find like-minded people to ride and train with. Conversely, people with work and family demands often look forward to barn time as a chance to have quiet time with just their horse.
Riding provides a competitive outlet for those who are driven to win. From the glitz of western pleasure and polished perfection of hunters to adrenaline sports like three-day eventing and extreme cowboy races, competitive riders devote their days to the pursuit of a championship or a personal best.
Any rider can list off a dozen reasons why they love to ride and be around horses. The challenge would be whittling those myriad reasons down to one. For this month's Rider Insider, we want you to do just that. If you had to describe the one primary reason why you ride or work with horses, what would it be? Click "Submit a Comment" below to share your thoughts. Some responses may be selected to be published in a future issue of Horse Illustrated!


Throughout 2013, Noble Equine will be sponsoring the Rider Insider column in Horse Illustrated with a prize for the selected featured response. If you'd like to be considered for a prize, make sure to include your contact info in the email field of the contact form (emails will not be publicly displayed.)
Back to Rider Insider >>