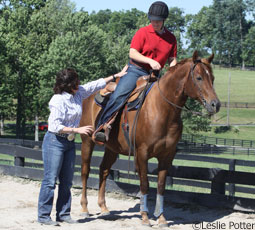 Once you've spent enough time riding and caring for horses, you start to become pretty competent and handling the daily problems around the barn. You know when a cut is just a scratch and when it requires a call to the vet. You understand how to work through new issues under saddle before they become serious problems. You even know how to handle some of horse life's quirkier questions, like dealing with mice in the feed room or an escape-artist pony.
However, even the most experienced equestrians will occasionally run up against a situation that stumps them. There's the mystery lameness that evades all known diagnostic tools. There's the old reliable horse who starts spooking in a formerly comfortable corner of the arena. Or maybe you just can't seem to master a seemingly simple concept in the saddle.
Of course you call your vet when there's a serious health issue involved, but for other questions dealing with riding and horsekeeping, who is the guru you have on speed dial? Do you have a horsey friend who can always see things that you'd otherwise miss? Do your mom's years of experience around horses come in handy? Or perhaps you're fortunate enough to have a great trainer in your life who can help to shed light on your equine challenges. Tell us who fills this role in your life by clicking "Submit a Comment" below. Some responses may be selected to be published in a future issue of Horse Illustrated!


Throughout 2013, Noble Equine will be sponsoring the Rider Insider column in Horse Illustrated with a prize for the selected featured response. If you'd like to be considered for a prize, make sure to include your contact info in the email field of the contact form (emails will not be publicly displayed.)
Back to Rider Insider >>