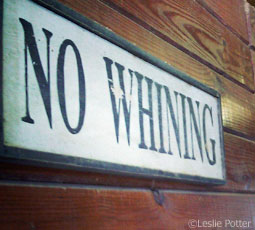 When riding in the arena, pass left shoulder to left shoulder.
If you borrow it, put it back.
Don't feed fingers to the horses.
Regardless of whether you ride at a commercial megastable or just keep a few horses in your backyard, your barn undoubtedly has a few rules. Horses can be dangerous to inexperienced humans, and humans can certainly be dangerous to horses, and many standard barn rules are in place to protect one species from the other.
Other barn guidelines are there with the aim of keeping peace between human members of the barn family. Standards for how the arenas, wash racks and tack rooms are maintained can stop disagreements before they happen.
And then, there are the list of things that should be common sense but become official just to make sure everyone remembers. No smoking in the barn area. Helmets must be worn when mounted. Don't use other people's stuff without their permission.
Beyond these standard regulations, what rules do you have at your farm—or what have you seen at other barns you've visited—that are unique, important or possibly have a good story behind them? Have you encountered any rules at other people's stables that leave you scratching your head (or running for the barn door)? Click "Submit a Comment" below to share your story. Some responses may be selected to be published in a future issue of Horse Illustrated!


Throughout 2013, Noble Equine will be sponsoring the Rider Insider column in Horse Illustrated with a prize for the selected featured response. If you'd like to be considered for a prize, make sure to include your contact info in the email field of the contact form (emails will not be publicly displayed.)
Back to Rider Insider >>