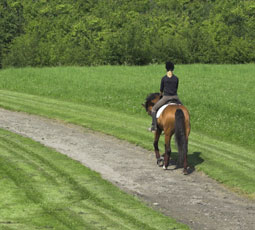 There's a popular notion in the equestrian world that you're not a real rider until you've fallen off 10 times. Or is it three times? Either way, if you hang out with enough horse people, you've probably heard some variation of this old adage. Maybe it's just something that riding instructors and other experienced equestrians say to comfort newbies after they've met the dirt for the first time, but it does make some sense. You can sit on an old trail-string pony and wander around for days, but you've hardly earned your stripes until you've reached beyond that comfort zone.
There's much more to equestrianism than staying in the saddle (or not.) Chances are, when you fell off that third (or tenth, or hundredth) time, you didn't jump up off the ground feeling like you'd suddenly made it. However, maybe there was a lightbulb moment when you realized you weren't just a beginner, dabbling in this horse thing. Was it the first time you were able to groom, tack up, ride and cool out a horse without having to ask for help? Did it come somewhere later on down the line when you were able to act confidently to help a sick or injured horse? Was it when other riders at your barn started asking you for help or advice instead of the other way around?
All riders are growing, learning and improving as long as they keep working with horses. It's a process that never ends. But unless you were born into the horse world, you can probably look back at a time when you had no idea what you were doing around a horse, and see how you've progressed from them. What was the experience or event that made you realize that you had become a true rider or horseperson? Click Submit a Comment below and tell us about it. Some of the editors' favorite responses could be featured in a future issue of Horse Illustrated!
This month,
Noble Equine is sponsoring the Rider Insider column in Horse Illustrated with a prize for the selected featured response. If you'd like to be considered for a prize, make sure to include your contact info in the email field of the comment form (emails will not be publicly displayed.)
Back to Rider Insider >>