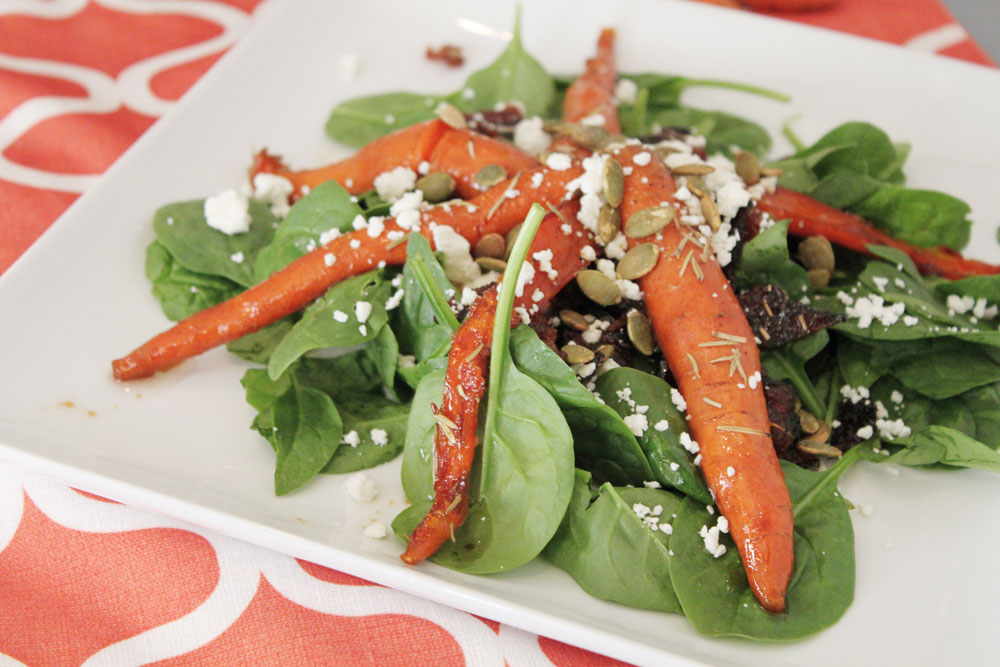 As a rider, you're guaranteed to have fresh treats on hand for your equine companion—the most popular being carrots. But don't feel left out in the produce department. If you've got a few carrots to spare, turn to this tart-sweet dish for a fresh Southern take on the classic spinach salad.
Don't fret about rounding up the exact ingredients: You can easily substitute for another with similar qualities, such as sweet, tart, salty, crispy, chewy or soft. Even if your culinary talents are reserved mainly for throwing hay and
scooping grain, it's nearly impossible to mess this one up.
Ingredients
3 carrots, scrubbed with ends cut off
3 strips thick-cut bacon (I used Black Forest rubbed—yum!)
1 ½ tsp. dried rosemary
3 cups baby spinach
Goat cheese
2 T. sea salt pumpkin seeds
1 – 2 T. rosemary-lime dressing
Honey-Bourbon Glaze
1/2 T. balsamic vinegar
1 T. honey
1/2 T. Worcestershire sauce
1/4 cup brown sugar
1 ½ ounces bourbon
Rosemary-Lime Dressing
2 T. lime juice
2 T. extra-virgin olive oil
1/4 tsp. dried rosemary
1/4 tsp. salt
1/4 tsp. pepper
Preparation
Preheat oven to 375 degrees F. Line baking sheet with foil or parchment paper and grease liner.
To make honey-bourbon glaze, combine all ingredients in bowl, whisk and set aside.
Assemble rosemary-lime dressing ingredients in jar, shake well to combine and set aside.
Cut carrots in half lengthwise and arrange on baking sheet with bacon, alternating between veggie and meat.
Whisk glaze—the sugar will not be completely dissolved—and drizzle over bacon and carrots, using spoon or basting brush to scrape out sugar and coat toppings thoroughly. Sprinkle with rosemary, and place in oven on middle rack. Cook for 15 to 20 minutes or until carrots can be just pierced with fork (not mushy) and bacon is browned. Remove from oven and set aside.
Place spinach on large plate. Roughly chop bacon—it's too sticky to crumble—and sprinkle on spinach. Place carrots in star pattern and top with goat cheese crumbles and pumpkin seeds. Finish by shaking dressing and drizzling desired amount onto salad.
Serve immediately.
Get more rider recipes on Pinterest >>
Stephanie Staton is a freelance writer based in Kentucky.
---
This article originally appeared in the February 2016 issue of Horse Illustrated magazine. Click here to subscribe!