Most of us are sad to leave our horsey lifestyle at home when we go on vacation. The good news is you don't have to.
Salamander Resort & Spa
in Middleburg, Va., which opened in August 2013, is fully designed to cater to the equestrian lifestyle. Even the hotel room décor and bedding was designed by resort owner Sheila Johnson to reflect a keen love of horses.
Photo courtesy Salamander Resort & Spa
An easy half-hour drive from Washington Dulles airport had me quickly deposited in Middleburg, where it feels like you've gone back in time a century or two, with its stone houses and rustic farmland. The resort itself is set back from the road among the foothills of the Blue Ridge mountains, and it feels like you're pulling up to a grand southern mansion from a bygone era.
As a doorman greets you, you are whisked into the main living room area with two fireplaces burning warmly. The rustic hardwood floors have just enough squeak to convince you that you're walking through a piece of history. With 168 rooms, the hotel wing is not overwhelming in size, and includes the serene fountains of the spa entrance. On the other side are the wine bar, cooking studio, and attached restaurant and event rooms.
Day One

The first scheduled activity on my trip, the Equi-Spective Experience, was held at the gorgeous stables—just what I wanted to see! Hotel guests are welcome to bring their own horse with them, or you can ride one of the many well-trained horses that belong to Salamander.
Photo courtesy Salamander Resort & Spa
Sheryl Jordan, the resort's equestrian director, designed the Equi-Spective Experience for horse people and non-horse people alike. First, you pick out the horse you want to work with based on any criteria you like (I chose the Appaloosa, naturally). Next, she takes the group to the round pen and has everyone work with their chosen horse individually to discover aspects you may never have thought about regarding your leadership and listening skills.
My horse tested me to see if I'd make him move off in the round pen. I know this game well thanks to my own Appy with a similar personality. Twenty-plus years around horses has taught me to lead them with confidence, although I find this doesn't always carry over to humans. But it's a great eye-opener for people who have never been around horses: You must gain their trust without using force, and remain aware of their power while still communicating clearly.
That evening, we had dinner in the hotel's restaurant, Harriman's Virginia Piedmont Grill. The head chef uses influences ranging from European cuisine to local fare to build an outstanding and unique menu amid panoramic views of the countryside. The private dining room is even decked out with antique jockey saddles and show jumping trophies won by Johnson's daughter, Paige.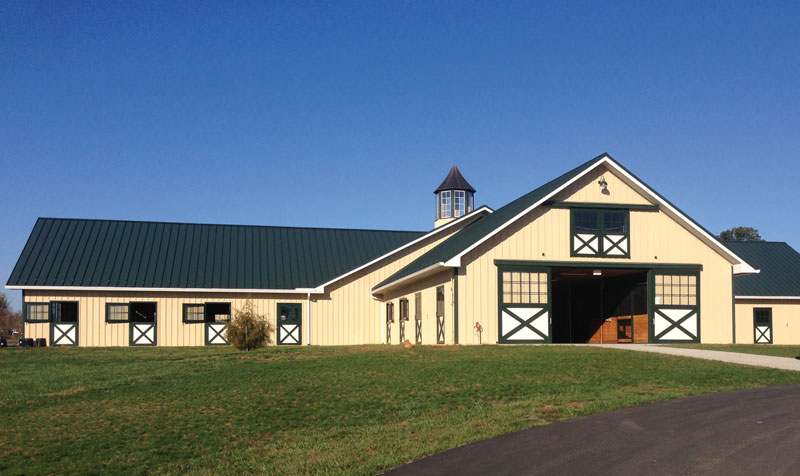 The stables at Salamander
Day Two

Day two dawned bright and early as we walked a short trail lined with fall foliage into Middleburg. There, we ate at Market Salamander, also owned by Johnson, which offers quaint market foods and a hot breakfast that was absolutely delicious.
Next, it was off to the National Sporting Library and Museum, which caters entirely to horse and field sports, housing over 17,000 books and 200 works of art. The older of the two buildings dates back to pre-Civil War days.
After enjoying a tour of rare 16th-century books and equine art, we had time to explore the wonderful shops in Middleburg. There were plenty of boutiques, but it was the tack stores I was most interested in! I had last been to the area in 2002, and it was just as charming and filled with horsey treasures as I remembered.
In the afternoon, I headed to the spa for the "Rider's Relief" massage, designed especially for resort guests by a former show jumper-turned-massage therapist. The massage targets particular rider trouble spots and knots, and is absolute heaven!
Next we shuttled to a short distance to Boxwood Winery for a tour and dinner. Executive Vice President Rachel Martin explained how the grape vines were brought in and planted for the Virginia climate by top consultants from Italy, and processed using absolute top-of-the-line equipment for the best flavor. The facilities were impressive, and of course we got to sample some of their great wines during dinner.
Day Three

The next morning we were back at the stables for sunrise yoga. Since it was a chilly October morning, we moved from the normal barn aisle location to an indoor studio. After getting in some good stretches and breathing, we moved on to horseback yoga—a first for all the guests. With a spotter on each side, I felt completely safe even though we were bareback for ease of mounted poses. The horse we used was Snowy, the same Appaloosa I had chosen for the Equi-Spective Experience. He is their main yoga horse due to his relaxed nature.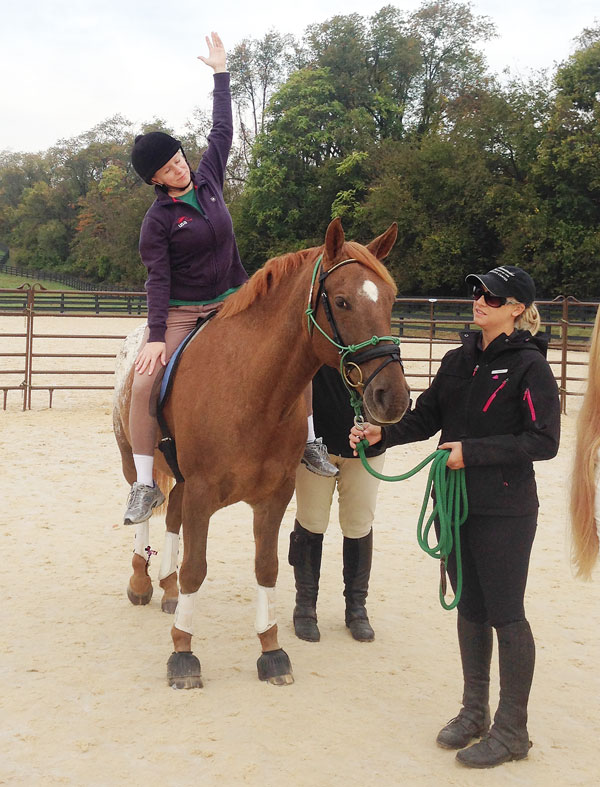 Photo courtesy Salamander Resort & Spa
After yoga, we set off on a trail ride through the scenic area around the resort. It was the perfect crisp fall weather for a ride. At one point, we even saw a foxhunt go galloping by—talk about the quintessential Middleburg experience.
In the afternoon, we went to Great Meadow in The Plains, Va., to see the International Gold Cup steeplechase races. Johnson hosted a tent full of delicious hors d'oeuvres and gourmet food. It was easy to get up close to the rail and enjoy all the action as the horses thundered by, leaping over brush fences around the large natural track. The crowds were impressively large, but I'm sure they're even bigger on Virginia Gold Cup day, held the first Saturday in May (the same day as the Kentucky Derby). The traditional, stylish hats come out for both occasions for a little extra fashion fun.
Back at the hotel, my group had dinner in the cooking studio, where you can pass around different dishes in a smaller setting. Afterward, we sat by one of the outdoor fire pits to chat some more. It was the perfect ending to a fun and relaxing getaway!
For more information, visit www.salamanderresort.com.
---
This article originally appeared in the March 2014 issue of Horse Illustrated magazine. Click here to subscribe!