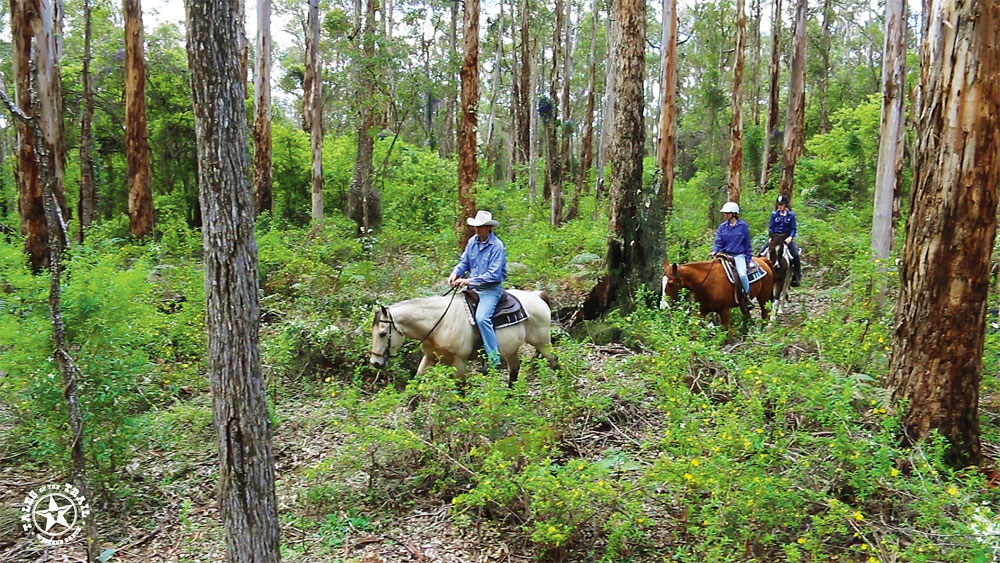 Photo courtesy Tales of the Trail
Australia is best known for its red desert, with monolithic rock formations looming up from the sand. but sections of the country are blanketed with lush forests, filled with exotic gum trees of towering heights.
One of the best places to see the beauty of Australian woodlands is the southern forest of western Australia. filled with unique flora, this part of Australia is both picturesque and full of wildlife. The area is known for its magnificent forests, vine- clad hillsides, fertile orchards, dramatic cliffs, and white, sandy beaches with views across the vast Indian Ocean.
Tales of the Trail
If you want to experience this part of Australia on horseback, the tales of the trail western ranch in Manjimup can provide you with that and more. about 200 miles from Perth, Tales of the Trail offers riders trail excursions in western saddles on two distinctly American breeds: Quarter Horses and Paints.
"All our trails go through magnificent karri, marri and jarrah [tree] forests," says Monique van Vliet, who owns the ranch with her husband, reining horse trainer Erwin van Vliet. "The area is known for its wildflowers in spring, lots of rare orchids, and fungi in autumn."
The karri trees that make up much of the southern forest are one of the tallest trees in the world, with some reaching nearly 300 feet. The marri and jarrah trees are two other native eucalyptus species that grow to be very tall and majestic.
According to Monique, riders see plenty of wildlife along the trail, including native birds, emus, the rare quokka (a small kangaroo-like marsupial) and the occasional snake. Plus, kangaroos hang out in the ranch paddocks.
The Riding Experience
Tales of the Trail takes guests in small groups of no more then six riders in order to tailor the ride to the ability of the riders. Two-hour rides are popular, and take riders into the bush on single-track trails, plus bigger roads for trots and canters. longer day rides are also offered for experienced riders.
If You Go:
For beginners, try the one- hour, family-friendly Ranch Ride or popular two-hour Forest Ride.
Intermediate and experienced riders can enjoy the four- to five-hour River Ride or Tavern Ride, with lunch included.
Helmets provided.
For more information, visit www.westernranch.com.au
---
This article originally appeared in the June 2016 issue of Horse Illustrated magazine. Click here to subscribe!