The island of Puerto Rico is known for its pristine beaches and tropical climate. While you could experience this beautiful island on foot, a more adventurous way is to see it by horseback.
A great way to do this is under the guidance of Tropical Trail Rides, a riding facility owned by former Californians Craig and Michelle Barker, who fell in love with Puerto Rico after a visit and made it their home. Located in the city of Isabela, about 80 miles from San Juan, Tropical Trail Rides is situated on the northwest coast of the island in an area that has managed to avoid overdevelopment.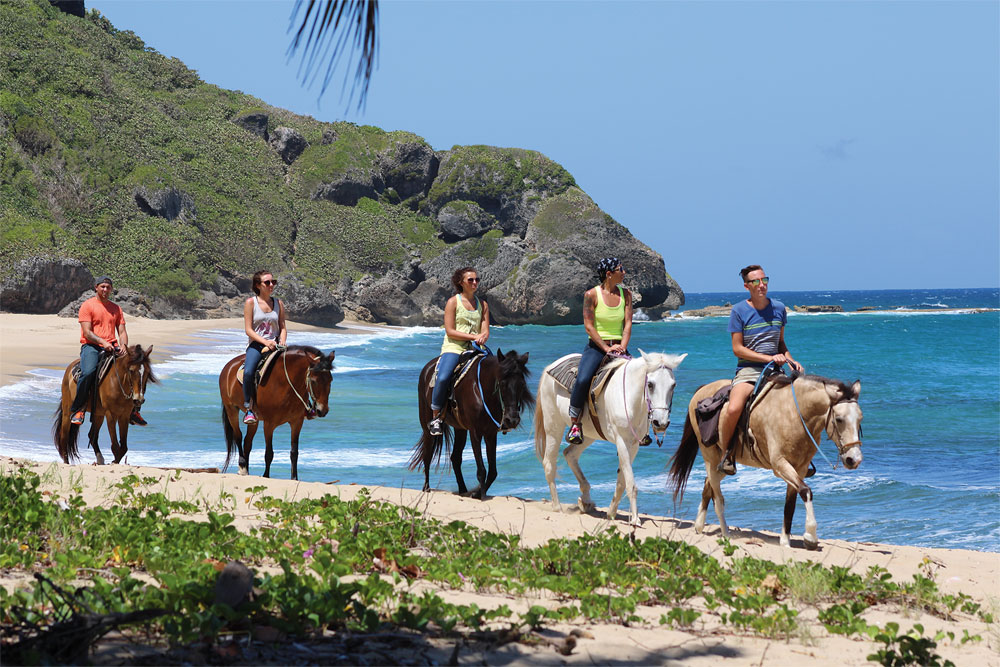 Photo courtesy Tropical Trail Rides
Two-hour rides are offered in the morning and afternoon through terrain reminiscent of old Puerto Rico. The scenic route takes riders along pristine Caribbean beaches with crystal-blue water and through tropical forests.
"Our ride is like none other," says Craig. "There are so many terrain changes and so many things to see in the two hours, it leaves our guests completely fulfilled. This includes birds, iguanas, land crabs, whales and other wildlife."
The ride takes you down three miles of white, sandy beach along the water's edge, through an almond grove, then out to Survival Beach, which has many cliff caves. "Guests can explore the caves on the 15-minute break we take to rest the horses," says Craig. "During the break, some people jump in the water, while others relax on the beach. Some go for a great hike to a 180-degree viewpoint."
On the way home, riders travel through tropical countryside and pine forest before heading back to the ranch. If you sign up for the afternoon ride, you'll have a chance to watch the sun go down.
Riders of all experience levels can participate in Tropical Trail rides. "There's definitely enough variety in the landscape and terrain to challenge more advanced riders, but we also take pride in giving beginner and intermediate riders the same chance to enjoy this spectacular trail," says Craig.
Puerto Rican Paso Finos
A total of 30 horses make up the Tropical Trail herd. "Our horses are well cared for—very gentle, but spirited," says Craig. "We take pride in the health and happiness of our animals."

The horses used by Tropical Trails are gaited Paso Finos. "They're super smooth so you don't bounce in the saddle," says Craig. "They're a sturdy breed and average between 14 and 15 hands. Our horses come in twice a day to eat in the barn and are out all day and night as a group, eating hay and being horses."
For more information, visit Tropical Trail Rides at www.tropicaltrailrides.com.
Audrey Pavia is a freelance writer and the author of Horses for Dummies.
---
This article originally appeared in the April 2016 issue of Horse Illustrated magazine. Click here to subscribe!