At the famed Wimbledon tennis championships, a spectator's cell phone rang during a key moment in the finals. All eyes, including the players', turned toward "Mr. Bungle" as he scrambled to turn the phone off. And of course, all of this was caught on national television.
And who can forget the 2002 winter Olympics and the little kid who threw debris on the bobsled run just as a sled went by?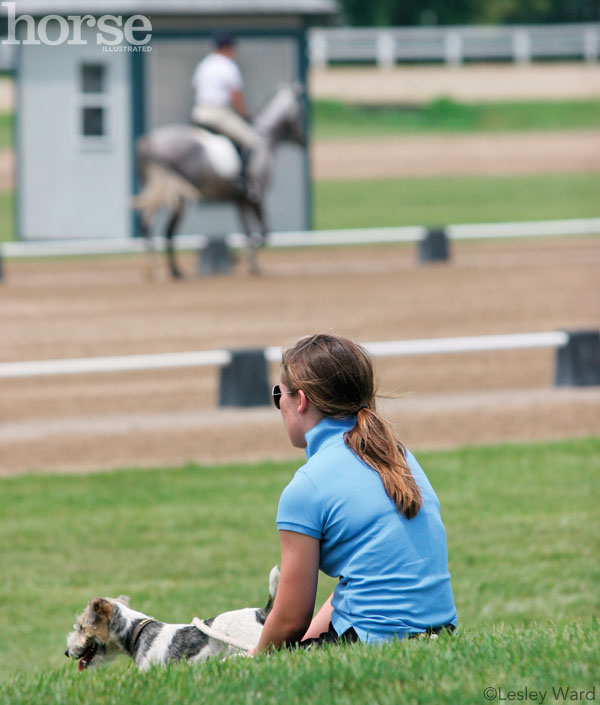 Spectators are an important part of the competition. They make sponsors reach into their pockets, help keep the sport popular and encourage the competitors. But they do need to know how to behave.
Here are a few tips on spectator etiquette at horse shows.
1. Watch what you say. That owner of the ewe-necked horse who looks like he gulped down a broomstick may be sitting right next to you. Jeering and pointing  won't help you make friends and influence people.
2. Control your enthusiasm. Although some disciplines, such as barrel racing and reining, encourage audience participation, others, such as dressage and hunters, do not. You may get very pointed looks in your direction if you yelp and whoop as a rider completes a very nice string of flying changes. Wait to show your approval after the test or round is complete.
3. Stay in your seat. Metal bleachers can make a lot of noise and spook a competitor's horse, so try to wait until the round or test is over before leaving.
4. Keep your conversation to a whisper. This is particularly true in smaller shows where spectators are sitting near the judge. It's very hard for a judge to concentrate on the task at hand when several conversations are going at once. And of course, keep your phone's volume down or put it on vibrate!
5. Don't bother the judge. No matter how outraged you are at the judge's decision, do not approach her with your thoughts on her flawed eyesight. Speaking to the judge is the rider's decision and must be done through the show officials.
6. Don't offer assistance to a rider unless he's asked for it or is in danger. Unauthorized assistance in some disciplines, such as eventing, can result in a rider's disqualification.