"Miss Kate, when I get older, I never want to get married," says a tween girl grooming a trusty lesson horse. "I just want to have, like, 50 horses."
Conversations like these make Kate Evans' day. The owner of a non-profit known as Life in Stride Riding Academy, Kate fondly recalls making the same kinds of statements at that age. Some things change—Kate is happily married, and she doesn't quite have 50 horses—but the horse-crazy mindset behind those proclamations still runs deep.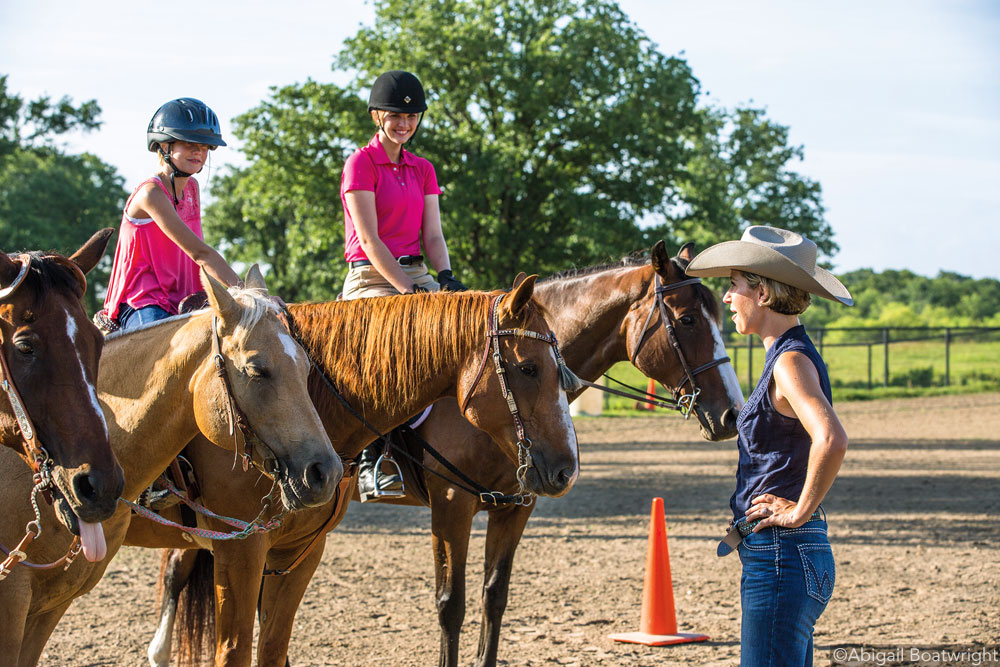 Every lesson at Life in Stride teaches safe riding in an innovative and entertaining way.
Kate encourages the girl and her riding classmates to finish tacking their mounts in the wildly painted turquoise-and-pink barn aisle and guides them toward the arena for their lesson. Surrounded by precocious young girls with beloved lesson horses and wearing her favorite stingray boots, Kate is in her element, and she turns to the group with a wide grin and a silly dance to get the session started.
Here Comes Kate
Kate's grandmother, Beverly, said Kate's personality has always been like dozens of balloons walking into a room. "She was all color and loud and attention," says Kate's mother, Wendy Wills. "It was always like, 'Kate is here.' Big and beautiful and bright. She was always outrageous."
Growing up in Los Angeles, Calif., Kate had a flair for the dramatic and a passion for fashion. Wendy says that as a child, the blonde dynamo often dressed in the most outlandish outfits she could put together for everyday trips to the grocery store with her mom. Even back then, she asserted her personality and emotions through her style.
"I would constantly be wearing black leotards, lace gloves, tons of jewelry," Kate recalls. "My mom would always let me dress myself because she thought it was good for me to figure out who I was. From a young age, clothes were a way for me to say, 'This is how I feel today.'"
Despite her larger-than-life personality, Kate says she struggled as a child to find her place in the world.
"At 10 years old, I was the kid that wasn't good at anything," Kate says. "I couldn't throw a baseball, I couldn't play basketball, I couldn't dance, I couldn't play an instrument." But when her mom encouraged her to try riding lessons, Kate's life changed. "Riding horses was one of those things that I tried, and I still wasn't good at it, but I loved it. And because I enjoyed it, I just kept working."
Laying the Groundwork
Riding and owning horses was a hardship for Kate's family, and as a teen she pulled her weight by working hard to pay for her passion.
"She was mucking stalls and babysitting, doing everything she could to pay her way," says Wendy. "So consequently, everything in her life revolved around the barn or earning money to be at the barn."
Racing across the pasture and picnic lunches out of backpacks on bareback ponies are precious memories for Kate, as well as everything she learned from watching her trainers. Kate showed in 4-H and eventually Appaloosa breed shows in the Pacific Northwest as a youth, and gained valuable skills, memories and friendships.
"Those years taught me so much," she says.
Gig 'em Aggies
Kate knew if she was going to ride in college, it would have to be on a university equestrian team because she couldn't afford to keep a horse and go to school. So she applied to several universities, including Texas A&M University. After five minutes at the school meeting the team's coach, Tana McKay, Kate says she knew it was the place for her.
Unfortunately she did not get recruited or accepted right away. She did get accepted to California Polytechnic State University, so she decided to step away from horses and attend the closer university instead.
But in July 2003, Texas A&M's equestrian coach called Kate's house while she was out riding, and Wendy took the call. When Kate got home later, she walked in to quite the surprise: Her mother had hung a giant banner with the Texas A&M logo on it, and she had one thing to say to her.
"She said, 'Gig 'em Aggies!'" remembers Kate. "She said, 'A&M called, and you got the last spot. We are packing your stuff and we are going.' I was just totally floored."
Kate says that moment changed the course of her life, and she's never looked back.
"Kate was trying to intellectually justify quitting horses because there's so much sacrifice," says Wendy. "But ultimately, she recognized that it was a passion and she was going to do everything she had to do to make it work, because you can't give up on your passion."
From the first time Kate rode in practice, she started a new chapter in life, both with her riding ability and self-development.
"It was the right place at the right time, with the right teacher," Kate says. "Tana and I just clicked. I felt like she respected and wanted the best for me as a rider. Being on team horses allowed me to be on a level playing field with the other girls for the first time. I stayed with riding because of the love of horses, but it didn't get fun until I was on the equestrian team. And then it totally reignited my confidence and the desire to get out there."
Kate found success on the team, earning two individual national championships as well as several team championships. She experienced a team sport and learned sportsmanship on a whole new level.
"Sometimes it's not about being the star of the show, and it's not about you," Kate says. "Sometimes, it's really about being a team. There were moments that really changed my perspective on life, and the team aspect gave me such a format for my business."
In 2006, Kate began riding with all-around trainer Robin Frid, and she picked up a reserve all-around championship in Novice Amateur at the Appaloosa World Championship Show.
"The team and riding with Robin was what prompted me to give something different to horse-crazy kids that are dying to ride," Kate says. "I wanted to teach kids how to be safe and have fun with horses."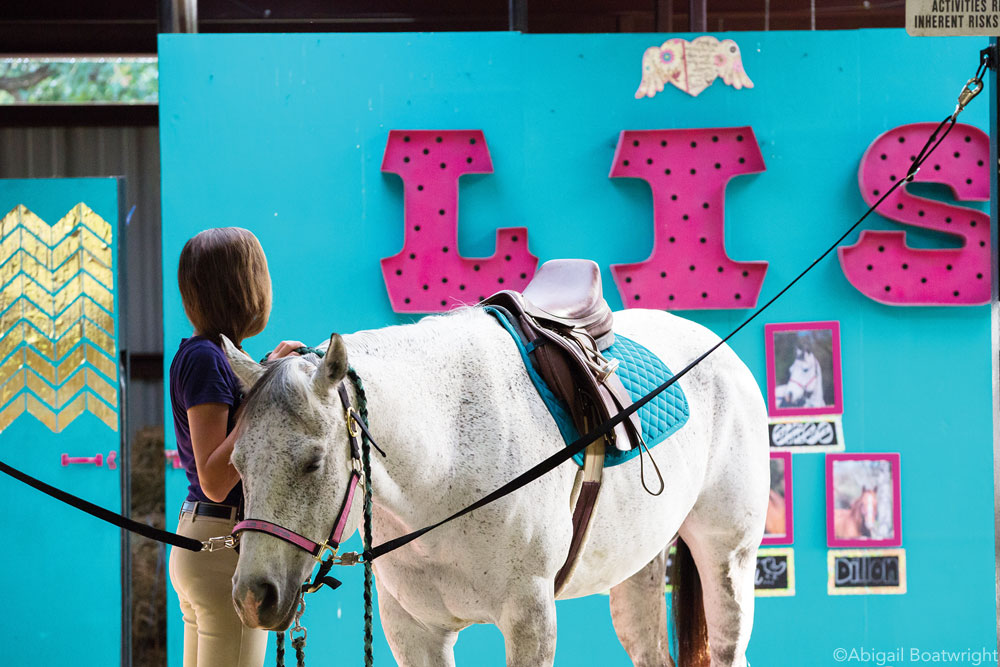 Girls attending Life in Stride Academy are surrounded by a fun and inclusive environment while they learn solid riding principles and life skills.
Paying Her Dues
After college in 2008, Kate began job hunting, but the recession meant job offers were few and far between. Figuring she had nothing to lose, Kate took the plunge and launched her dream of a riding academy for girls. "I had one horse and one saddle," Kate says. "I didn't mind calling people in the area, asking if they had horses sitting out in the pasture I could use to teach lessons."
Kate began teaching riding lessons with a motley crew of borrowed horses and equipment. A friend let Kate move in with her family, and Kate spent a year pouring every dollar she made back into her fledgling business.
"Two years later, I had around 30 kids and a wait list," Kate says. "I was doing everything on my own: cleaning stalls, feeding horses, teaching lessons, managing the barn."
Eventually, Kate was able to hire some young women to help her teach, and after meeting and marrying her husband, Travis, Kate continued to build a solid program introducing youth to horses in a fun and safe way.
Going Non-Profit
Because Life in Stride wasn't contributing significantly to their household income and she wanted to return to showing as an amateur in the future, Kate turned Life in Stride Riding Academy into a non-profit. Proceeds benefit a Christian boarding school called Restore Her in Bryan, Texas, that specializes in rescuing children from being at risk for, or already involved in, sex trafficking or sexual exploitation. After hearing about its vision, Kate felt strongly that she should contribute to its efforts to give these girls a new beginning and serve as a role model.
With the skills Kate teaches, and, more importantly, the confidence-building infused in every encounter, Kate's students find purpose, joy and community with the horses they love.
"If I can do one thing for each one of my students, it's to let them know that they are good enough to keep trying," Kate says. "They may not be the big-time winner, but they sure are not losers. Everyone has their day in the sun; some of us have it early on in life and for some of us, it comes later. I never want these girls to hide from who they are."
Kate's husband says she views her program as a ministry.
"It's a way for her to give back to the community something she loves," Travis says. "She sees it as a way to help mold these kids in ways beyond teaching them horsemanship skills. She weaves in life lessons while teaching them riding and horse care."
Travis says Kate has a talent for communicating riding principles in a way that the students understand. "She makes it fun, and that's part of her gift," Travis says. "But she has the ability to communicate like good coaches do, and break it down."
A Sense of Style
"I want all aspects in my life to be fun," Kate says. "My grandmother always told me as a kid that if it's not fun, don't do it."

Part of how Kate's personality shines through in her day-to-day life is through her unique fashion choices. If you meet Kate out and about, you never know if she'll be wearing her mom's Louboutin high heels, her cherished Kippy leather jacket, or grubby barn-mucking clothes. Her closet is a sight to behold, with chandeliers, brightly painted walls and an assortment of clothes, accessories and shoes. She says Carrie Bradshaw of Sex and the City is her style icon.
Kate reveals she has everything in her closet from show clothes and her wedding dress to Bohemian vests and leather jackets. "The spectrum is wide because I don't really believe in trends," she says. She frequently shops vintage. "If I find a vintage piece and it looks great on me, and I can't live without it; I've got to buy it."
Kate's sense of style pervades her home and barn. Known as "the Barndominium," the Evans' house is upstairs, above the Life in Stride barn. The barn is just as colorful as Kate's closet—and that's just the way she likes it.
"I love hot pink and I love turquoise, so for Life in Stride, those colors are everything that I'm about," Kate says. "Fun, loud, girly, but at the same time, sassy."
With their lesson complete, Kate's students return to the barn aisle to untack their horses. They excitedly chatter to one another and their beloved Miss Kate as they care for their mounts. It's clear that these girls have found a place where they belong and feel accepted—one that smells of horses and rings with laughter.
ABIGAIL BOATWRIGHT is a freelance writer and photographer based in Texas.
---
This article originally appeared in the November 2015 issue of Horse Illustrated magazine. Click here to subscribe!