Tess Utterback's schedule is intense. Between working full time, family, taking care of her three horses, and being a competitive eventer, she doesn't have much time for the luxuries of her pre-horse life. We sat down with her to talk about her horsey history, goals, and how she manages to fit it all in!
Horse Illustrated: When did you start riding?
Tess Utterback: I rode a little as a kid but didn't get my first horse until I was 37. My mother had shown Saddlebreds her entire life so by the time I came along my grandfather had enough of the horses and never let me have one. He told me it was because of Gone with the Wind when little Belle Blue dies falling off her horse. I think the truth was more along the lines of not wanting the hassle of horses again.
I was really struggling to find passion in my life when [my first horse] Lou Lou came along. I was married with no kids, my husband hunts and I really didn't have a hobby. I shopped a lot! I had great clothes and shoes and ran around Lexington at the 'see and be seen' places, but I was missing something. I had a dream of owning a pair of Christian Louboutins. They are REALLY expensive French designer shoes. A couple weeks before my 37th birthday and friend and I went to Chicago and I finally splurged and bought the shoes (They cost $800!).
My husband is a realtor and was listing a farm for sale and I tagged along with him. The farm owners had a cute little pinto Tennessee Walking Horse and I just had to have her! The owners said that when the farm sold, the horses all had to go, and she could be mine. We bought her for $400, My husband promptly said "I could have bought you two horses for what you paid for those shoes!" That's when I knew Louboutin had to be part of her name; she became Painted Louboutin, or "Lou Lou." She is such girly girl! And I sold those Louboutin shoes after wearing them only once to buy Lou Lou a saddle.
HI: Why eventing?
Tess: I moved to a barn where there were a few ladies who evented. I supported them at their shows and was instantly hooked! I knew that's what I wanted to do. I started searching for an eventing coach and found Jenn O'Neill. The rest is history!
HI: What other riding disciplines interest you?
Tess: I went to a couple Walking Horse shows but it was not for me. I love trail riding and could see doing endurance rides in the future. I also figure when my body gets tired of hitting the ground I'll do more dressage.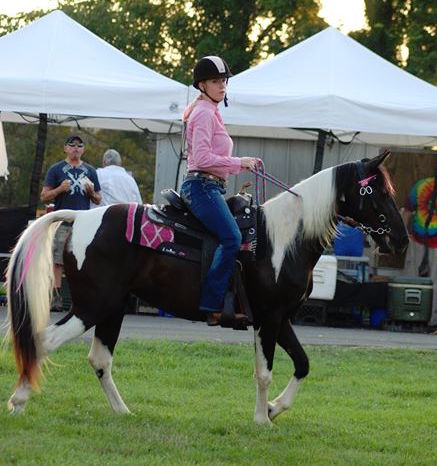 HI: Tell us a little about your horses.
Tess: Lou Lou came first. A month later we bought Lily, who was Lou Lou's grandmother. She was a great trail horse but sadly died of cancer a year later. That was one of the hardest things I've ever gone through. For Valentine's Day (only 6 months after getting Lou Lou) my husband bought me Dakota, a Paint pony. I jumped him for the first time and fell off him the first time that day! I now also lease a fantastic Appendix named Bailey because I want to go farther than I thought Dakota could take me.
HI: What was the process like getting Dakota from 'backyard pony' to the American Eventing Championships (AEC)?
Tess: Dakota is my heart and soul. He is like every guy I ever dated: super cute but a complete pain in the ass! From day one, he was never easy. But like all those guys I dated, I liked the challenge.
I bought Dakota from a Romanian cowboy who played around with Dakota but he didn't have much formal training. I took him to a hunter/jumper coach and she didn't think much of him. I remember her saying that one day she was going to put me on a horse that can jump 3 feet. Well guess what- Dakota can jump 3 feet! When I found Jenn O'Neill everything changed. I got more serious about riding and she put Dakota in boot camp. He turned into a different horse.
Dakota and I were qualified for AEC in 2015 but I broke my collarbone falling off him a few months before. I spent the rest of the season getting him qualified (again) for 2016.
HI: What was the atmosphere like at AECs?
Tess: It's amazing. You are surrounded not only by other amateurs but also the biggest and best in the sport! You'll be warming up your horse and look over and there is Buck Davidson. I was sitting on the rail, watching warm-up and Kim Severson asked me to tighten her girth. I was riding Dakota down to warm up and Boyd Martin told me good luck! I keep telling people it's even better than Rolex because you don't just get to watch the masters, but you ride next to them, too!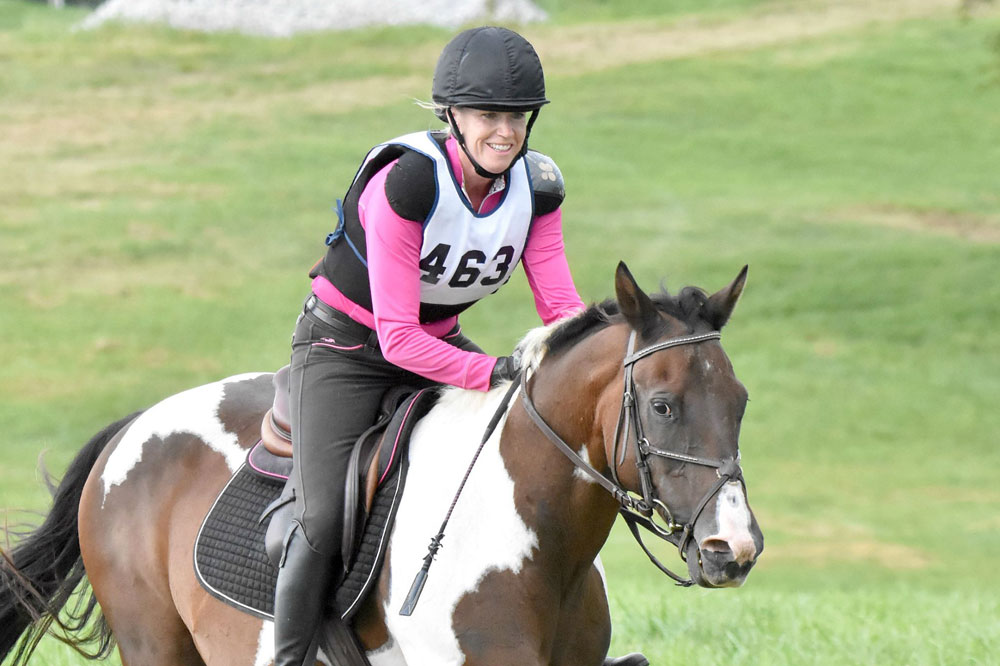 HI: What was your favorite moment at AEC?
Tess: I think my favorite moment was when I finished that show jumping round clean and knew that I had fulfilled my goal of finishing AEC on my dressage score. It took everything I had not to cry my eyes out all the way back to the barn. It's a good thing I didn't because I ran into Boyd when I got back and I wouldn't have wanted my picture with him with mascara down my face!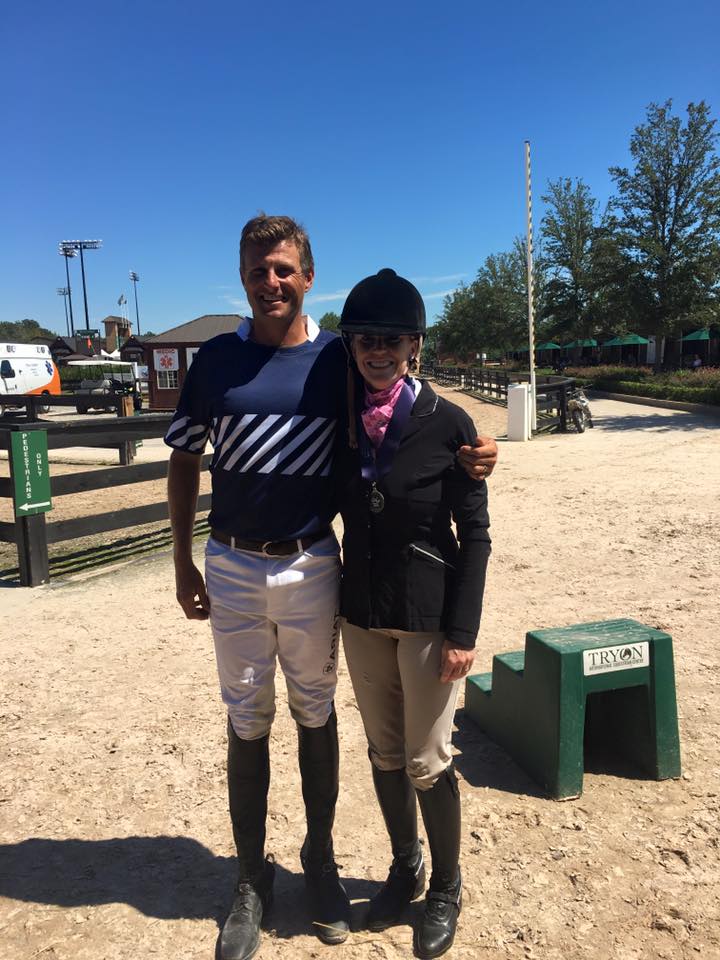 HI: What are some of your goals the future?
Tess: Bailey and I are qualified to do a novice three-day so that's definitely in the plans for next year. I also want to qualify to go novice at AEC next year.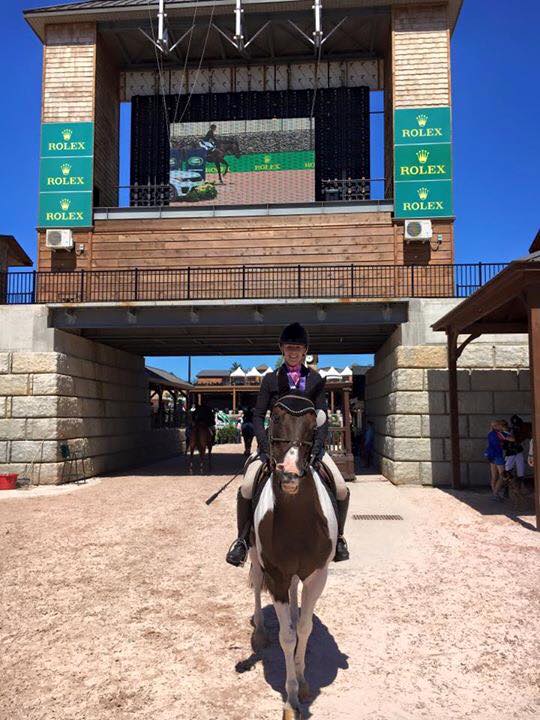 HI: So, how do you fit it all in?
Tess: I literally never stop! I get my daughter, Isla, ready for school, take care of the house and then I get to work. I work from home in sales which helps because I don't have to commute to a job every day. Isla comes home, we feed her dinner and the minute my husband gets her in the bath I leave for the barn and usually don't get home until 10-11 p.m. On the weekends I love that I can stay at the barn for hours with no rush to go home. That's my luxury these days! I honestly couldn't do it without the support from my husband. On the flip side he knows I wouldn't be a very fun person to be around without the horses.
HI: What is the main challenge of balancing family life with barn life?
Tess: Time! There are not enough hours in the day. The horses suck me in and I could spend 24/7/365 with them but I have to make sure I am not shortchanging anything else in my life. Family and work have to come first so that I can enjoy the horses.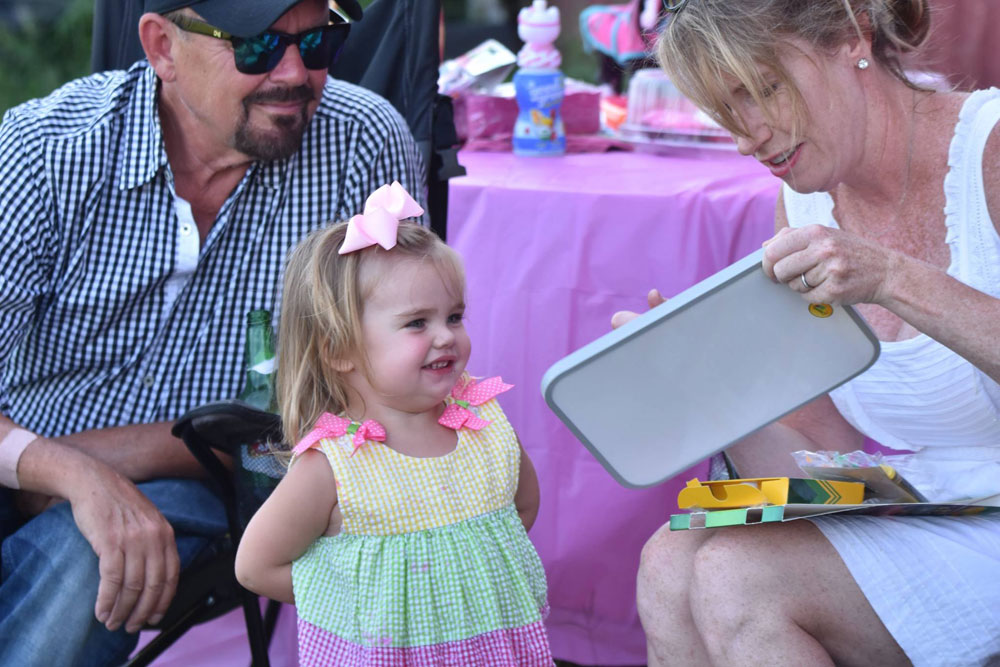 HI: What is your daily/ weekly schedule like with work/horses/family?

Tess: 6:30 Up to get Isla ready for school.
7:30-8:30 Gym (if there is time)
8-8:30 Get to work.
4:30 Isla is home from school; we play and start dinner around 5:30.
6:30 Bernie starts the bedtime routine.
6:30 I leave for the barn. It takes 30 minutes to get there and that time is used to catch up on phone calls.
7-10 Ride and take care of the horses.
10:30-11 Asleep!
HI: What have you found most surprising about being a successful adult amateur?
Tess: It is the hardest thing I have ever done in my life! I have run marathons and always been very active but this truly is the biggest challenge. I am not naturally talented at riding. Every step of the way has been hard work but I think that is why it is so satisfying when it goes well!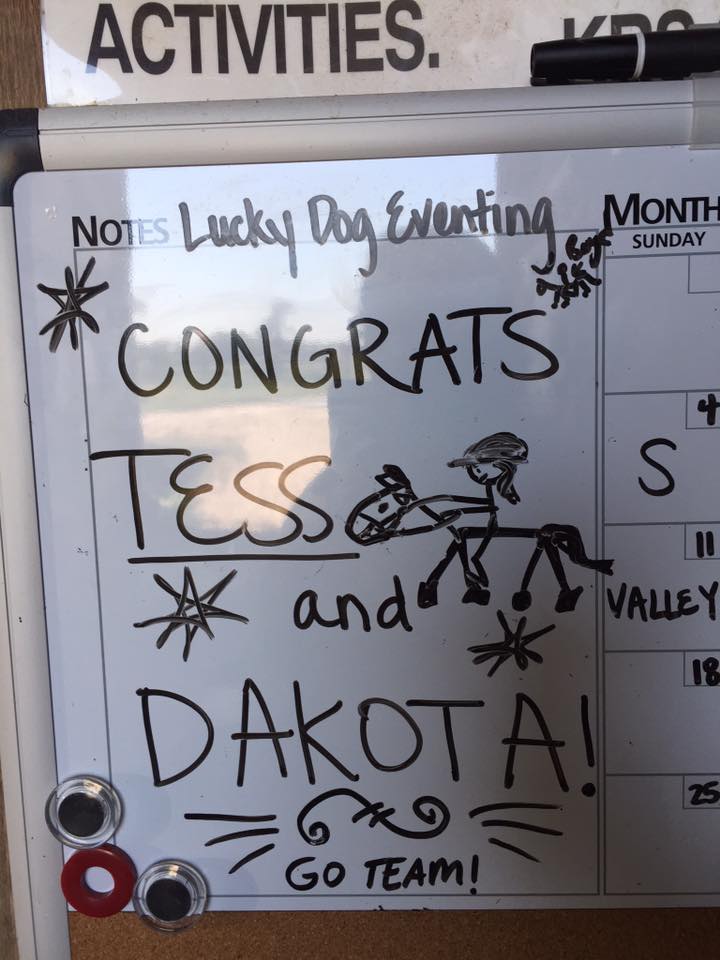 HI: What is your advice for other adult amateurs?

Tess: I always joke to get your checkbook ready. It is an expensive hobby. The only nice clothes and shoes I have these days are for riding!
Pace yourself. It is easy to get carried away, financially and time wise. Find the balance that is right for you.
Finding a good coach or mentor is so important. You have to click with them and respect them and vice versa. Finding Jenn was a little bit like 'Goldilocks.' I had to try a few that weren't right for my horse and me first, but once I found the right one it was amazing!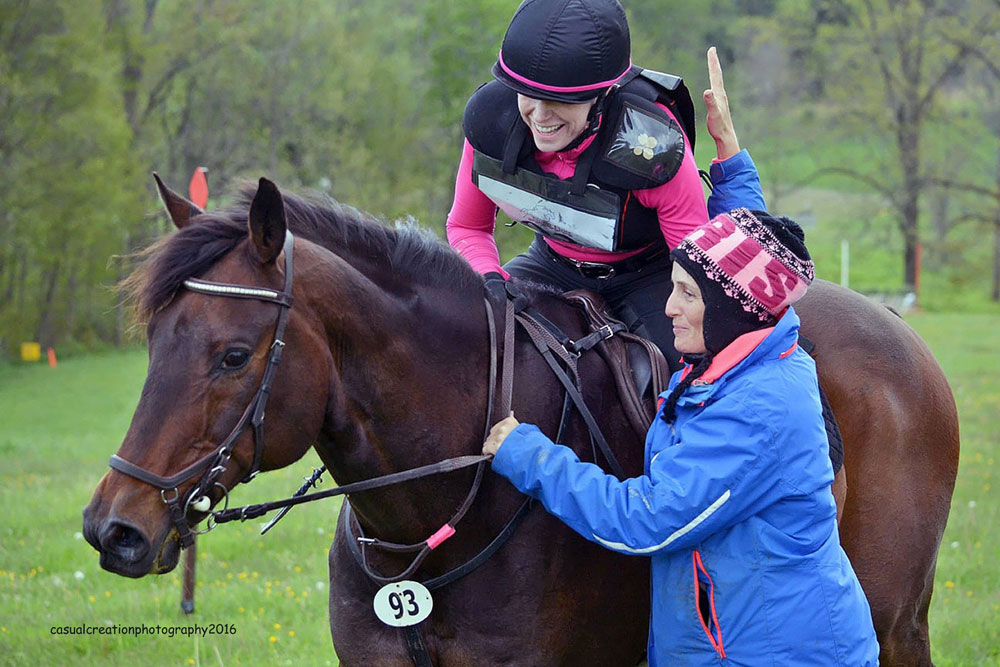 Watch for Tess out and about taking the eventing world by storm. Hint: Chances are she will be wearing pink!