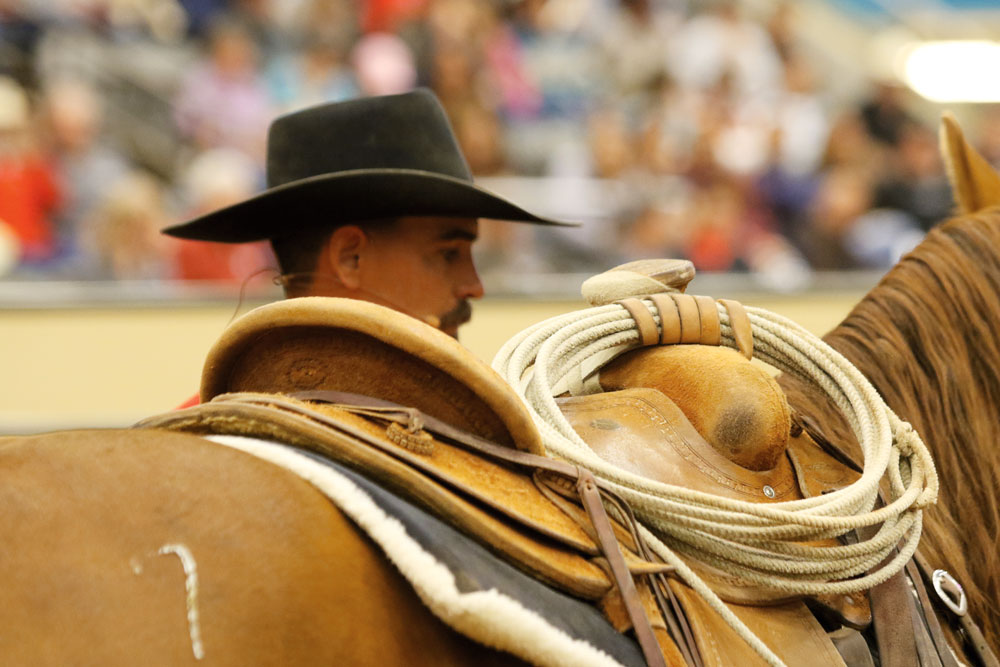 Photo courtesy Road to the Horse.

Nick Dowers (and his trademark mustache) became a household name when he was named the 2016 Road to the Horse champion in Lexington, Ky., in March. The fourth generation rancher from Dyer, Nev., brought his observation and ability to read a horse to the Alltech Arena round pens, building on the confidence he had when he called up event producer Tootie Bland asking to be part of the event.
"For a long time (before becoming successful in reined cow horse events), breaking and training colts, getting them on the right track and developing them was my bread and butter," says Dowers. "I wanted to showcase that in some way and I knew that Road to the Horse was the only real thing out there to do it. I just felt like it was the right fit for me."
As a rancher and reined cow horse trainer, Dowers likes his horses to see reward for their efforts.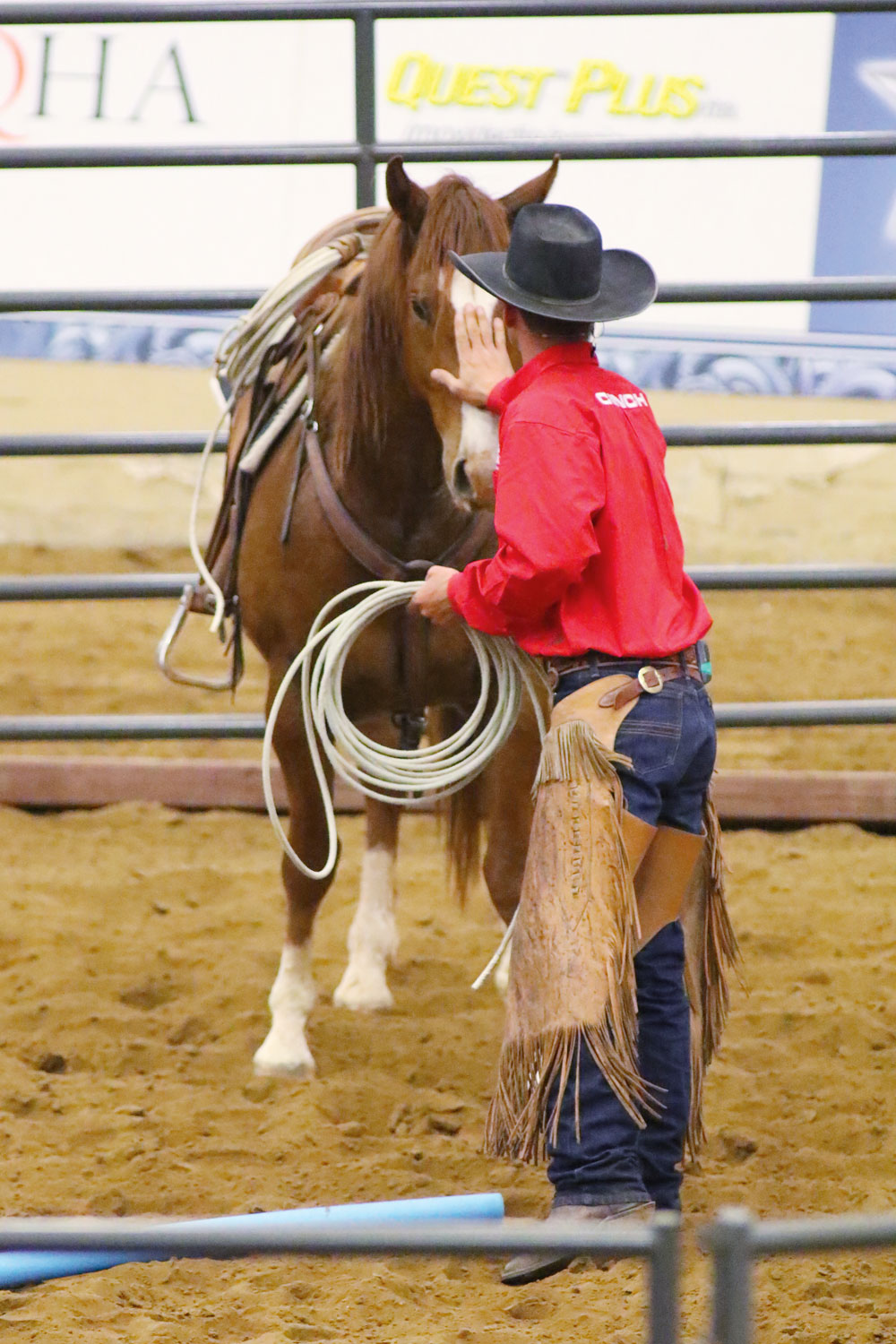 Trainers have several round pen sessions in front of the crowd to get their horses broke to saddle and accustomed to obstacles before the obstacle course finale. Photo courtesy Road to the Horse.


"I want (the horse) to understand why he's doing something, and if he understands it and I set it up in a way that he helps me fulfill it, then that makes all the difference in the world," says Dowers. "It's not like I go out there and just put him to work—I want him to see the purpose in everything I do. Once he believes in me and trusts what I'm asking, then it goes from there and you can get the horse to do what you want."
Leading up to the Road to the Horse, Dowers took a lot of time thinking about how he was going to tackle the event's unique format. Just like he chooses horses on his ranch, he knew that he had to choose a horse that was going to fit the particular task at hand—an obstacle course. He knew he needed to choose a horse that wasn't overly sensitive, but also wasn't too quiet.
"I didn't want a horse on the upper end of the scale, nor at the bottom end," says Dowers. "I wanted him to have some drive on his own. I chose my horse because I was getting all the reads that he was going to be somewhere in the middle."
Dowers admits that throughout the event, he had no idea where his competitors, Clinton Anderson and Richard Winters, were with their horses because he was concentrating so much on his own. During the second round of training, Dowers saw the switch flip, and he and his horse, Seven Attraction, were on the same page.
"It was from there that I knew I had him with me mentally, and I looked at my assistant and said, 'We got him!'" Dowers recalls. "That's when it went from two individuals to a partnership."
Dowers picked Seven Attraction from among the Four Sixes remuda for his middle-of-the-road personality.

Dowers, who also won the 2013 National Reined Cow Horse Association Snaffled Bit Futurity Open World Championship, is proud that he was able to show that he could win a finished event like the futurity—"a goal that we work toward with our horses"—and be able to win an event where it's all about starting the horse and getting him on the right track.
"I think it's cool to tie the two events together because it's always been a big thing for me," he says. "It's cool for people to see that a performance guy does have the time to take it slow, and that we do a lot on the horsemanship side of things—it's not forcing the horse to do things. We still do horsemanship, just with a little different application."
Megan Arszman is a freelance writer based in Indiana, where she's learning to balance motherhood with horses, dogs and writing.
---
This article originally appeared in the July 2016 issue of Horse Illustrated magazine. Click here to subscribe!