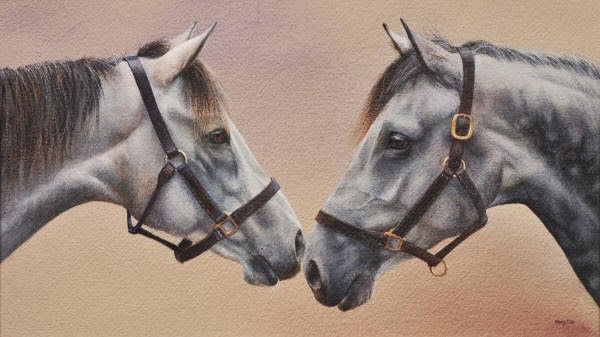 Two Champions by Dr. John Fawcett

John Fawcett, DVM, has an eye for horses, as most equine veterinarians do. Dr. Fawcett, however, uses his eye for the canvas. This award-winning artist divides his time between southern Pennsylvania and a ranch in northern Colorado, painting portraits of horses and scenes of the American West, both from the current day and centuries past. Capturing the genre of western art has allowed Dr. Fawcett to celebrate the figure of the horse and this animal's complex relationship with humans.
"I've said having a veterinary background is really the longest anatomy lesson an artist could ever have," says Dr. Fawcett. "I think the veterinary profession has helped me immensely as far as that goes. Horses are such complex animals. Even when I know what I know about their anatomy, they are really difficult animals to paint and get everything right."
Having graduated from Iowa State University's College of Veterinary Medicine in 1978, Dr. Fawcett built up his own practice in Pennsylvania for twenty years. As the practice grew and he hired associates, Dr. Fawcett was able to find increasing amounts of time to devote to painting, a hobby he has had since his youth. After visiting a western art show in Arizona, Dr. Fawcett felt he'd found his artistic calling.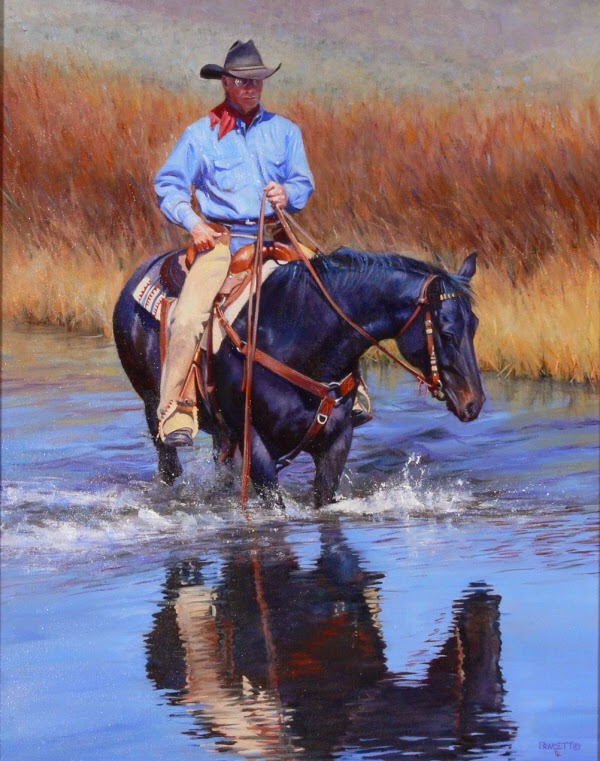 The Looking Glass by Dr. John Fawcett

"I was completely enthralled with the genre of western art, which I didn't know a whole lot about at the time," he says. "I painted more and more because I got excited about it. I became very passionate about it and I thought that I really couldn't get any better as an artist unless I put more time into it. So I had to decide if this was going to be just a hobby or more of a vocation for me."
At this point, with guidance from his stepfather, Dr. Fawcett made the decision to sell his veterinary practice and become a painter full time.
"I was having a hard time trying to decide what I wanted to do," he says. "My stepfather posed a question to me that decided my career. He asked: when you're painting do you think about veterinary medicine? And I said no. And he asked me: when you're doing surgery, do you think about art? And I said yes, all the time. So he said, well, there's your decision right there."
Since selling his practice, Dr. Fawcett's artistic ambitious have paid off. Painting full time, his work is now represented in five galleries throughout the U.S.
A large majority of Dr. Fawcett's pieces depict cowboy and Native American scenes with horses as the central focus. Dr. Fawcett uses his art as a bridge between his interest in history and his love of horses. "I'm very much interested in history and the relationship of the horse with both the historic and contemporary working cowboy and the Native Americans. The history of the horse in North America is fascinating to me."
Dr. Fawcett also paints racing scenes. "I love painting Thoroughbreds," he says. "But I also love draft horses, Indian ponies, whatever. They are different types of equine paintings but they are still from the same structure. I'm fascinated with anything equine, really."
The Unbeaten Barbaro by Dr. John Fawcett

Dr. Fawcett had an opportunity to paint the 2006 Kentucky Derby winner Barbaro. "I just wanted the opportunity to paint such a magnificent animal," he says. "Barbaro's owners and I came up with the idea that I would do two paintings and they would be auctioned at the Thoroughbred Charities of America (TCA) auction at a fundraiser. The TCA benefits retired racehorses and retired jockeys. This gave me an opportunity to paint a beautiful, strong animal."
Dr. Fawcett has built relationships with some of the working cowboys and Native Americans in Colorado. As he spends time with these individuals, watching them work with their horses, he is able to bring a story to each of his paintings.
"The stance of the horse, how their eyes are, or how they are laying their ears, their nostrils, what they are doing with their tails—all of these help develop the character in the scene I'm trying to capture," says Dr. Fawcett.
Recent Visitors by Dr. John Fawcett

"There are a lot of different facets to art," Dr. Fawcett concludes. "To me, it's a history lesson and an anatomy lesson. It's something that can give you beauty as well as make you think about what's going on in the painting."
Anna O'Brien, DVM, is a large-animal
veterinarian in Maryland. Her practice tackles anything equine in
nature, from Miniature Horses to zebras at the local zoo. Follow Dr. O'Brien on Twitter: @annaobriendvm