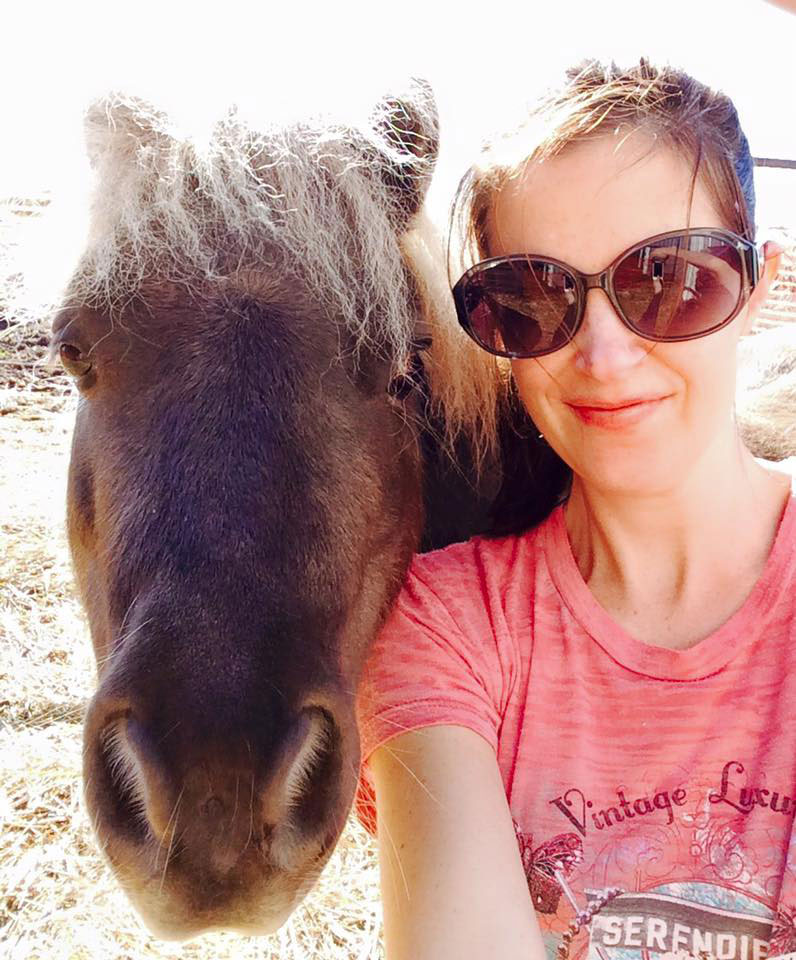 The author with Trigger at Sundown Horse Shelter in Hugo, Minnesota. Photo: Julia Arnold
Have you picked one of the most expensive hobbies in the world? Or, rather, did it pick you? Either way, there's no doubt about it: the equestrian life doesn't come cheap.
When owning or leasing a horse or taking multiple lessons a week aren't options, it can be tough to find ways to gain experience working with horses. This article will provide ideas for getting some quality horse time without spending money.
Volunteer Your Time and Energy
One of the best ways to get hands-on experience is to volunteer with a non-profit horse organization. The most common types are horse rescues and equine therapy centers; both can usually use all the help they can get.
Horse rescue centers and shelters are found throughout the world, and they often have volunteer jobs for beginners through advanced riders. As a volunteer, you might clean stalls and facilities, or feed, groom, and sometimes ride the horses if you're experienced. The best part is that you spend time with horses while helping a worthy cause. I have learned an incredible amount of horse know-how working as a volunteer alongside Cherie McKenzie, owner of Sundown Horse Shelter in Hugo, Minnesota.
Take a look at our list of horse rescue organizations across North America.
The goal of most equine therapy programs is to provide people with disabilities the chance to experience the freedom, confidence, and pleasure that riding can offer.
In Minnesota, for example, We Can Ride, a member of the Professional Association of Therapeutic Horsemanship International (PATH Intl.), is a therapeutic horseback riding program for people with disabilities. Volunteers have the chance to work alongside fellow horse lovers while supporting a great program. I thoroughly enjoyed my time with the riders and horses while volunteering with We Can Ride last spring and summer.
Interested in learning more? Check out PATH Intl.'s website to locate a certified equine therapy center in your area.
Spectating at Horse Shows
Most horse shows, especially smaller, local shows, are usually free to spectators. You can find a show in just about any discipline, from dressage to barrel racing. Shows are not only fun, but they are also a wonderful way to learn about different equestrian sports from both amateurs and experts and meet other horse enthusiasts.
Horse Show Central offers a detailed listing of horse shows throughout the country. Your state horse association or local saddle clubs are also good resources for finding out about nearby horse events.
Horse Expos and Festivals
Many states host a horse expo or festival each year, often at the state fairgrounds. There is usually a cost for entry, but then you have the opportunity to spend the entire day visiting the different breed stalls, watching the events, learning from the experts at clinics, visiting farm booths, and chatting with other horse enthusiasts.

Some horse expos offer pony rides or other hands-on horse experiences for kids. Photo: Julia Arnold
Last year, my daughter and I visited the dozens of breed stalls at the Minnesota Horse Expo and enjoyed seeing the gigantic draft horses to the tiniest miniatures. My daughter even had the chance to take a pony ride. We plan to make attending the expo an annual mother-daughter tradition.
Again, check the Internet for upcoming festivals in your area, as well as the bulletin boards of local tack shops and stables for expo and fair advertisements. Check our events calendar listing upcoming horse events throughout the U.S. and Canada.
Money Can't Buy Me Love
Horses may be expensive—and priceless—but you don't have to be rich to spend quality time with them. While owning a horse and taking lessons isn't cheap, there are still plenty of creative ways to satisfy that hands-on horse craving only true horse lovers understand.

How have you found ways to be involved with horses without the expense? Share you ideas here!
---
Julia Arnold is a writer living in
Minnesota with her husband and two young children. She has always loved
horses and is thrilled to have officially rejoined the horse world as an
adult. She rides whenever she can at Hardwood Creek Farm in Hugo,
Minnesota. You can follow her adventures in riding and parenting on Facebook, Twitter, Instagram, and Pinterest.