For many equine enthusiasts, there's nothing more beautiful than art depicting our favorite animal, the elegant, powerful, and noble horse. Donna Bernstein and David McEwen are two talented equestrian artists who manage to passionately capture the spirit of the horse in their creations.
Inspired by Equines
American artist Donna Bernstein has been creating art all of her life. What inspires her? "Horses," she says. "You may not be able to lead a horse to water, but they led me and I took a drink."
Donna grew up dreaming of horses, but never had the chance to own one. Instead, she spent countless hours studying them in books, museums, and at neighbors' fields and farms. She says she paints the horses she never had.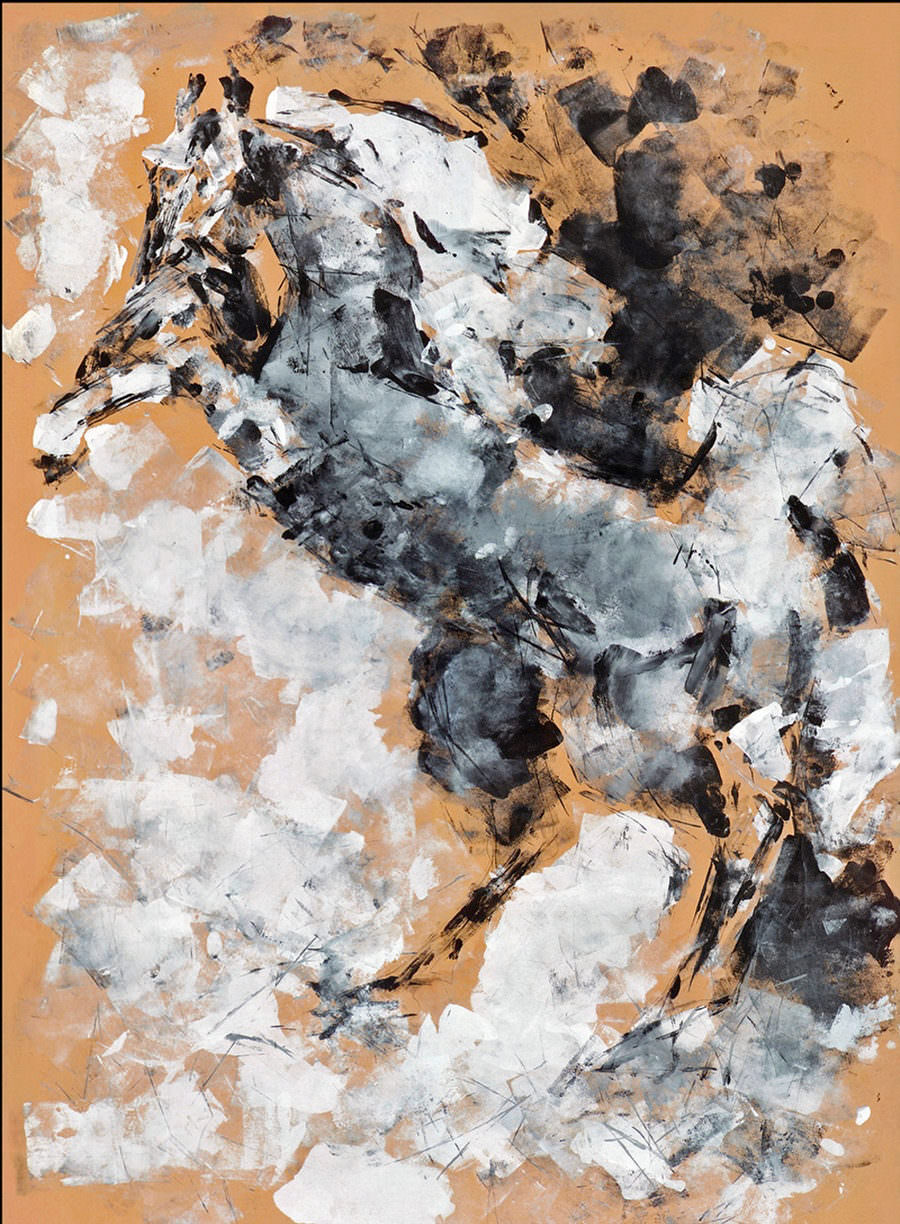 Storm King by Donna Bernstein. Used with permission.

"My joy was in watching, and I never took my eyes off them," she remembers. "I soaked in the essence of their beauty, their sense of inspiration, their joy in being alive. I then went home to draw. They truly guided my entire childhood. I could tell you every bone, muscle, ailment and cure. I practically taught myself to ride from a book."
Her colorful, semi-abstract paintings and elegant sculptures can be classified as "modern equine" or "contemporary equestrian."
"The yearning, the dream, the fantasy, is why I paint them the way I do," Donna explains. "Although anatomically, I am well aware, I never let reality get in the way of my art."
She adds: "It isn't horses that I paint; I paint the way they make me feel." This perfectly describes her art—her images are based in reality, but they are not confined to replicating every minute detail.
Beyond Painting
Donna's art also includes bronze sculptures, for which she follows a similar process to her paintings. She says sculpting horses came naturally to her from her first piece.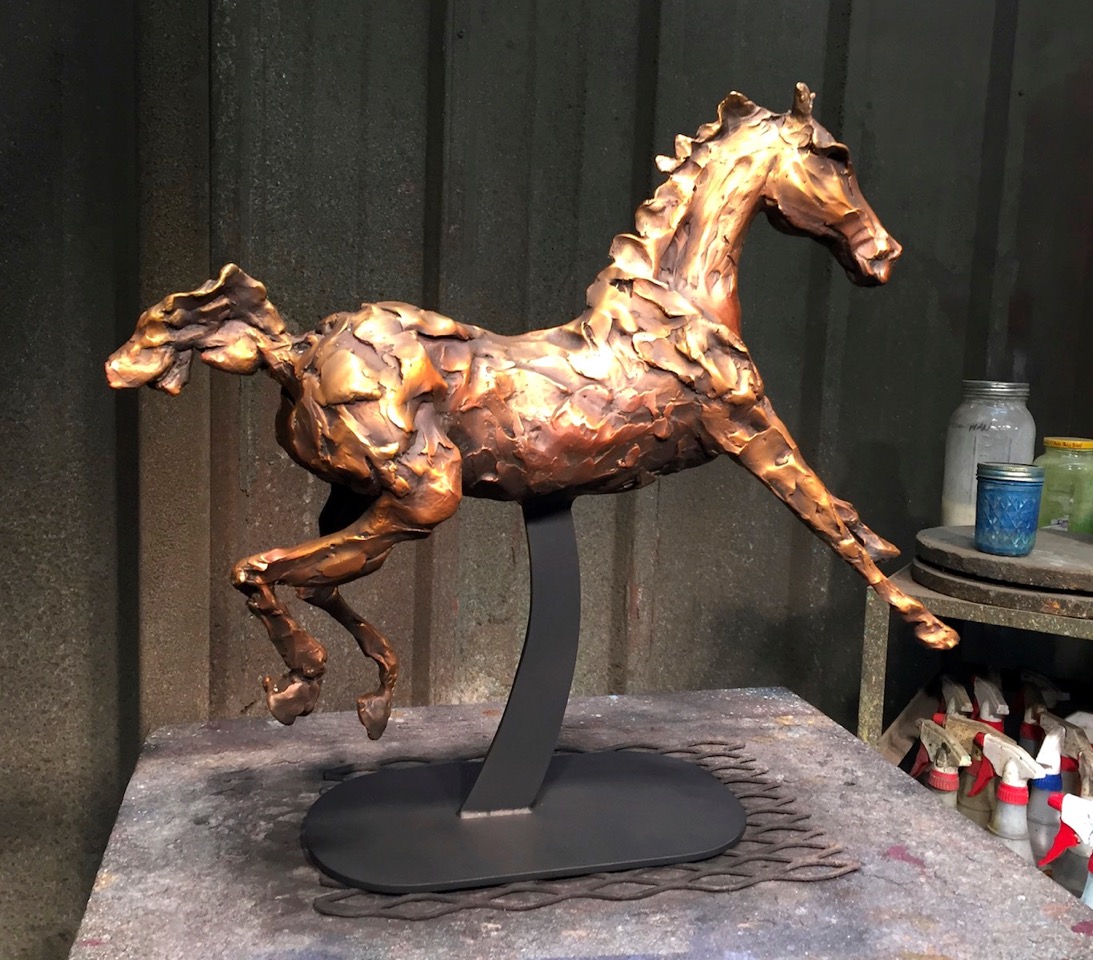 Gosling by Donna Bernstein. Used with permission.

"I knew the form of the horse so well in my body and mind that the piece flowed," she says. "It felt very natural—and very natural for future pieces to take on the same abstractive, textured qualities of my paintings."
Donna also creates equine-inspired whimsical jewelry and a baby bedding line called "Pink Pony Jumper."
"As a lover of jewelry…I saw that my art could lend itself naturally in that direction, and so I created the Donna B "Equilibre" Collection, consisting of pendants, men's tie pins, earrings, and bracelets," she says.
Philanthropy is also an important part of Donna's life. She uses her art in support of a variety of horse-related charities such as Old Friends Equine, a farm in Kentucky that houses retired racehorses.
The artist has a couple of favorite pieces: "The painting 'Storm King' because he is so unique and he led me to where I am today, and 'Horses for Pablo,' which was the result of a formative dream I had about Picasso a long time ago."
"Truth with Added Guts"
David McEwen, a European artist, considers himself a "horse painter who adds a few other things that interest me." He describes his style as "Painterly Realist."
"I want truth in paint but with added guts, if you know what I mean," he says. Looking at his art, one understands exactly what he means.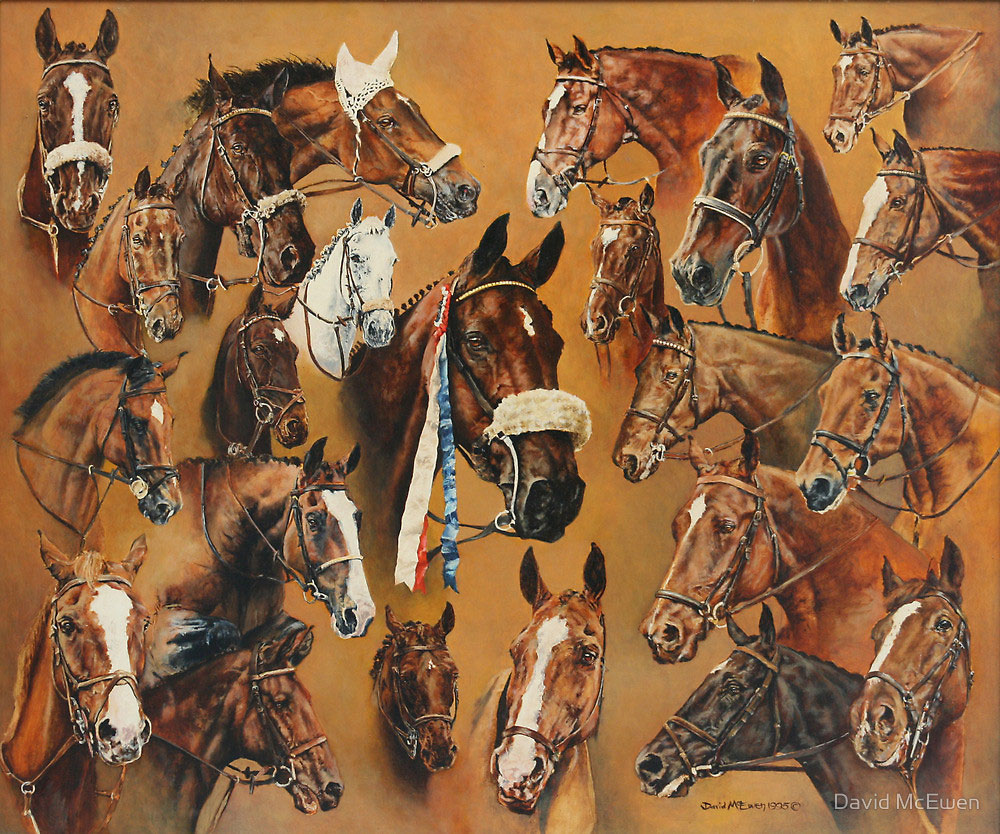 The Winners of The Hickstead Show Jumping Derby by David McEwen. Used with permission.

Similarly to Donna, a childhood love of horses inspires his current artwork. He had Polio as a toddler and was in bed for a year. When he recovered enough for physical activity, he was put on a Shetland Pony to strengthen his legs.
"The love affair started then," he says. "Since [childhood], I've been around horses, ridden them, breathed them, and painted them. I love their power and gentility, their nobility and kindness, their speed and their calmness and think of them as the most beautiful of all animals." Most horse lovers would agree!
Painting also started at a young age for David.
"It was in the blood," he explains. "My brother, Christopher, was a very fine painter who guided and inspired me; my mother was an excellent portraitist and my father a good landscape painter…my grandfather produced many glowing landscapes and meaningful cartoons during World War I."
David's family is involved with the equestrian world, and they continue to inspire his art. His daughter is internationally-renowned show jumping coach, Mia Palles-Clarke. His granddaughter, Amelie, is now riding too.
"Horses power my pencils and brushes," he notes, "and I want to celebrate them as often as possible."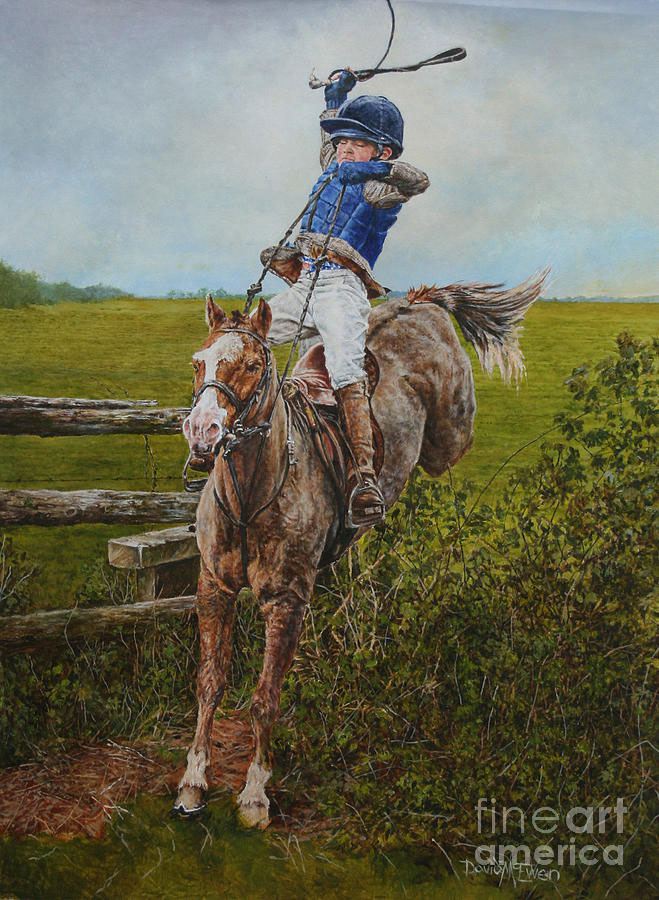 Wilf the Brave by David McEwen. Used with permission.

One of David's personal favorites is "The Winners of The Hickstead Show Jumping Derby" because his late wife, Sally, did all the research while he painted. The painting "Lady in Waiting," is a favorite because it features his daughter Mia about to enter the arena. Last, he enjoys "Wilf the Brave," which depicts a seven-year old boy jumping a hedge while hunting on his birthday. "It shows power and bravery," David adds.
Love what you see? Both artists offer commissions, and more photos and prints of the artists' work can be found online at www.donnabernstein.com and www.fineartamerica.com/profiles/david-mcewen.
Julia Arnold is a writer living in
Minnesota with her husband and two young children. She has always loved
horses and is thrilled to have officially rejoined the horse world as an
adult. She rides whenever she can at Hardwood Creek Farm in Hugo,
Minnesota. You can follow her adventures in riding and parenting on Facebook, Twitter, Instagram, and Pinterest.