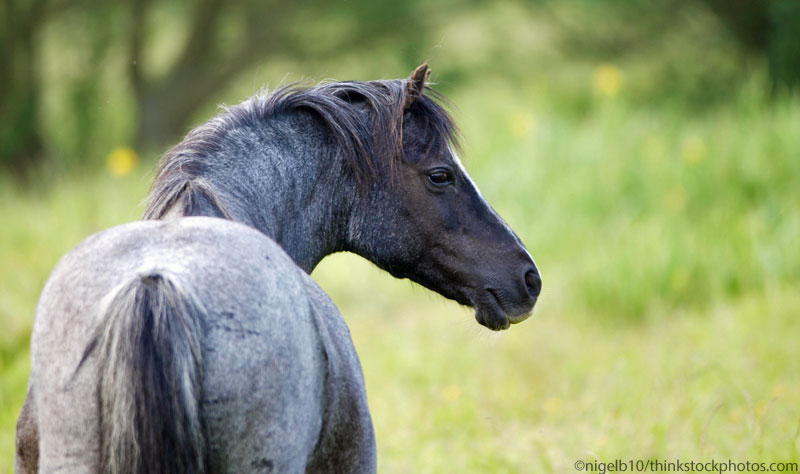 Grace Carey was one of my favorite clients. But I always worried, watching her walk slowly into the horse pen. She was a tall woman, well into her 70s, and lived alone, although her family members were regular visitors. She eased up to Spanky and dropped the halter over his head with a horseman's practiced ease, but her stiff fingers struggled with the buckle.
Spanky was a small Welsh Pony, but in his mind, he was a large, tough horse. He was turned out for a few hours every day with several Thoroughbreds, and it was comical to see little Spanky among the large mob.
I'd vetted the gang regularly over the years, and Spanky was usually in the thick of whatever equine excitement might be taking place, always emerging unharmed from the action. Grace would chuckle, watching him, and call him Little Big Man.
Despite the field antics, Spanky was a perfect gentleman when haltered, and very careful of his elderly mistress. He stood perfectly for his shots and practically held his mouth open for me when I checked his teeth. I marveled, as I always did, at Spanky's lean, muscled body. So many ponies were overweight, but not Spanky. Grace would never allow it.
A Gap in Time
Time passed, and one summer I realized that I had not heard from Grace to come and vet the horses. I called her number but there was no answer, so I left a message that was not returned. Then in late September the phone rang.
"Yes, is this the vet? I'm taking care of Mrs. Carey's horses and one seems to be ill."
"Which horse it is?" I asked.
"Oh, I don't know their names. The small one."
Grace must be out of town, I reasoned. I pulled up to her barn, noticing with surprise the overgrown fields and dirty catch pen and recoiled at the sight of Spanky. He was grossly overweight and was hunched miserably in the classic stance of the severely laminitic horse.
Laminitis, a nasty disease of the feet, is probably one of the most devastating and painful conditions to affect a horse. While laminitis has many different causes, clearly the reason for Spanky's condition was his obesity and neglect.
A woman was walking down the driveway toward me. Manure and shavings littered the barn's normally immaculate breezeway, and heavy dust coated the windows and stall doors. Something wasn't right.
An Unexpected Passing
"What's happened here?" I asked her.
She shrugged. "After Mrs. Carey died last year, the family didn't really know what to do with her horses. I'm afraid they've mostly been left in the field. The little one hasn't been looking good for a while."
I had to take a few deep breaths. "I had no idea about Mrs. Carey. I'm so sorry."
"Yes, it was very sudden. They found her in the barn, apparently. And her family has no interest in the horses, so as you can see, things have really gone downhill. I don't know anything about horses, but I got permission to call you about the little one. I'm worried about him."
Poor Spanky was huddled against the side of his pen. His heart rate was high, the pulses in his feet bounding, and he was very dehydrated. I X-rayed his feet, and was relieved to see that the bones were all in a normal position. He was very ill, but I knew we could get him better. I detailed the treatment plan to the woman who looked doubtful.
"There's no one to tend to him, Doctor. He has to go back onto the pasture with the others."
I shook my head. "He's too ill. Besides, ponies can't be on such lush grass for more than a few hours a day!"
"Well, we can call the family. But I think I know what they're going to say."
Sure enough, the instructions came in. Spanky was to be put down at once and the rest of Grace's horses were to be sold at auction.
Desperate Measures
I looked at the faded rosettes and ribbons lining the walls of Grace's barn, some dating 60 years back. Cobwebs hung from the corners, and framed pictures of a young Grace astride a chestnut hunter, a bay, a black, a roan, were covered with dust.
I spied a photograph of a gleaming Spanky clearing a modest jump in a field with a little girl astride, and picked up the photo and wiped it off on my shirt. I knew that I wouldn't be able to end the little pony's life.
After a few phone calls to Grace's family, Spanky was released into my care, and I'd arranged a contact to sell the other horses to good homes. Soon, a family with a little girl offered to take the pony and follow all of the detailed instructions for his care.
A friend pulled up the very next day with a large trailer, thickly bedded with straw, and Spanky was loaded carefully and driven to his new home. Grace's other horses all found good homes as well.
Salvation for Spanky
I received pictures and updates on Spanky's condition regularly. His new family was thrilled, and he looked better and better in each photo that I received. Six months later, there he was in a shining saddle, his mane braided, and the little girl on his back. He was lean and muscled again and remained on a very careful diet.
I don't know what became of the remainder of Grace's mementos, and her property was sold to someone who turned the barn into storage, the boxes and crates crowding the stalls and aisle where her beloved horses had once stood.
I like to think of Grace watching over Spanky and his new rider as they trot around their little arena, perhaps chuckling to herself as the little girl struggles to muck his stall and fill his hay feeder. I framed the dusty photo of Spanky along with a rescued rosette and mailed it to the little girl with instructions to hang it in the barn, a new beginning for their memories together.

Liked this article? Read past Vet Adventures columns:

The Bald and the Beautiful
A Watched Mare Never Foals
Repro Woes
COURTNEY S. DIEHL, DVM, has been an equine veterinarian since 2000. She resides in Steamboat Springs, Colo., where she is in private practice. Her first book, Horse Vet, Chronicles of a Mobile Veterinarian, was published in 2014, and she is currently at work on her second book.
---
This article originally appeared in the December 2016 issue of Horse Illustrated magazine. Click here to subscribe!