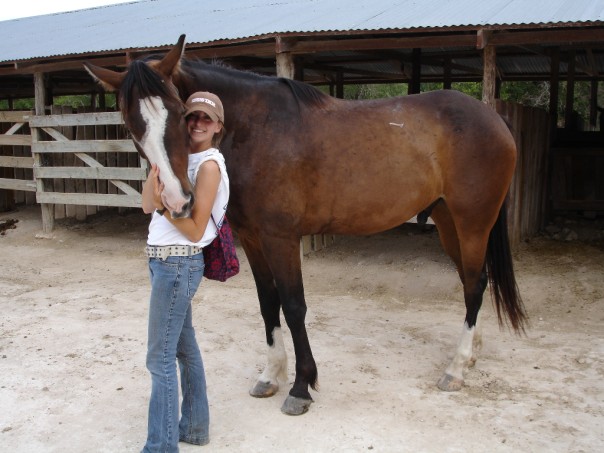 The author during her days as a horse camp counselor.
A common question from friends, family and acquaintances is, "Where did your love of horses come from?"
Those of us in the horse world know this is a very personal question.
How did you gravitate toward the horsey life? Maybe your experience is similar to one of these scenarios, or maybe yours is completely different.
Perhaps you're like me and a combination of these sources makes up your story.
The Family Roots
"My parents had horses and we lived on a ranch. My parents told me that one day when I was little, I walked outside, pointed at the horse and said, 'I want to ride.' The rest is history."
– Says the horse lover who grew up around horses.
If you have the family roots, you've had horse sense as long as you can remember. You grew up around them, and your barn has been your second home for just as long as the home with your bedroom.
This scenario is one people automatically assume describes me when they find out I'm from Texas. While Texas has amazing ranches, I did not grow up on one.
The Movie Buff
"I saw horses in a movie and wanted to ride them. The rest is history."
– Says the horse lover who idolizes John Wayne.

If you're a movie buff, you had the opportunity to watch a movie that didn't necessarily captivate you because of the story. It captivated you because of the majestic horses running across the screen.
Personally, I wouldn't say the movies were the number one motivator for me, but I think many of my horsey friends would agree that a scene from Black Beauty will distract us from anything else going on around us.
The My Little Pony Collector
Cue the music: "My Little Pony, My Little Pony …"


– Sings every horse lover who loved My Little Pony and decided she wanted to ride a real pony.

My Little Pony is now a wildly popular TV show, but growing up, it was all about the toys. And you loved them. Now McDonald's even gives them out in occasional Happy Meals.
Yes, I had My Little Pony. And Breyer Horses. And Grand Champion horses. And any toy I could find that was a horse. I had substantially more horse toys than Barbie dolls.
The Camp Horse Whisperer
"I went to a week-long sleep away camp and they had horseback riding. From the moment I stepped into the barn, I was hooked. That was all I wanted to do!"
– Says the horse lover whose parents sent her to an all-around camp. When they picked her up from camp, they learned of her new passion.
Camp stories vary, but for you, it includes an incredible horse that introduced you to the love of the equine world. Your camp horse was patient, kind and very safe, a perfect combination for a new rider.
While I didn't attend a horsey sleep away camp, I did attend horsey day camps in the summer. This turned into my summer job when I was in college. It was a blast!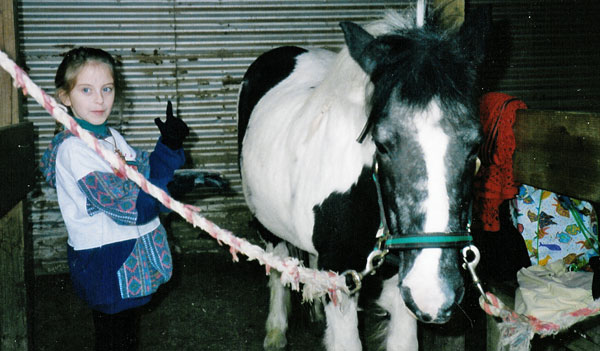 The author during her formative years with Patches the pony.
The Window Watcher
"We used to drive past a barn on the way to the grocery store when I was growing up. Starting in kindergarten I asked my mom if I could ride the horses at the barn. She let me start in second grade, and I never stopped."
– Says the little girl who stared out the window every time they passed a barn while driving around town.
If you didn't listen to the radio and instead eagerly anticipated the next time you'd pass a barn, you are the window-watcher-turned-horse-enthusiast.
This is my story. We would pass Whipple Tree Farm on almost a weekly basis. The first horse I rode was Patches, and she was the sweetest. Horses were all I talked about. It's been over 20 years, and if you ask any of my friends, they will agree that I still talk about horses. A lot.
Liked this article? Here are others you'll enjoy:
Texas Cred around the World
Over the Fence: Horseless
---
Allison Griest is a freelance writer based in Texas. Follow her on Twitter: @allisongriest.