When John Robinson retired, he knew that becoming sedentary was not an option. So he got on a horse.
"I figured that I had to do something or I'd fossilize," recalls Robinson, 76, who had considered studying veterinary medicine before he became a church Pastor. "I was already volunteering taking care of the horses at Equine-Assisted Therapy, Inc. in Missouri, and so I started riding there."
In fact, Robinson is one of a growing number of seniors who are parlaying their love for horses to a way to stay fit, fight stress and remain socially connected.
Why More Seniors are Riding Horses
According to Kaye Marks, director of marketing and communications for the Professional Association of Therapeutic Horsemanship (PATH) Intl., a non-profit group that promotes equine-assisted activities and therapies, a recent survey revealed that for the first time, 115 of the group's 877 members reported having senior-specific programs ranging from those aimed at Alzheimer's and dementia patients, to so-called Silver Saddle programs that teach riding skills to elder equestrians.
"The programs are fairly new, but there are growing," Marks say.
That's partly due to the fact that Americans are living longer and keeping active as they age, says Nancy Paschell, executive director of Dream Catchers at the Cori Sikich Therapeutic Riding Center, Williamsburg,Va.
"It's a function of demographics," Paschell says.
How Working with Horses Benefits Seniors
But it is also because senior citizens derive certain physical benefits from horse handling says Ginni Hartke, RN, founder and executive director of Equine Assisted Therapy, Inc., in Wildwood, Mo. According to Hartke, all horse-related activities provide the gentle exercise that some seniors might not get otherwise.
"Even just grooming gets the fluid moving in the joints," Hartke says.
But there are even more benefits to being in the saddle, she says. Mounted exercise raises a rider's heart rate, improves respiration and balance, and forces side-to-side, up and down and back forth movement in the saddle. At the same time, it challenges riders to multi-task as they coordinate the movement of their hands and legs, shift their weight in the saddle, and concentrate on their horse's reaction to their physical signals.
"At the same time, it's a sport people can do with replaced hips, knees, or with arthritis," Hartke says. "It's something people do on their own time or with friends."
"I guess I wanted that feeling of freedom again."
None of that is news to 67-year-old Suzie Pace. Four years ago, Pace began volunteering her time to groom and otherwise care for the horses at Equine Assisted Therapy, Inc. But a year ago, program instructors and fellow volunteers encouraged her to climb into the saddle. At first, Pace said the experience rekindled memories of her youthtful horseback riding days.
"I guess I wanted that feeling of freedom again," she says.
But over time, Pace noticed that horseback riding lessened her fibromyalgia-related pain and in general lifted her mood.
"It's life-changing," Pace says. "The horses improve my mood and physically, if there's a break of say, two weeks, I can feel it."
Pace believes that she knows why horses are so helpful to seniors.
"I think seniors connect with horses because they have been through so much, lived so much and gone trough so many transitions in their lives," she says. "Horses just take you to another place."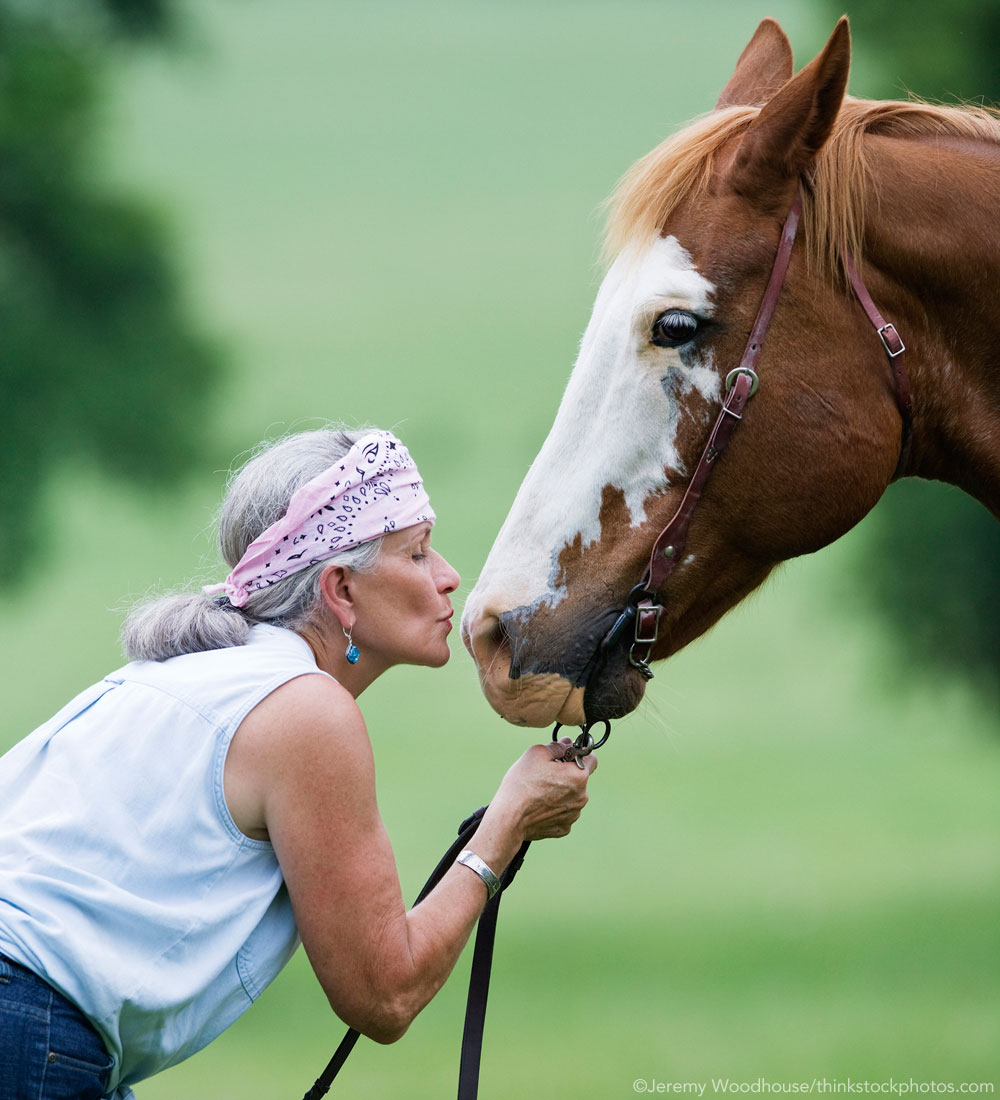 Riders are not the only seniors to make that connection. Increasingly, the operators of therapeutic riding programs are seeing first hand the way horses are helping to improve the quality of life for those s with Alzheimer's Disease and other forms of dementia.
According to Michele Kane MA, Licensed Professional Clinical Counselor (LPCC) , program outreach specialist for the Colorado-based Hearts and Horses, Inc., both families and mental care facilities are increasingly reporting behavioral improvements in Alzheimer's patients who participate in equine-assisted programs.
"Physically people walk better, have better posture and have better balance," Kane said. "Also, family members tell us that their parents remember days when they are scheduled to ride, have better short term memory, and talk more after they leave our facility.
Horses Helping People with Alzheimer's
Scientific data describing just how horses specifically help Alzheimer's and dementia patients is currently unknown.
"Right now we have opinions, but we have no idea why it works," Paschell says. "Is it the horse? Is it just leaving the facility? Is it the interaction with the volunteers? We just don't know; we just don't have the hard science."
So research is about to get underway at Dream Catchers that will examine all those questions and build on findings from another, less extensive research project at Ohio State University. By sampling patients, care-givers, instructors and volunteers, researchers hope to learn what is horse-human interaction improves the quality of life for seniors.
Ultimately, those findings may lead to widespread insurance coverage for alternative Alzhiemer's Disease and dementia therapies, and increase opportunities for seniors and their caregivers to improve the quality of their lives.
"It is the frontier," Paschell says.
Meanwhile whatever the research reveals, Robinson says that, at least for him, caring for the horses means more than simply having an active retirement.
"I do this because I love it," he says.