What do you do when your two passions are riding horses and the Thoroughbred breeding and racing industry? For me, it's simple. Find sound, sane, well-conformed Thoroughbreds from great connections in the racing world, unearth their natural skills and abilities and then retrain them as sport horses.
When I was told about a competition that was based on exactly this, I jumped at the chance to be a participant. In January 2015, the Retired Racehorse Project (RRP) Thoroughbred Makeover, sponsored by Thoroughbred Charities of America, began its yearly call for trainers.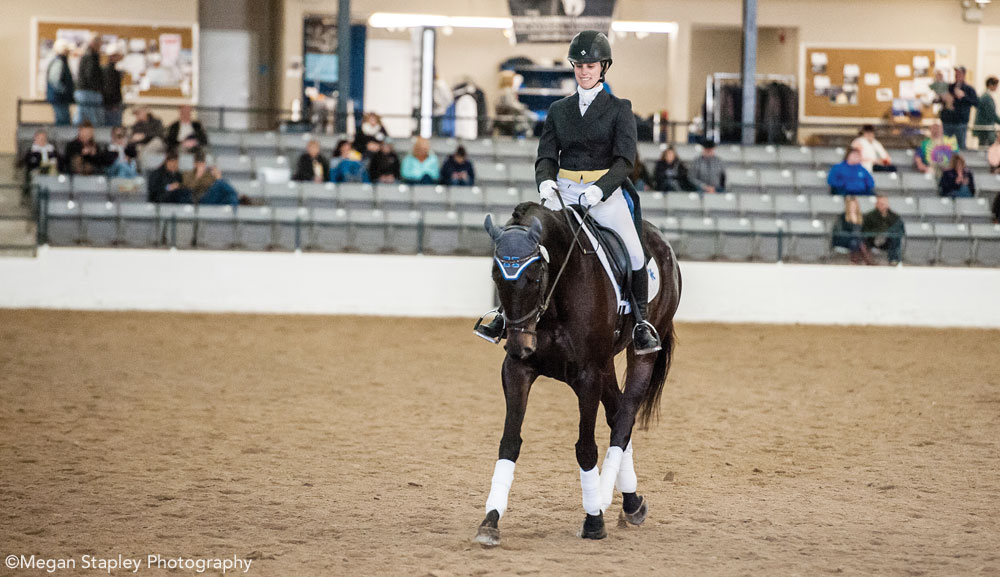 I was intrigued by the idea, but with an off-track Thoroughbred project horse already in my possession waiting to be sold, and no funds to obtain another, I waited patiently for the stars to align. While others got a head start with their retraining endeavor in January (the earliest allowed by the rules), my journey didn't begin until May 15th, when Cold as Stone sold, and Called to Serve, or "Nixon," finally became mine.
Opportunity Knocks
I was approached about Nixon at the beginning of April, when my good friend Brent Wilson told me that he'd just gotten a horse off of the track that was "through and through an athlete." He showed me a picture of a nearly black gelding that towered over his handler. The horse's eye was wide and mischievous, his shoulder was uphill, and his hip round and strong. I was immediately taken by him.
I went home and did my investigative work on websites like Pedigree Query and Equibase, finding information that only pulled me deeper into my infatuation. I learned that Nixon was a graded stakes winner of almost $500,000. I watched videos of his victories, where he stomped on his competitors by lengths, not feet.
And then, unlike with any other project horse of mine, I found stories on racing websites due to his high-profile career. In those stories, I read of his extreme ego. He had an intolerance to training, a cocky demeanor and bullheaded ways. But being a strong-willed person myself, I decided to take a chance. We gave Nixon two months of letdown, and then began our journey into a second career.
Turning Point
For three months, I fought and I lost. Nixon was exactly the horse I had read about. If he wanted to canter, he was going to canter. If he didn't want to wear a noseband that day, he wasn't going to. And if he didn't want to get on the trailer, well, I was just going to have to stay home.
It was the hardest training task I'd been faced with, but this was exactly what the RRP Makeover was supposed to be: finding true athletes whose primary discipline was racing, and retraining them through skill, knowledge, good horsemanship and hard work. I learned that the only thing that entertained Nixon's brain was hacking. So hacking we did.
In September, Nixon finally decided that I was friend instead of foe. Instead of battles, we had conversations. Instead of gallops, we had extended canters. And instead of sweat and tears, I was full of smiles.
I entered him in his first show, a schooling dressage competition, at the Kentucky Horse Park the weekend before the RRP makeover event. I was astonished when we came home with a blue ribbon. For the first time in five months, I thought we actually had a chance.
But a chance at what? For me, my expectations of the actual competition were minimal. I had competed on young horses for some time now, and knew that victories didn't usually come in blue ribbons. They came in correct leads, staying in the arena, relaxation in their surroundings, and manners.
A Different Type of Win
When the Retired Racehorse Project Makeover rolled around, Nixon did all of that and more. He trotted down the dressage centerline and decided that he wanted in the winner's circle just as badly as if he was running in the Santa Anita Handicap again.
Only this time, he actually listened to his jockey (me), and put in a performance of a lifetime. We scored a 74.2% in our Training Level Test 2, and ended up winning the entire dressage division of the RRP Thoroughbred Makeover.
People ask me constantly what I won that day. Of course I won money and a blue ribbon and some prizes, but what matters are the things that didn't come with a monetary value.
I won the recognition of an organization that is trying to build a bridge between two worlds—the racing industry and the sport horse world. I won the support of friends and family who have watched me follow this passion for Thoroughbreds my entire life.
And most importantly, I won a partner in Nixon, a horse that I crave riding every day. A horse that can, and will, go all the way to the top. And a horse that is no longer just a graded stakes winning racehorse, but a dressage champion.
Thoroughbred Makeover by the Numbers
The 2016 Retired Racehorse Project Thoroughbred Makeover is already underway! Here are some stats on the entries.
488 trainers applied
45 states are represented by the applicants
10 years old: youngest applicant
71 years young: oldest applicant
10 equestrian disciplines
$100,000 in prize money
1 title of America's Most Wanted Thoroughbred
"This event is the formula we need to effectively transition large numbers of racehorses to new careers while promoting them as a breed to the huge marketplace of American horse owners," says Dan Rosenberg, president of Thoroughbred Charities of America.
The Thoroughbred Makeover and National Symposium takes place October 27-30, 2016, at the Kentucky Horse Park. It includes the Thoroughbred Makeover competition as well as educational seminars and demonstrations, a trade fair, and the Makeover Horse Sale, an opportunity for buyers to evaluate horses from the Makeover that are available for sale.
Carleigh Fedora is a doctoral candidate studying equine reproduction. She resides in Paris, Ky., with her horses.
---
This article originally appeared in the May 2016 issue of Horse Illustrated magazine. Click here to subscribe!