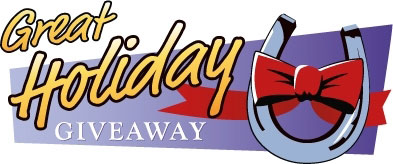 Celebrate the holiday season with HorseChannel.com! Visit us each day in December and enter to win one of these great prizes. You can enter once per day from December 1-31. The more you enter, the better your chances of winning.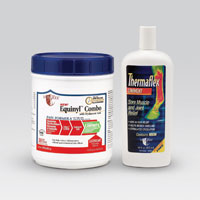 Farnam Equinyl and Thermaflex
Vita Flex gift package includes a 30-day supply of Equinyl™ Combo with Hyaluronic Acid joint health formula and 16-ounce bottle of Thermaflex® Liniment. Equinyl™ Combo formula with ComfortX™ ingredient helps manage inflammation and recovery time and works by suppressing the ability of neutrophils to migrate and attach to the site of the inflammation. Thermaflex® Liniment provides deep penetrating relief for sore muscles and joints, stimulates circulation for long-lasting heat-sensation and helps reduce pain and swelling. Learn more >>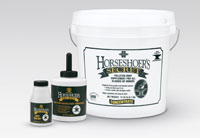 Farnam Horseshoers Secret
Horseshoer's Secret gift package contains a 30-day supply of Horseshoer's Secret® Pelleted Hoof Supplement Concentrate – a complete, balanced combination of ingredients to help prevent cracked hooves and weak hoof walls; a 32-ounce bottle of Horseshoer's Secret® Deep-Penetrating Hoof Conditioner – high in essential fatty acids and natural moisturizers; and a 7.5-ounce bottle of Horseshoer's Secret® Hoof Sealant – helps to protect hooves from harsh environmental conditions. Horseshoer's Secret is an official product of the American Farrier's Association. Learn more >>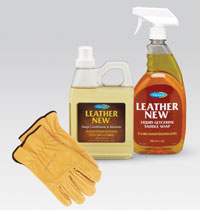 Farnam Leather New
Leather New gift package combines a 32-ounce bottle of Liquid Glycerine Saddle Soap and a 16-ounce bottle of Deep Conditioner & Restorer with a pair of leather work gloves. Leather New® Liquid cleans, conditions and shines in one step. Removes embedded dirt and grime and dries to a long-lasting shine. Leather New® Deep Conditioner penetrates leather quickly to restore softness and pliability, while inhibiting mold and mildew. Contains no silicones or waxes; won't harm stitching. Learn more >>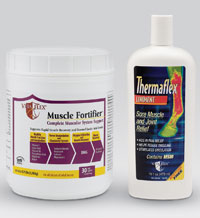 Farnam Muscle and Thermaflex
Vita Flex gift package combines a 30-day supply of Muscle Fortifier™ supplement with a 16-ounce bottle of Thermaflex® Liniment. Muscle Fortifier™ supplement supports the overall health of the muscular, nervous and circulatory systems, rapid muscle recovery and proper muscle contraction. Perfect for performance horses who are feeling the strains of intense training and competition. Thermaflex® Liniment provides deep penetrating relief for sore muscles and joints, stimulates circulation for long-lasting heat sensation and helps reduce pain and swelling. Learn more >>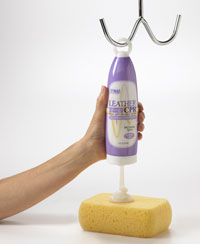 Leather CPR
Leather CPR Cleaner & conditioner is simply amazing! It is incredibly easy to use and makes cleaning your tack a breeze. Other leather care products require a separate cleaner and conditioner; leather CPR cleans and conditions your leather in one easy step, with no greasy residue. No more bending over and searching for bottles or jars while cleaning your tack. Our unique non-drip hanging bottle will always be at your finger tips. Cleaning & conditioning made easy! Learn more >>
Sponsored by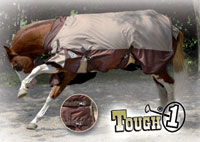 JT International – Tough 1® Waterproof Blankets
Seventeen Colors, Six Weights, Three Styles Waterproof, heavy denier outer with polyfill lining, fleece wither protection, crossed surcingle belly with elastic ends, adjustable leg straps with elastic ends, adjustable double buckle front closure, tail flap and shoulder gussets for freedom of movement. New this year: Extra gussets and easy snap front closure available on the heaviest weights. Styles available in horse, pony, miniature and dog! Rated #1 by Horse Journal! Winners will have their choice of size and color. Learn more >>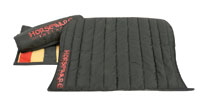 Horseware Ireland – Saddle Pad
Horseware® Ireland will give away one Rambo® Reversible Saddle Pad and Leg Wrap Combo. The set is black and red and features the following:
100% cotton outer and lining
Foam and fibre filled
Velcro girth loops for easy attachment
Square shaped for General purpose/Jumping Saddle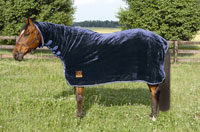 Horseware Ireland – Velour Cover
Win this Horseware® Ireland Rambo® Quarter Horse Velour Show Cooler. Navy and white. Size 74". This prize features:
Top Quality, Velour Fleece with Velvet Finish
Great for Wicking Away Moisture from Horse after a Bath or to Help Cool a Horse Down on those Chilly Days
Hidden Surcingle to keep Cooler in Place
Easy to use Velcro Closures
Provides Full Neck Coverage
Designed to Fit the Quarter Horse Body Type
Heritage Performance
The Heritage Extreme Winter glove offers a warm comfortable fit in cold climate conditions. The long knit cuff and elastic band helps to hold the glove securely on your hand and keep the cold wind out. The glove is made with four barriers of protection. A tacky waterproof SuperGrip palm surface, a waterproof inner membrane, 3M Thinsulate® insulation, and a thick Polar Fleece liner for an incredibly dry and warm fit. SIZES AVAILABLE: YOUTH 3, 4, 5 ADULT 6, 7, 8, 9, 10, 11. Learn more >>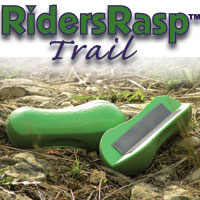 Riders Rasp
Five winners will each receive a Riders Rasp. Easily and safely groom your horses from the ground up with the revolutionary RidersRasp Trail™. Featuring new Medium Coarse Rasps and soft grip, no slip sides that protect hands, RidersRasp Trail™ allows users to quickly and effectively round their horses' hooves to retain and prolong balance between professional trims. A perfect introductory tool for new users or for current users who need a second RidersRasp™ to keep in the trailer. Learn more >>

Sticky Seat – Bootcut Riding Pants Featuring Patented Stickyseat Grip Seat
Cotton Nylon Lycra 4 Way Compression Stretch Fabric, Fights Muscle Fatigue, wicks away moisture and flatters your figure. Flattering style lines for your silhouette and seam placement to never interfere with your riding. Tight calf for no slide action. Genuine Ultrasuede elongated knee patches. Belt loops and inside key pocket. Length 31″" on Medium and available in LONG length 35″" (all sizes). Black or Dark Taupe. ADD Rhinestones for extra bling! Learn more >>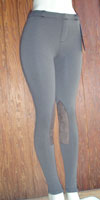 Stickyseat – Powerstretch Fleece Leggings
Stickyseat Powerstretch Fleece Leggings are made of Authentic Polartec Fleece designed to wick away moisture while keeping you toasty warm. The Nylon face of the fabric deflects hay and hair – and the Patented Grip Seat will keep you snug in the saddle. So cozy, you will find yourself wearing them even when you are not riding! Retail at $78.00 womens and $62.00 Kids. Available in Black or Chocolate. Learn more >>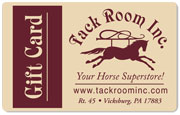 Tack Room – $100 Gift Card
We have a full range of products for your horse and pony. Horse and pony blankets, sheets, fly sheets, saddles, riding clothes, all the good stuff! Call us at 877-353-4708 or shop online 24 hours a day! Learn more >>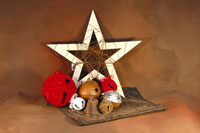 AQHA – Quarter Horse Outfitters
Brought to you exclusively by Quarter Horse Outfitters, put a little cowboy in your Christmas this holiday season with these decorative jingling ornaments and rustic star. We're giving away two sets! Retail value for each is $48! Find more holiday ideas and decorations at aqhastore.com. Learn more >>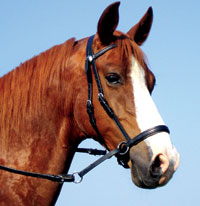 Bitless Bridle
A humane simplification transforms horsemanship. Less is more. The Bitless Bridle™ replaces the Bronze Age technology of the bit. Unlike the bit, no pain is inflicted. Your horse is free from fear, listens more attentively, breathes more freely, and moves more gracefully. With a calm, less spooky horse, communication is enhanced, trust established, performance improved, and harmony achieved. Riding becomes simpler, safer and more satisfying for both you and your horse. One lucky winner will be awarded one bridle with reins. Learn more >>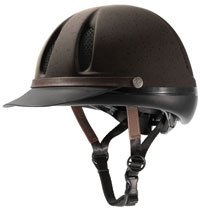 Troxel
Dakota Duratec™Western Helmet- Silver conchos and leather accenting provide an authentic Western look. The lightweight, highly ventilated and extended visor limits sun exposure and keeps you cool in hot weather riding.
7 Mesh Covered Vents
Extended Sun Visor
Duratec™ Matte Finish
GPS III™ Micro-Adjustable Fit System
Weight: 12.7 oz.
Colors: Grizzly Brown, Black, Sandstone
Sizes: S (up to 6 7/8), M (7 – 7 1/4), L (7 1/4+)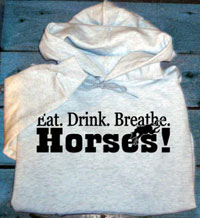 Dana's Doodles – Eat. Drink. Breathe. HORSES!
Hooded Sweatshirt. $29.99 value. Wear your love of horses with this cozy hoodie to keep you warm at the barn or show!7.8 oz., 50/50 cotton/poly sweatshirt. Full-cut hood with matching drawcord. (For safety, youth sizes do not have strings on hood.) Front pouch pocket. Spandex-reinforced cuffs and coverseamed waistband. Adult size information: BODY WIDTH S 20 M 22 L 24 XL 26 2XL 28 FULL BODY LENGTH S 26.5 M 27.5 L 28.5 XL 29.5 2XL 30 SLEEVE LENGTH S 24.37 M 24.62 L 24.25 XL 24 2XL 23.75 Youth Size Information: BODY WIDTH S (6-8) 16 M (10-12) 17 L (14-16) 18 FULL BODY LENGTH S (6-8) 20.5 M (10-12) 23 L (14-16) 25 SLEEVE LENGTH S (6-8) 17 M (10-12) 19.5 L (14-16) 21.5. Learn more >>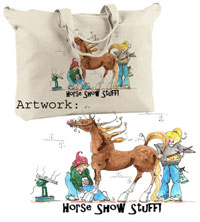 Dana's Doodles – Horse Show Stuff Tote Bag
$15.99 value. Keep all your horse show odds and ends in this roomy canvas tote. 12 oz., 100% cotton. Self-fabric handles. Zippered closure, inside zippered hanging pocket. 17 1/2″ x 15″ x 4 1/2″ Color: Natural. Learn more >>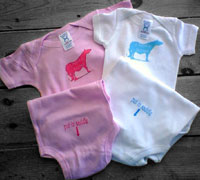 Dana's Doodles – I need a horse! Infant Onesie
$11.99 value. The perfect onesie for the newest rider in your family. The front says, "I need a horse." Back reads, "Put in Saddle." Color: White or Pink. Sizes: Newborn, 6 mos. Learn more >>

Ozark Mini Tack
This kit includes all the brushes you need to keep your horse clean and tangle free. Great for beginners or as a travel set. The 8qt plastic bucket is filled with: velvet brush, small pig bristle brush, soft touch brush, comfort curry, groomers stone, pin brush, comb, sweat scraper and hoof pick. Check out www.minitack.com for other greats kits.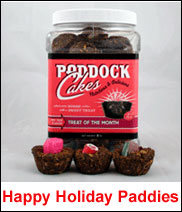 Paddock Cakes
Win a 2 pound jar of any flavor of Paddock Cakes. Paddock Cakes are so good you'll want to eat them yourself. They're homemade the old-fashioned way using only the finest all natural ingredients. Paddock Cakes are made fresh daily and come topped with peppermint, licorice, banana, imported raw sugar, and gummy frogs. For more flavors join Treat of the Month Club, and don't forget S'Mores. Find favorites and savings at www.paddockcakes.com. Call toll-free 877-WITH-LUV (877-948-4588) or email order@paddockcakes.com. Your horse deserves the very best!