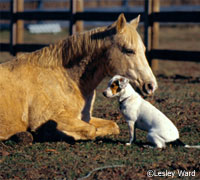 Are your horse and his pasturemate best buds, or has he befriended your dog or the barn cat, or maybe a more unusual critter? Because horses are such social creatures, we felt "Horses and Friends" would be the perfect theme for our 2010 photo contest. So send in your funny candids or aww-inspiring snap shots that best capture equine friendships.
Rules
The contest is open to amateur photographers only. One entry per person. Multiple entries will be discarded. Entries should be focused, high-resolution photos at 300 dpi (sized 3″ x 5″ or larger) taken in a hazard-free environment. With your submission, please include the following:
Your name, address, phone number and e-mail
Horse and friend's name, age, gender and breed (if known)
Brief photo caption or description
This contest is closed. Check back soon for details on our 2011 Photo Contest
Deadline
The deadline for entries is June 1, 2010. Photos accompanied by incomplete entries and those that do not meet the entry requirements will not be eligible. All entries become the property of Horse Illustrated and cannot be acknowledged or returned. The judge's decisions are final, and the winners will be notified by mail or e-mail.
Photo Factors
The contest will be judged on the quality of the photograph, so we've polled some of our expert equine photographers for their winning tips!
Early morning or late afternoon lighting is the most flattering.
Photos should portray safe, responsible horsemanship.
Keep backgrounds clean and uncluttered.
Groom your horse and his friend, if you are able to! A clean horse makes a world of difference.
For hard-copy submissions, film or professionally printed digital photos produce the best-quality images.
More Tips from Pro Equine Photographers