Photos by Megan Q. Daniels
We asked readers entering our Cover Star contest to share why their horse is special enough to be on the cover of Horse Illustrated. We received hundreds of stories and photos of amazing and deserving horses, all special in their own right. But the winning story belongs to Bisou and Molly Brooks. Here it is: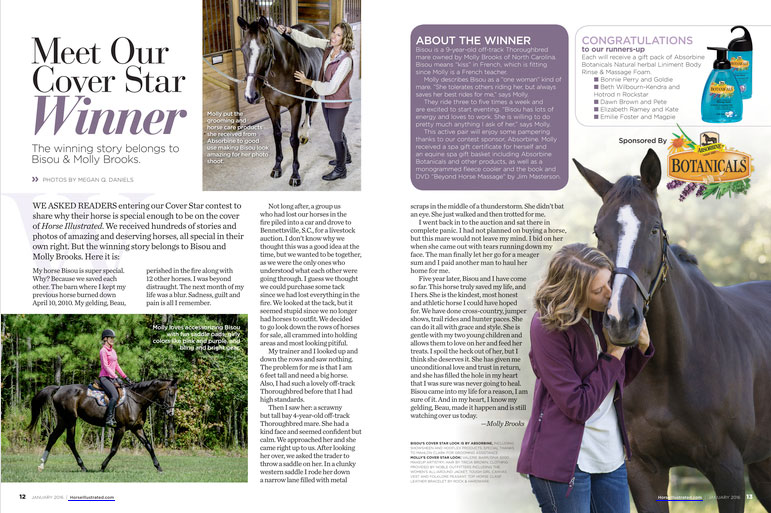 My horse Bisou is super special. Why? Because we saved each other. The barn where I kept my previous horse burned down April 10, 2010. My gelding, Beau, along with 12 other horses, perished in the fire. I was beyond distraught. The next month of my life is a blur to me. Sadness, guilt and pain is all I remember.
Then, only a few short weeks later, on Memorial Day, a group us who had lost our horses in the fire piled into a car and drove to Bennettsville, S.C., for a livestock auction. I don't know why we thought this was a good idea at the time, but we wanted to be together, as we were the only ones who understood what the others were going through. I guess we thought we could purchase some tack. We had lost everything in the fire, and none of us had insurance. We looked at the tack, but it seemed stupid since we no longer had horses to outfit. We decided to go look down the rows of horses for sale, all crammed into holding areas and most looking pitiful.
My trainer and I looked up and down the rows and saw nothing. The problem for me is that I am 6 feet tall and need a big horse. Also, I had such a lovely off-track Thoroughbred before that I had high standards. None of these horses suited me.
Then I saw her: a scrawny but tall, bay 4-year-old off-track Thoroughbred mare. She had a kind face and seemed confident but calm. We approached her and she came right up to us. We looked her over and there were no apparent injuries, so we asked the trader to throw a saddle on her. In a big, clunky western saddle I took her for a ride down a narrow lane filled with metal scraps in the middle of a thunderstorm. She didn't bat an eye. She just walked and then trotted for me.
I went back in to the auction and sat there in complete panic. I had not planned on buying a horse, but this mare would not leave my mind. I bid on her when she came out with tears running down my face. The man finally let her go for a meager sum and I paid another man to haul her back to North Carolina for me.
Five year later, Bisou and I have come so far. This horse truly saved my life, and I hers. She is the kindest, most honest and athletic horse I could have hoped for. We have done cross-country, jumper shows, trail rides and hunter paces. She can do it all with grace and style. She is gentle with my two young children and allows them to love on her and feed her treats. I spoil the heck out of her, but I think she deserves it. She has given me unconditional love and trust in return, and she has filled the hole in my heart that I was sure was never going to heal. Bisou came into my life for a reason, I am sure of it. And in my heart, I know my gelding, Beau, made it happen and is still watching over us today.
— Molly Brooks


About the Winner
Bisou is a 9-year-old off-track Thoroughbred mare owned by Molly Brooks of North Carolina. Bisou means "kiss" in French, which is fitting since Molly is a French teacher.
"She is endlessly patient with me as I try out different things with her," says Molly. "I also love that she is a 'one woman' kind of mare—she tolerates others riding her, but always saves her best rides for me."
The pair rides three to five times a week. "She can do it all, but she especially enjoys jumping," Molly reports. "We both love cross-country schooling and hunter paces. We've recently started focusing on our dressage and are excited to do some eventing. Bisou has lots of energy and loves to work. She is willing to do pretty much anything I ask of her."
In addition to riding, Molly says she enjoys just spending time with Bisou, grooming and loving on her. She favors fun saddle pads, sparkles, girly colors like pink and purple, and bright gear. "I love accessorizing Bisou almost as much as I love riding her!" says Molly.
Molly put the grooming and horse care products she received from Absorbine to good use making Bisou look amazing for her photo shoot. "Everyone was oohing and ahhing over how shiny and fancy she looked," says Molly.
Molly's cover star look is thanks to: Valerie Barr/Diva 5000 Makeup Artistry; hair by Tricia Brown; clothing provided by Noble Outfitters, including the Women's All-Around Jacket, Tough Girl Canvas Vest and Folklore Peasant Top; horse clasp leather bracelet by Rock & Hardware.
Congratulations to our Runners-Up
These five horses will receive a gift pack of Absorbine Botanicals.
Goldie and Bonnie Perry

Kate and Elizabeth Ramey

Hotrod n Rockstar and Beth Wilbourn-Kendra

Magpie and Emilie Foster

Pete and Dawn Brown