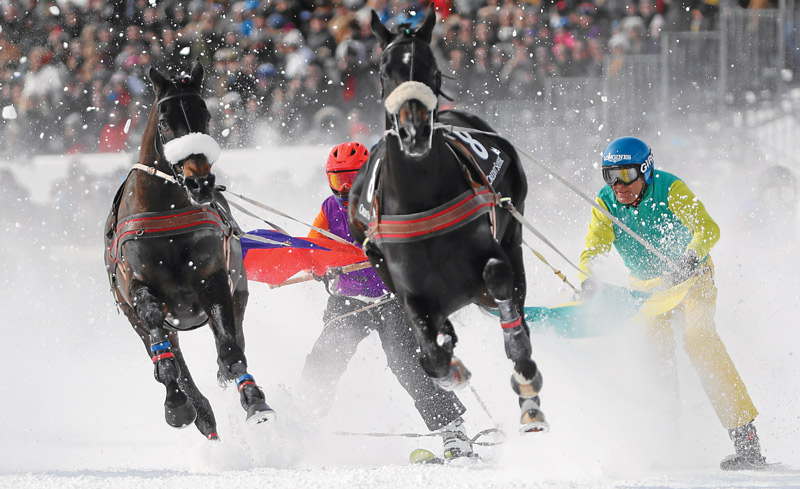 As the cluster of Thoroughbreds rounded the track toward me, I realized that this was no ordinary horse race. The horses' nostrils puffed clouds of hot breath into the icy air, and they kicked clumps of snow into the faces of those who trailed. The field, though small, was a flurry of color and seemed just on the brink of chaos as the riderless animals pulled a rainbow of skiers, each braced in a half-squat. Spectators cheered and snapped photos, raising glasses of champagne toward the blazing winter sun. No, this was no ordinary horse race. This was White Turf in St. Moritz, a horse event in Switzerland.
The Birth of White Turf
Though the event features a range of sports—including jockeyed gallops and trotting sled races—it's White Turf's trademark skikjöring that draws the crowds. To the uninitiated, the Swiss sport could be easily confused with American skijoring, which is found in several mountain towns throughout the United States. After all, both involve horses pulling skiers.
But there's an essential difference: In American skijoring, a rider controls the horse while the skier is towed by a rope, often navigating a course of jumps and other obstacles. In Swiss skikjöring, the skiers are also "drivers"—they must steer their steeds themselves.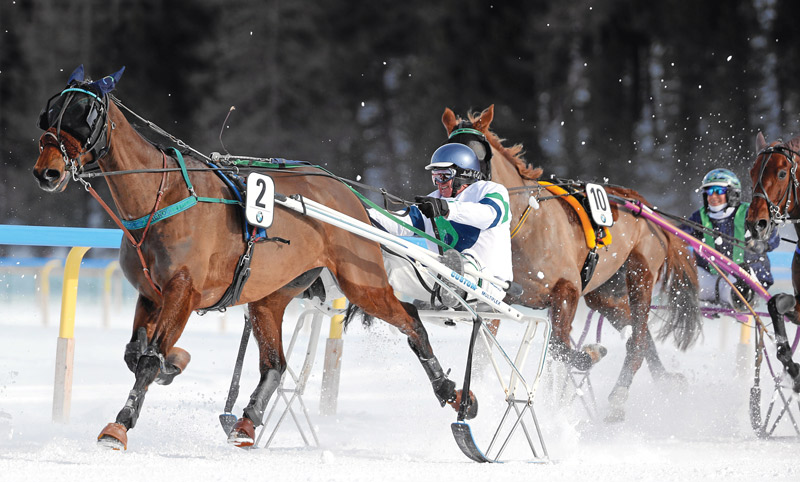 Skikjöring, a marriage of extreme skiing and driving, became a competitive sport in 1906.
"As is the case for several other innovations in the Engadine [region of Switzerland in the Eastern Swiss Alps], it was the English who laid the foundations of what has become today's White Turf by being pulled with ropes behind horses from St. Moritz to Silvaplana and back," says Tina Olivia Seiler, White Turf press officer.
The first skikjöring race was quite different from the modern White Turf. The horse-driver teams started individually and covered roughly 6 miles of village roads in just over 20 minutes. However, there were not yet any frozen lakes to traverse. It wasn't until the following year, 1907, that organizers would move the event to Lake St. Moritz where the horses began racing in groups on a prepared track, and White Turf was born.
The horses competing in galloping events in St. Moritz don't let the snow slow them down much. They've nearly doubled their pace since 1906, often hitting speeds of 31 miles per hour.
But in the early decades of White Turf, neither the sports themselves nor the gear were regulated, making competition an especially risky endeavor for human and equine alike. Indeed, in 1965, not a single skikjöring driver finished the race.
In response, the sport has been recognized and regulated as an official equestrian discipline, and several actions have been taken to improve safety: The horses' shoes are equipped with special runners, skis must be brightly colored so the horses see them, drivers must pass a test of their skills, skikjöring heats are limited to four or five teams, and the ice is evaluated to ensure it will hold beneath the weight of snowpack and the thunder of hooves.
White Turf attracts roughly 35,000 visitors annually, an international mashup of the jet-set, accidental tourists, and horse fanatics. Between races, fans can place bets, sip whiskey and hot chocolate, enjoy live music, or simply crunch across the snow to watch the athletes warm up in the paddock.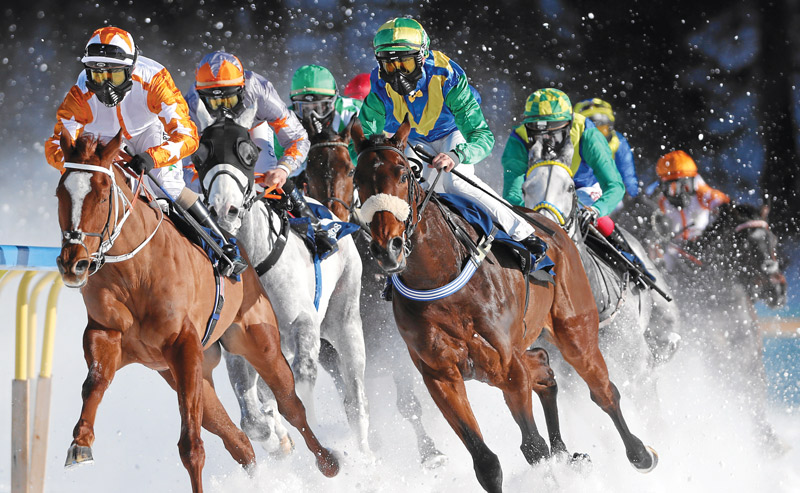 A Swiss Experience
Just days before White Turf 2020, I was in a tiny village called Nax, hoping to try this quintessentially alpine sport combining horses and snow. I managed to attempt a hybrid version—that is, I used the same type of harness the skikjörers do, but in the American style, I depended on a rider to handle the steering.
As I picked up my bar, Katia turned in her saddle. "Ready?" she asked. I nodded nervously, checking to make sure my skis both pointed forward, and with a cluck and a kick, we were off at a trot. The harness pulled taut and I jerked forward, wobbling for a moment before finding my balance.
We cruised around a groomed snowfield. Soon, Katia picked up the pace, and we cantered over the soft hills and around the sweeping turns. Despite the grin splitting my face, I was grateful that, on top of keeping myself upright, I didn't have to worry about managing the 1,600-pound horse that pulled me. We might have gotten up to 10 miles per hour.
That afternoon, I strolled the streets of Nax and lounged on my porch, gazing at the Matterhorn and nursing my already-sore muscles. I dined on raclette cheese and wine. The next morning, I took a series of buses and trains—made easier by the Swiss Travel Pass—to Brig, where I boarded The Glacier Express, the world's "slowest express train," bound for White Turf and the glamorous St. Moritz.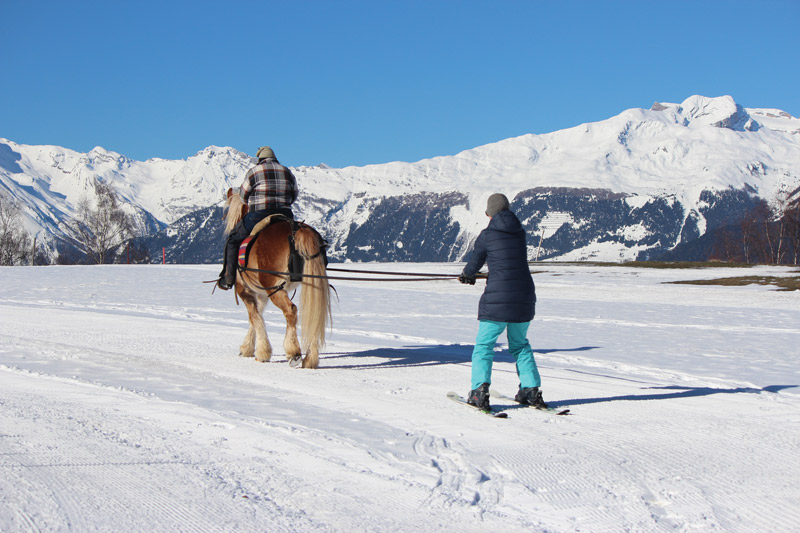 Experience Winter in St. Moritz, Switzerland with Horses
St. Moritz, Switzerland has several claims to fame. Tucked into the southern slopes of the Albula Alps at 5,910 feet, the town is the birthplace of winter sports, twice host to the Winter Olympic Games, and home to healing mineral springs.
Today, visitors can still sip bubbly water from a Bronze Age fountain at the Forum Paracelsus or bomb down the world's oldest and only natural bobsled run—the St. Moritz-Celerina Olympia. They can shop their favorite couture designers, explore an emerging contemporary art scene, and indulge in top wines and cuisine from just about anywhere in the world.
And on three Sundays in February, they can gather for a one-of-a-kind meet in which intrepid athletes and their equine partners race on frozen Lake St. Moritz.
This article about the horse destination of St. Moritz, Switzerland and skikjöring at White Turf appeared in the November/December 2020 issue of Horse Illustrated magazine. Click here to subscribe!