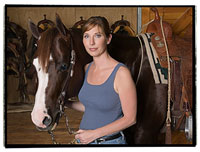 Author Michele Scott knew she'd eventually write a mystery set in the world of horses. It just took her a while to get there. Her previous books had wine tasting, wine drinking and high-priced wine collections as themes. Now merlots have been replaced by mares and crystal stemware with champion stallions. The first in her series of horse lover's mysteries, Saddled with Trouble, is now available from Berkeley Publishing/Penguin, with the second installment, Death Reins In, due in June. That will be welcome news for horse lovers desperate for decent horsey fiction.

Scott purposely aligned her protagonist, professional trainer Michaela Bancroft, with American Quarter Horses. "They're an all-around breed, which will allow me to cover different aspects of the horse world, instead of what I saw in most horse fiction where the action took place at the racetrack or with English show horses."

Although she's not an acclaimed competitor, Scott grew up with horses and is at home grooming, riding and caring for them. Moreover, horses are part of her family's life. Her parents are the owners and managers of Professional Choice performance horse products.

"My first horse was a half-draft, half-Quarter horse cross I got when I was about 6," Scott recalls fondly. While her writing work keeps her out of the saddle a lot, she still manages to fit in barn time. "I am around horses on a regular basis. In fact, my daughter, Kaitlin, is now 6 and she's taking riding lessons. One of my main goals is to help her realize that there's more to just riding. I want her to be a responsible horsewoman, so I help her groom the horses and learn about basic horse care."

Michele Scott's plan is to get back into riding regularly, perhaps so she can share the joy of the sport with her daughter. However, her first task is to saddle up more horsey mysteries for eager readers.