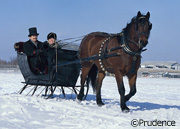 You've probably already heard "Jingle Bells" dozens of times this season. But have you listened to the lyrics? "Jingle Bells" was written in 1857 and mentions that "bells on bob tail ring." A bob tail is a horse with a docked (surgically shortened) tail. That practice, thought to prevent a horse's tail from getting tangled in the harness, is fortunately becoming less popular and is even outlawed in some states like California. In the second verse, the horse is further described as "lean and lank" (or lanky), meaning it had long legs and was a bit underweight. Adding to the horse's character was the notation that, "misfortune seemed his lot." We've all known unlucky horses, right? Well, this particular one ended up dumping the sleigh riders in a snow bank!
Send this sleigh photo as a holiday greeting to your friends at
HorseChannel.com/ecards.