Horse Illustrated received hundreds of submissions featuring humorous, touching and dramatic images of horses in winter, spring, summer and fall for our photo contest, "A Horse for All Seasons." When it came time to select the top three, professional equine photographer Bob Langrish provided his expertise.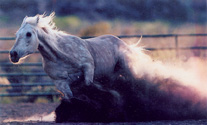 1st place
Ronny Johnson, Kingman, Ariz.
Bob's comments:
"This picture is pin sharp, and full of power and action.
It is very dramatic because you have a gray horse, and
it is backlit."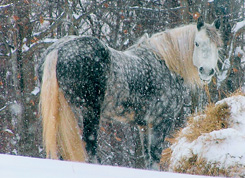 2nd place
Laura Plumley, Shady Spring, W.Va.
Bob's comments:
"This is a nice, soft, friendly picture everyone can relate to. It's perfectly in focus and sharp. I like the way the snow has been frozen in motion."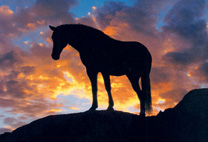 3rd place
Norma Allison, Nuevo, Calif.
Bob's comments:
"This is an extremely dramatic picture. It's being in the right place at the right time and seeing that there is actually a picture to be taken."
About the Judge
Professional equine photographer Bob Langrish, of Gloucestershire, England, started his working career as a police officer and photographed car racing on the weekends.
When the police force disapproved of his "moonlighting," Bob turned his hobby into a new career by working for Motoracing Magazine until the company went out of business.
"My wife said, 'Why don't you try horses?' and that was 36 years ago," says Langrish. "It has escalated since then, from being a horse show photographer to taking photos at Pony Club events to taking photos for magazines and books."
It was photographing the final show jumping round at the 1988 Olympic Games in Seoul, South Korea then rushing home to cover a Pony Club competition featuring 18″ jumps that prompted Langrish to make the career change to specialize in equine media photography.
Today, Langrish's work can be found in more than 200 books, and in equestrian magazines in 19 countries around the world—including Horse Illustrated. (You've seen his work on many Horse Illustrated covers and posters.)
Langrish strives to "make horses look as beautiful as possible. If you don't take the picture properly, you can make the horse look like a giraffe or a camel," he says. "And it's always important to try to put power and impact into the picture so it jumps out of the page at you."
Check out the 2008 photo contest honorable mentions.
Read Bob's photo tips.
View the 2009 photo contest honorable mentions.