On April 16-19, 2009, the world's best show jumping and dressage riders gathered in Las Vegas, Nev., for the Rolex FEI World Cup Finals.
DRESSAGE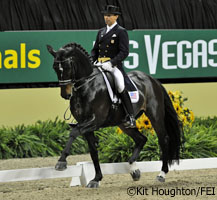 Steffen Peters was the only American remaining in the World Cup competition going into the Grand Prix Freestyle Final in dressage. He and his 2008 Olympic mount, Ravel, an 11-year-old Dutch Warmblood gelding, did more than just represent the U.S. home team–they took on last summer's individual gold and silver medal winners to emerge on top, winning the grand prize of $100,000 and a Rolex watch.
Hong Kong Olympic silver medalist Isabelle Werth of Germany and her Olympic mount, Satchmo, a 15-year-old Hanoverian gelding, were in the lead with a stellar 84.5 percent when Peters took to the ring.
Ravel managed to stay focused on his rider, perfecting numerous tough movements for a sparkling score of 84.95 percent, just enough to put them on top of the leaderboard. "I could see [Ravel's] ears were still pointing toward me and not to the crowd, so I knew he was still listening to me," says Peters. "I can't take too much credit for his mind; that's just the way he was born."
One more threat to their score had yet to ride, however. Reigning 2008 Olympic gold medalist, Dutch rider Anky Van Grunsven, took to the ring on the 12-year-old Dutch Warmblood stallion IPS Painted Black. The duo came out with an excellent score of 82.15 percent, but it was not enough to knock Peters from atop the standings. Van Grunsven ended the competition in third.
"It shouldn't always be Anky and Isabell," says Van Grunsven, referring to how the dressage divas tend to trade off first and second place in international competitions. "Of course, we will go home now and practice a lot to be sure we beat him the next time!"
Previously, the only American to win the Finals in the 23-year history of the event was Debbie McDonald on her famed mare, Brentina, in 2003. A special retirement ceremony was held for Brentina during this year's World Cup.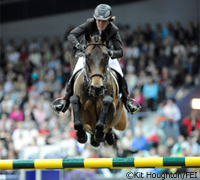 SHOW JUMPING
For American-born German rider Meredith Michaels-Beerbaum, victory was never out of reach. Competing over three days on an extremely demanding and technical course, she and her 16-year-old Hanoverian gelding, Shutterfly, aced every challenge presented to them to repeat last year's victory. "He's a once-in-a-lifetime horse," says Michaels-Beerbaum. "I've ridden him since he was young. We are a great example of how the partnership between the horse and rider plays a role in success."
American rider McClain Ward chased her the entire competition, but even with two perfect rounds it was not enough to catch the leaders. Riding the famous 14-year-old Belgian Warmblood mare, Sapphire, Ward was beaten only by two seconds on the clock. "I gave everything I had and my horse gave everything she had. I came up two seconds short. It's a fine line in sports!" states Ward.
Third place was secured by Dutch rider Alber Zoer and the 13-year-old Dutch Warmblood gelding Oki Doki, who trailed the leader by only four points. "Oki Doki is always a fighter and he does everything for me," says Zoer. "I really love him."
Michaels-Beerbaum received $270,000 and three Rolex watches for securing the top spot on all three days of the competition.
CELEBRITY REINING
The festivities in Las Vegas were not complete, however, until a special change-of-attire occurred. The International Reining Celebrity Challenge pitted a U.S. team against an international team; each was composed of one dressage rider, one show jumper and one professional reiner. The challenge was sponsored by the National Reining Horse Association (NRHA) and the American Quarter Horse Association.
Team USA included 2008 Olympic show jumping team gold medalist Will Simpson, dressage rider Charlotte Bredahl-Baker, and NRHA President and world champion Rick Weaver. The international team they were up against included multiple Olympic gold medal-winning dressage rider Anky Van Grunsven, show jumping Olympian Rodrigo Pessoa, and NRHA world champion Ann Fonck.
After everyone performed their spins, rollbacks, gallops and sliding stops, the U.S. team emerged victorious with the highest combined team score. Individual scores ranged from 118.5 for Pessoa and 125 for Bredahl-Baker to an impressive 144.5 for Simpson and 141.5 for Van Grusnven. The professionals clocked in with a 147 for Fonck and a 144 for Weaver.
"The response these reining horses have is incredible," says Simpson. "I'm ready to go back to the barn right now to see if there is anything left to ride!"
Watch a video of Rodrigo Pessoa's reining pattern >>