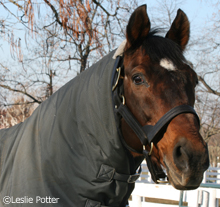 Alysheba is readjusting to Kentucky's winter climate. December 2008
On October 31, 2008, the oldest living Kentucky Derby winner returned to his home state. Alysheba, once known as "America's Horse," will enjoy retirement at the Kentucky Horse Park's Hall of Champions after spending the last eight years in Saudi Arabia.
Alysheba was foaled at Hamburg Farm in Lexington, KY. He became famous with his victories in 1987's Kentucky Derby and Preakness Stakes under trainer Jack Van Berg. In 1988 the popular stallion was voted Horse of the Year. After his four-year-old year, Alysheba moved on to a career at stud at Lane's End Farm in Versailles, KY where he remained until 1999. From there he made the long journey to the Janadriyah stud farm in Saudi Arabia where he lived until 2008.
King Abdullah of Saudi Arabia helped to orchestrate Alysheba's return to the United States as a gift to the American people. After a quarantine period in Dubai followed by another in Kentucky, the 24-year-old Thoroughbred now makes his home at the Kentucky Horse Park in the stall formerly occupied by another racing great, John Henry.
Among those present at Alysheba's reception were: trainer Jack Van Berg; his breeder, Preston Madden; and his rider, Chris McCarron.