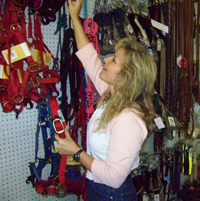 In today's economy, everyone's looking for a way to save a few dollars. Horse lovers aren't any different, and one of the ways to bolster a budget is to consider buying pre-owned tack found in consignment stores. Just to prove the point, we did some comparison shopping by pricing five brand new and gently used items of similar designs.  The five pieces of tack used for comparison were a heavy-duty nylon halter, a leather western headstall suitable for schooling or trail riding, a pair of harness leather split reins, a decorative western saddle pad with a fleece underside, and a fleece-lined nylon western cinch.
By tabulating price tags in an online catalog and at two local tack stores, the total price for the brand new items averaged $233. When comparable used items were discovered at a consignment store, the total for the five items was $121. That translated into savings of $112. The biggest disparity in price was between the new versus the used headstall. Though each headstall was crafted of sturdy leather and included a browband, the brand new headstalls averaged $45 while the used headstalls averaged $16. Sure, they'd seen some hard use, but all stitching was intact and the leather was free of cracks and the buckles on the cheek pieces worked fine.
It should be noted that any used tack should be inspected carefully for frayed edges, loose threads, malfunctioning snaps and signs of mildew (a real problem in abused leather tack, especially in warm, humid climates). Poorly maintained used tack is never a bargain because it's prone to break and then you're right back at the tack store, replacing it once again. However, if you're not averse to buying someone else's cast-off stuff, you can really save some bucks. In fact, we unearthed several super-duper bargains at the used tack store. There was a trio of trophy saddles on consignment. These nearly new western saddles sported stirrup fenders and silver plates proclaiming specific championship titles. While some riders might find these details a little too personalized, these saddles were, nonetheless, high-end brand name saddles with nifty options like padded seats and engraved conchos. They were on consignment simply because they either didn't happen to fit the contours of their owner's current horse's back or the owner just didn't need yet another saddle. And since they hadn't actually purchased the saddle—it was awarded at a horse show—they didn't feel the need to sell it for oodles of dollars. The potential for being a conversation piece aside, a slightly used trophy saddle can be a real deal.
If you can't troll the aisles of a local tack consignment store, another option is to shop at online auction sites such as eBay. While bargains abound, you need to be an educated bidder. There are great variations, for example, between leather headstalls. What looks good in a small photo on your computer monitor might not be so lovely in person. Poor quality leather and chintzy nickel-plated conchos can add up to a waste of your money rather than an actual savings. Before you place a bid online, confirm the brand name. Email the seller and ask for specifics. Then familiarize yourself with the craftsmanship of that manufacturer so you aren't disappointed when their product arrives in the mail. In these tough times, saving money should be a pleasant surprise, not a shocking disappointment.